Trucking news and briefs for Monday, April 25, 2022:
Michigan rolling back spring weight restrictions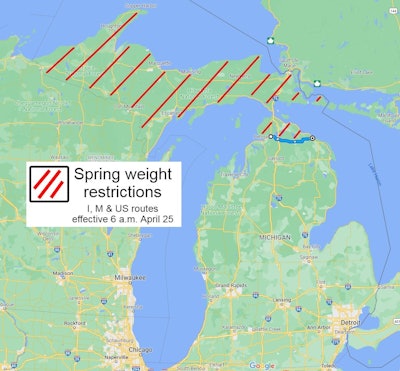 The Michigan Department of Transportation and local agencies are adjusting annual spring weight restriction areas to protect roads.
Effective 6 a.m. Monday, April 25, weight restrictions will be lifted on all state trunkline highways from the southern Michigan border north to and including M-68 from the intersection with US-31 in the village of Alanson, Emmett County, east on M-68 ending at US-23 in Rogers City, Presque Isle County.
Frost restrictions are still in effect for the remainder of the state and will be imposed and enforced on all state trunkline highways north of the M-68 line. State routes typically carry M, I, or US designations.
When roads that have been frozen all winter begin to thaw from the surface downward, melting snow and ice saturate the softened ground. During the spring thaw, the roadbed softened by trapped moisture beneath the pavement makes it more susceptible to damage. This also contributes to pothole problems already occurring due to this winter's numerous freeze-thaw cycles.
MDOT determines when weight restrictions begin each spring by measuring frost depths along state highways, observing road conditions, and monitoring weather forecasts. Weight restrictions remain in effect until the frost line is deep enough to allow moisture to escape and the roadbeds regain stability.
Roehl raises driver pay
Roehl Transport (CCJ Top 250, No. 59) based in Marshfield, Wisconsin, earlier this month changed its compensation program giving drivers the opportunity to earn from 12% and 14% more. The pay increase applies to its national, regional and home daily drivers.
The company says it has moved from a static cents per mile on all miles to a sliding mileage scale based on length of haul taking into account the value of a driver's time and realizing that drivers need to be compensated at a much higher rate per mile on shorter lengths of haul. It also takes geographic location and freight type into consideration. Some of Roehl's drivers will now earn $1.64 per mile on a 50-mile load as a result, the company said.
"Once again, Roehl is innovating and evolving, and these pay plan changes reinforce our commitment to providing the best driving jobs to the best drivers in the industry," said Tim Norlin, Roehl's vice president of driver employment. "These pay plans are a fundamental change to how we compensate our driving teammates. The mileage band pay plans feature rates per mile based on the length of haul with activity pay added in."