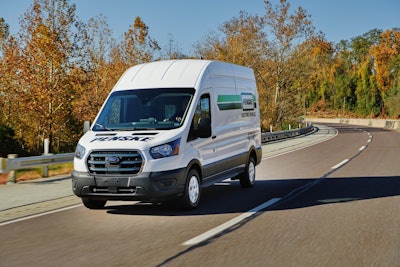 Trucking news and briefs for Wednesday, April 20, 2022:
Hours regs suspended in Georgia
Georgia Gov. Brian Kemp last week declared a state of emergency "due to ongoing severe disruptions to the state's supply chain and economy," suspending hours of service for truck drivers in the state.
The declaration suspends Part 395 of the Federal Motor Carrier Safety Regulations "to ensure the supply chain for all supplies, goods, and services throughout Georgia is uninterrupted," the declaration states. The HOS suspension is in effect for 30 days through May 15 unless the declaration is extended.
Additionally, the declaration increases the weight restrictions for trucks providing emergency relief in the state to 95,000 pounds.
Used truck sales, prices increased in March
Preliminary used Class 8 retail volumes (same dealer sales) grew 23% month-over-month in March, but were 23% lower compared to March 2021, according to the latest preliminary release of the State of the Industry: U.S. Classes 3-8 Used Trucks report published by ACT Research.
Even with sales increasing month-to-month, the average retail price of used trucks also increased by 11%. The average miles and age of sold used trucks were down 3% and 7%, respectively, ACT noted.
Compared to March of 2021, the average retail price was 90% higher, with average miles and age greater by 3% each.
ACT Research Vice President Steve Tam said used truck sales are benefiting from moderate improvements in the supply chain, but supply constraints are still problematic.
"It almost goes without saying that the used truck industry is still plagued by demand greatly in excess of supply," Tam said. "As a result, longer-term comparisons are more representative of current market conditions."
Tam added that when the current used truck environment will end depends on what happens with the economy, freight, freight rates and truck drivers themselves.
"For the record, ACT Research is not forecasting a recession in 2022 or 2023, or through 2027 for that matter," he said. "While recent developments have increased the likelihood, we believe there is sufficient strength to avoid economic contraction."
Penske goes electric with Ford E-Transit cargo van order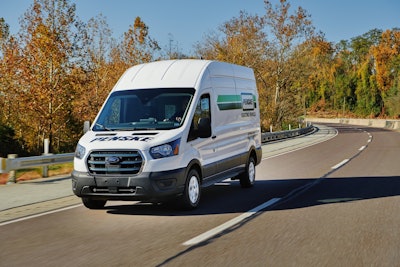 Penske Truck Leasing announced this week it has ordered 750 all-electric Ford E-Transit cargo vans.
The company is taking delivery of its first several vehicles in the next several weeks. The move follows successfully piloting the vehicles late last year.
"We're excited to help bring these new vehicles to market as both a rental and full-service lease option for our customers," said Art Vallely, president of Penske Truck Leasing. "We continue to expand and diversify our fleet of electric vehicles and to offer new options for customers seeking more sustainable choices when it comes to transportation."
Penske's first Ford E-Transit vehicles will be made available in Southern California with other locations around the U.S. phased in later in the year. These are the first light-duty electric vehicles to be made available in Penske's rental and leasing fleet.
Once these Ford E-Transit electric zero tailpipe emission vehicles go into service, they will be made available for both rental and longer-term full-service leasing. Penske's long-term plans include adding more of these units to its wider network of rental and leasing locations across North America.
The Ford E-Transit is the first all-electric cargo van from a full-line automaker in North America as the electric version of the Ford Transit. It has an estimated range of 126 miles.