Trucking news and briefs for Thursday, April 28, 2022:
FMCSA reignites rulemaking on speed limiters
The Federal Motor Carrier Safety Administration (FMCSA) on Wednesday issued a notice of intent to proceed with rulemaking that would require the use of speed limiters on heavy trucks.
Yesterday's action is the first step forward in almost six years in capping speeds on commercial vehicles, although the notice does not specify a specific maximum speed. The proposed rulemaking in 2016 sought comments on maximum speeds of 60, 65 and 68 miles per hour.
The notice of intent is a fact-finding and data-mining exercise, FMCSA said, that would aid the agency in potentially drafting a Supplemental Notice of Proposed Rulemaking.
American Trucking Associations has long been in favor of speed limiters and applauded the Department of Transportation for "pursuing a constructive, data-driven approach to the issue of truck speed limiters in its latest proposal," said ATA President and CEO Chris Spear. "We intend to thoroughly review FMCSA's proposal, and we look forward to working with the agency to shape a final rule that is consistent with our policy supporting the use of speed limiters in conjunction with numerous other safety technologies."
Last March, ATA and Road Safe America penned a letter to Transportation Secretary Pete Buttigieg calling for the implementation of speed-limiting technology on heavy-duty trucks, and threw their support behind the December 2019-proposed Cullum Owings Large Truck Safe Operating Speed Act, which called for all new commercial trucks to be equipped with speed limiters and to require existing speed-limiting technology already installed on trucks manufactured after 1992 to be used while in operation. The bill called for maximum speeds to be set at 65 mph, or 70 mph if certain safety technologies, such as an adaptive cruise control system and an automatic emergency braking system, were also in use.
FedEx Ground recognizes contract partner carriers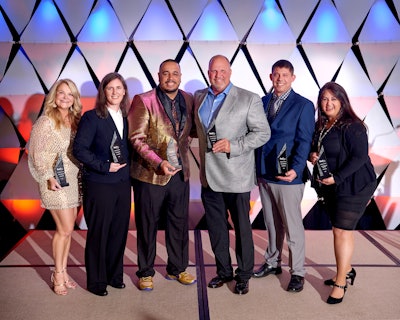 FedEx Ground recognized six independent businesses that provide contract transportation services as FedEx Ground Entrepreneurs of the Year: SB Transportation Service, Inc. of Orlando, Fla. (owner Diana Rodriguez); JSJ Trucking, Inc. of Tupelo, Miss. (owner John Smith, Jr.); Hutch Motors, Inc. of Pasco, Wash. (owner Eric Hutchcraft); Mercury Logistics, Inc. of Greenwood, Ind. (owner Laura Brown); Fulsom Logistics, Inc. of Fresno, Calif. (owner Troy Fulsom); and EPR Transport, Inc. of Pittsburgh, Pa. (owner Erin Roach).
The Entrepreneur of the Year distinction recognizes businesses for valuing safety above all, delivering excellent customer service, building dedicated and engaged teams, and responsibly growing their companies. FedEx Ground contracts with 6,000 service provider companies throughout the United States and Canada, and this year's winners were selected from among the top 40 regional qualifiers representing the best of those companies for the past two fiscal years, ending May 31, 2021.
"These exemplary companies have navigated unprecedented challenges over the last two years, and through it all have continued to place the highest priority on safety and exceptional service to FedEx Ground customers," said John Smith, President and CEO of FedEx Ground. "Since 2007 we have been recognizing outstanding businesses that successfully demonstrate an unwavering commitment to these principles, and we are proud and excited to honor this year's winners."
FMCSA posts video to explain ELDT rule
After more than four years since the Federal Motor Carrier Safety Administration's Entry-Level Driver Training rule was published, the agency launched the long-awaited Training Provider Registry (TPR). Under the ELDT rule, which took effect Feb. 7, only training providers listed on the TPR are eligible to train pre-CDL truck drivers. CDL trainers can now register to be listed on the TPR.
Tuesday, FMCSA posted a YouTube video detailing the Federal requirements and how to use the TPR to find a provider.
DOL Women's Bureau hosting roundtable with trucking stakeholders
The U.S. Department of Labor's Women's Bureau – as part of a multi-agency effort by the department and the U.S. Department of Transportation – will host an online roundtable with workers, union representatives and employers in the trucking industry April 28 to discuss strategies to combat sexual harassment and assault, and promote ways to ensure safe and inclusive work environments. The roundtable also answers the Biden-Harris administration's call for a national "Day of Action" to raise awareness and advocate for the prevention of sexual assault and sexual harassment in the trucking industry.
The Biden-Harris administration late last year announced its Trucking Action Plan that calls on industry, labor and all levels of government to address workforce challenges in the industry, and begin building a next generation trucking workforce. Among its goals, the plan seeks to make trucking jobs better and to develop innovative workforce programs that recruit, train, and retain drivers, especially from underrepresented communities including women.