Trucking news and briefs for Friday, April 29, 2022:
FMCSA incorporates new HHG recommendations into regs
The Federal Motor Carrier Safety Administration this week announced it is incorporating certain recommendations from the Household Goods Consumer Protection Working Group into the Transportation of Household Goods regulations.
The agency says the changes will streamline documentation requirements, increase efficiency for the transportation of household goods by interstate household goods motor carriers, improve consumer education and protection for individual shippers, and combat fraud. The recommendations update a variety of requirements under 49 CFR part 375.
Among recommendations FMCSA is adding to HHG regulations include:
Revising appendix A to part 375 with an updated version of the Your Rights and Responsibilities When You Move booklet (Rights and Responsibilities) and requiring motor carriers to provide the Rights and Responsibilities booklet at the same time as the estimate instead of at the time of the order for service, as previously required.
Requiring the preparation of a new binding estimate or new non-binding estimate when the individual shipper tenders additional items or requests additional services.
Clarifying that an individual shipper may never be required to sign a blank document, and that the shipper may be required to sign an incomplete document only when it is missing certain information that cannot be determined before the document must be signed.
Allowing for virtual surveys of household goods.
Requiring motor carriers to conduct either in-person or virtual surveys of a customer's goods before a making an estimate beyond a 50-mile radius.
Removing the requirement for an order for service.
Updating the requirements in the bill of lading.
Requiring the bill of lading to be provided earlier in the moving process.
Replacing the requirement for a freight bill with an invoice.
Requiring all motor carriers that have a website to display prominently a link to either Ready to Move? on the FMCSA website or to a copy of Ready to Move? on their own websites.
The revisions to the HHG regulations will take effect June 27, and the guidance documents published at 76 FR 50537, Aug. 15, 2011, and 78 FR 25782, May 2, 2013, are rescinded as of June 27, FMCSA said.
Highway Transport driver named Tanker Driver of the Year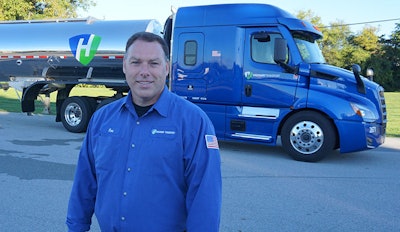 A driver for Highway Transport was named the winner of the 2021-2022 William A. Usher Tanker Driver of the Year Award earlier this week.
Thomas Frain received his grand champion award during ceremonies at the National Tank Truck Carriers' annual conference at the Hilton San Diego Bayfront.
Frain has been in the trucking industry for more than 30 years and in the tank truck industry for seven. For those seven years, he has been driving for Highway Transport in Knoxville, Tennessee, where he resides. He's been a driver trainer for the past four years.
The other 2021-2022 champion finalists were:
Robert Anderson, Florida Rock & Tank Lines
James W. Ellis, Sr., Grammer Industries
Dean Hansen, Trimac Transportation
Richard "Jerry" Locke, Kenan Advantage
Daniel Smith, Kenan Advantage
Demetrius Stewart, Eagle Transport
Michael White, Quality Carriers
Combined, the finalists have driven professionally for a total of 300 years.