Trucking news and briefs for Wednesday, June 15, 2022:
FMCSA reopens comment period for proposed UCR fee reduction
Earlier this year, the Federal Motor Carrier Safety Administration requested public comments on proposed reductions in the annual registration fees collected as part of the Unified Carrier Registration Plan and Agreement for the 2023 registration year and beyond.
The proposed fees for the 2023 registration year would be reduced below the fees for 2022 by approximately 27%, which would translate to a reduction between $16 and $15,350, depending on the number of vehicles owned or operated by the company.
After the first comment period closed on Feb. 23, FMCSA contacted the UCR Plan and requested additional information to help the agency in decision making in response to the comments received. The UCR Plan provided the requested information, and FMCSA placed both its request and the UCR Plan's response in the docket. FMCSA also received a request from the Owner-Operator Independent Drivers Association to reopen the comment period.
On Tuesday, the agency reopened the comment period for 14 days to allow further public scrutiny of potential UCR fee reduction, given the UCR Plan's response revised upward its estimate of excess fees collected that could potentially underpin the proposed fee reduction. "The information submitted by the UCR Plan," FMCSA said, "is clearly related to the recommendation for an adjustment in the fees submitted by the UCR Plan."
Comments can be made here through June 28.
Stevens Transport asks FMCSA to allow pre-CDL drivers to run team
Stevens Transport (CCJ Top 250, No. 47) has applied for an exemption from Federal Motor Carrier Safety Regulations that require a commercial learner's permit holder to be accompanied by a CDL holder in the passenger seat while in operation.
The waiver, if granted, would allow a CLP holder who has passed the CDL skills test but not yet received their CDL to drive a Stevens truck while accompanied by a CDL holder who is not necessarily in the passenger seat.
"The exemption will allow Stevens to immediately employ a qualified driver to transport freight while the driver's CDL documentation is being processed by the driver's state of domicile," the company said in its request. "Stevens recruits and develops driver candidates through the Stevens Driving Academy and several affiliated commercial driving schools that provide CDL training in a number of states, including Colorado, Louisiana, Georgia, Florida and Tennessee."
Similar requests have previously been granted to several carriers, including C.R. England, CRST Expedited, Prime and more.
FMCSA will accept public comments on the request for 30 days beginning June 15. Comments can be made at www.regulations.gov by searching docket number FMCSA-2022-0103.
Quala expands tanker cleaning, testing, repair services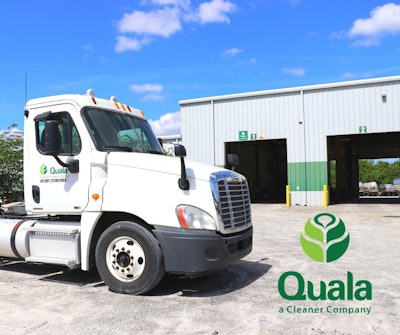 Tank trailer cleaning, testing and repair company Quala is expanding its network on the East and West Coast with two acquisitions servicing two growing markets.
Last week, Quala acquired Southern Tank in Jacksonville, Florida, and Totally Tanker Interiors in Tulare, California.
With the addition of Southern Tank. Quala more than doubles its capacity in this market with a conveniently located, large facility. The five-bay kosher certified wash rack services a full range of chemical products including polymers. Trailer washout and box wash service is also available. The maintenance facility offers a full range of testing, inspections and repairs for tankers, ISOs, trailers and chassis.
With the acquisition of Totally Tanker Interiors, Quala enters the food grade cleaning market in California. This facility was started in the San Joaquin valley in 2003, in response to the need for a safer and higher quality of tanker washouts in the region. This facility services the food transportation industry and prides itself on delivering the highest quality food grade wash services, the company said.
"By adding locations on both the East and West Coast, we are better able to service these growing markets," said Erik Leto, Quala Chief Operating Officer. "In terms of capacity in Jacksonville, the addition of five cleaning bays will significantly improve quality and turnaround times for our customers in this market. Quala is excited to enter the food grade cleaning market in California. With the addition of a dedicated food grade facility in central California, Quala will be better able to service customers transporting food related products across California and throughout the west coast. Additionally, we plan to expand food grade capabilities in this market."