Trucking news and briefs for Monday, March 6, 2023:
Michigan continues rolling back spring weight restrictions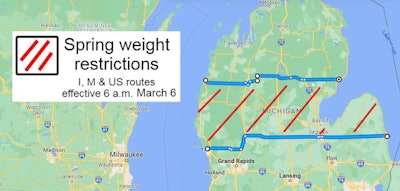 Michigan's annual "frost law" spring weight restrictions are being rolled back to cover less of the state, beginning Monday, March 6.
The Michigan Department of Transportation institutes annual spring weight restriction in certain areas in move to protect roads.
Beginning at 6 a.m. Monday, March 6, weight restrictions will be imposed and enforced on all state trunkline highways within the following areas of Michigan:
Highways north of a line on M-46 in Muskegon County from the U.S. 31 Business Route in the city of Muskegon, then east to U.S. 131, then north on U.S. 131 to M-46, then east to the intersection of M-25 in Port Sanilac Sanilac County
Highways south of a line on M-55 from the U.S. 31 intersection in Manistee County east to M-66 in Missaukee County, then north on M-66 to M-55 in Missaukee County, then east on M-55 to the intersection of U.S. 23 in Tawas in Iosco County.
All state trunk lines between these two lines will have weight restrictions imposed and enforced. State routes typically carry M, I, or U.S. designations.
Love's pays Gemini drivers $2.3M in bonuses
Love's Travel Stops recently awarded 140 Gemini Motor Transport drivers more than $2.3 million in bonuses for their commitment to safety last year. Gemini, a member of the Love's Family of Companies, operates a fleet of more than 1,600 drivers who transport fuel to Love's Travel Stops across the country.
Bonuses are based on safety credits awarded to drivers on an annual basis. To earn one credit, drivers must remain accident- and ticket-free and have no fuel-related incidents over the course of one year. Drivers must also pass all U.S. Department of Transportation and Gemini inspections and adhere to Gemini's stringent safety policies. Once drivers collect five safety credits, they're eligible to receive the bonus.
"The safety of our drivers and those on the roadways around us is our top priority, and rewarding drivers for maintaining Gemini's high standard of safety is exciting to see," said Jeremy Gravely, director of Gemini. "The Safe Drivers Program is an investment that's unmatched in the industry, and one that's crucial to the success of Gemini and Love's Travel Stops."
Bonuses are given on a five and 10-year basis. This year, 96 recipients received a five-year bonus, and 44 recipients received a 10-year bonus. Gemini drivers have been paid more than $24 million in safety bonuses through the safety credit program.
New trucking group looks to preserve traditional IC model
A newly formed coalition of trucking companies, truck drivers and more are working to preserve the traditional independent contractor model in the trucking industry.
Members of Truckers Integral to Our Economy (TIE) are heading to Washington, D.C., to brief policymakers on the benefits of the contractor model, which the group said "preserves hundreds of thousands of small businesses and allows entrepreneurs to choose how they work, while at the same time, providing a more efficient supply chain."
TIE coalition members plan to emphasize the benefits of the independent contractor model, including the increased pay, flexibility and benefits it provides to truckers, the ability for truckers to start and build their own business, and the cost savings it generates for the American people. The coalition will also discuss ways in which Congress can support this model through legislation and regulatory action.
"The independent contractor model is not only beneficial for the American people, but most importantly, for America's truckers," said TIE Executive Director Scott Brenner. "By allowing truckers to work as independent contractors, we give them the ability to make more money and build their own businesses, while driving down shipping and other costs for the American consumer."
Davco names new president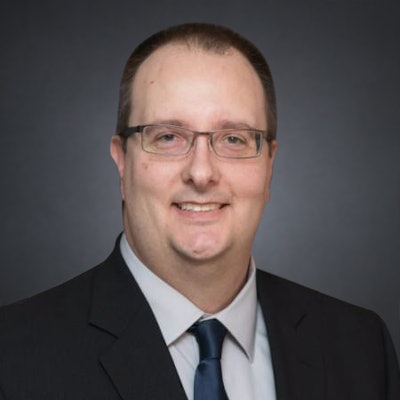 Davco Technology, a provider of fuel filtration systems for diesel engines and a Clarience Technologies company, has named transportation industry veteran Scott Montesi as its new president.
Montesi joins Davco from Plastic Omnium (formerly known as Varroc Lighting Systems), where he most recently served as senior vice president of the Americas Business Unit. Prior to that, he held a variety of engineering and product development positions in the industry, starting at Ford Motor Company and later working at Lear Corporation, Plastech, and Collins and Aikman.
"Scott is a well-respected business leader with deep experience developing and producing high-performance components for transportation," said Mark Bara, President, Performance Solutions, Clarience Technologies. "His passion for delivering customer-focused innovations with an exacting attention to detail will serve DAVCO well in the years to come."
"I am excited to join Davco, a leading name in the industry with a long-standing reputation for delivering quality performance solutions," said Montesi.
Additionally, Daniel O'Donohue has joined Davco as its new finance director. He was most recently finance director at Great Expressions Dental Centers, a company he joined in 2020. He began his career at Plante and Moran, where is role focused on audit and assurance in the manufacturing and private equity/VC sectors.