Trucking news and briefs for Monday, May 29, 2023:
CVSA parks nearly 800 trucks for brakes violations during unannounced initiative
Nearly 800 trucks were placed out of service during an unannounced inspection initiative targeting brakes in April.
On April 19, 6,829 commercial motor vehicles were inspected throughout Canada, Mexico and the U.S. as part of the Commercial Vehicle Safety Alliance's Brake Safety Day. Inspectors found brake-related critical vehicle inspection items on 11.3% of the vehicles inspected, indicating those vehicles were unfit and unsafe for roadways. As a result, inspectors restricted those 773 commercial motor vehicles from travel until the violations were corrected.
During the one-day unannounced inspection and enforcement campaign, certified CMV inspectors conducted their usual vehicle and driver inspections. They reported brake-related data to CVSA for a one-day snapshot of the state of brake systems on trucks.
The top three brake-related out-of-service conditions were:
20% Brakes Violations – 479. A vehicle or combination of vehicles is declared out of service when 20% or more of its service brakes have an out-of-service condition resulting in a defective brake, such as a brake out of adjustment, an audible air leak at the chamber, defective linings/pads, a missing brake where brakes are required, etc.
Other Brake Violations – 368. Examples of other out-of-service brake violations are worn brake lines, broken brake drums, inoperative tractor protection system, inoperative low air warning device, air leaks, hydraulic fluid leaks, etc.
Steering Brake Violations – 81. Examples of automatic standalone out-of-service steering axle brake violations are inoperative brakes, mismatched brake chambers, mismatched slack adjuster length, defective linings, etc.
During this year's Brake Safety Day, CVSA focused on capturing data on brake lining/pad violations, which can result in violations and affect a motor carrier's safety rating.
Of the 6,829 commercial motor vehicles inspected, 108 power unit and 87 towed unit lining/pad violations were identified, for a total of 195 combined lining/pad violations.
In addition, eight of the CVSA member jurisdictions with performance-based brake testers (PBBTs) used those machines to assess the braking performance. Those participating jurisdictions conducted 92 inspections with PBBTs, resulting in four failures (4.35%), which meant those four commercial motor vehicles were placed out of service for overall vehicle braking efficiency.
[Related: Roadcheck wraps in New York: What inspectors saw]
Shippers conditions dropped in March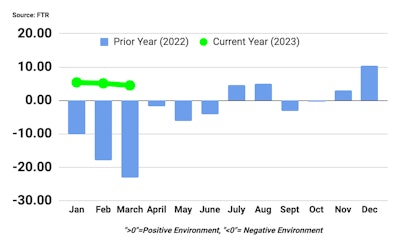 While conditions for carriers in March fell deeper into negative territory, shippers also saw a deterioration of market conditions during the month.
FTR's Shippers Conditions Index (SCI) in March dipped to a reading of 4.5 from the previous 5.1, reflecting slightly less favorable overall conditions. For only the third time since May 2020, all four freight factors for the SCI – freight demand, capacity utilization, rates, and fuel costs were positive contributors to the index.
More favorable rates and lower fuel costs were partially offset by tighter capacity and stronger volume. The outlook for shippers is stable through most of 2023. "Despite the small decline, the overall story of positive shipper conditions and a stable outlook remains in place this month and are expected to hold firm for the balance of 2023," said Todd Tranausky, vice president of rail and intermodal at FTR. "All four components of the index were positive for the first time since 2020 this month, signaling the lack of pressure in the system at the present time."
[Related: Conditions for carriers continued to fall in March]
Kenworth receives order for 5 hydrogen-powered T680s
Kenworth last week announced that Canadian retailer Loblaw Companies Limited intends to purchase five recently-introduced Class 8 zero-emission T680 hydrogen fuel cell electric vehicles (FCEV), powered by Toyota fuel cell technology.
Kenworth first announced the 2025 serial production of the T680 FCEV at ACT Expo on May 2.
Reducing carbon emissions is an important action Loblaw Companies Limited is taking as it works to fight climate change, according to Wayne Scott, Loblaw's senior director of transportation maintenance. Loblaw is Canada's food and pharmacy leader, as well as its largest retailer and private sector employer.
The company currently operates two battery-electric trucks and plans to decarbonize its entire fleet of more than 160 company-owned day cab trucks by 2030 and achieve net-zero emissions by 2040 for its enterprise operating footprint (including franchise and associate-owned operations).
"We're committed to finding solutions that allow us to operate sustainably and protect the natural resources and beauty of Canada," said Scott. "With a longer driving range compared to battery-electric vehicles, we see hydrogen-powered trucks as an excellent way to reduce emissions for our trucks that travel longer distances. We're excited to be one of the first companies in North America to place an order for these trucks and be an early adopter of fuel cell technology."
Kenworth and Toyota collaborated closely on development of the T680 FCEV. Kenworth integrated Toyota's latest advancements in hydrogen fuel cell technology into its flagship T680 on-highway truck. The T680 FCEV has a range of up to 450 miles, depending upon driving conditions. The truck is equipped with Toyota's 310kW Dual Motor Assembly, capable of providing 415 horsepower continuously at a maximum payload of 82,000 lbs (GCWR), and the Toyota Gen 2 Dual Fuel Cell Module.
[Related: Peterbilt, Kenworth fuel cell trucks entering production with much more range than electric]