Trucking news and briefs for Wednesday, June 7, 2023:
Operation Safe Driver Week set for next month with focus on speeding
The Commercial Vehicle Safety Alliance's annual initiative targeting unsafe driving behaviors of both commercial and passenger vehicle drivers will be held July 9-15.
Those exhibiting unsafe driving behaviors will be pulled over and given a warning and/or issued a ticket/citation by law enforcement, CVSA said.
The weeklong driver safety traffic enforcement and awareness campaign aims to identify unsafe drivers, deter dangerous driving behaviors and prompt positive driving habits through officer interactions with drivers.
Examples of unsafe driver behaviors that law enforcement will be watching for are speeding, improper lane changes, passing or turns, driving while under the influence of drugs or alcohol, using a handheld device, failure to wear a seat belt, and more.
Each year, Operation Safe Driver Week focuses on a specific unsafe driving behavior to call attention to the dangers of that behavior. This year, the focus will be on speeding. CVSA has continued to focus on speeding because it remains a persistent problem, the organization said. Speeding increases the frequency and severity of crashes, and unsafe speeds are a well-documented factor in fatalities and injuries.
Hours regs waived in Canada for Nova Scotia wildfire relief
Wildfires in Nova Scotia, Canada, have prompted Canadian trucking regulator Transport Canada to suspend hours of service regulations for drivers transporting essential supplies and equipment in direct assistance of emergency relief efforts.
The exemption applies to extra-provincial trucks, or those domiciled outside of Nova Scotia, and their drivers providing assistance to the emergency.
Carriers intending to operate under the exemption are required to notify in writing the provincial hours of service director in their base jurisdiction of their intent to operate, and provide documentation about which trucks will be operating under the exemption, their license plate numbers, the drivers who will operate the trucks, and the drivers' license numbers.
While operating under the exemption, drivers are required to record and maintain their records of duty status, keep a copy of the exemption in the cab, encourage shippers to indicate on the bill of lading that the supplies and equipment being transported are in direct assistance of the relief effort, and more.
The exemption is valid through June 12, unless canceled sooner.
J.B. Hunt moves up Fortune 500 list
J.B. Hunt Transport Services Inc. (CCJ Top 250, No. 3) has been named to the Fortune 500 for the 11th consecutive year, moving up to No. 280 on the list.
"Our advancement on the Fortune 500 list and the company's overall growth represent the progress, hard work and dedication of our employees, from the drivers that make our fleet one of the safest on the road to the teams creating long-term solutions that deliver increased value for our customers," said Shelley Simpson, president of J.B. Hunt. "They are the source of our success, and by taking care of them, we will continue helping customers reduce costs and improve efficiency."
The Fortune 500 ranks the 500 largest U.S. companies by total revenue for the respective fiscal year. According to the outlet, companies on this year's list represent approximately two-thirds of the U.S. GDP and generated $18 trillion in revenue. Fortune has published the annual list since 1955. J.B. Hunt's first appearance was in 2013 at #485.
Earlier this year, J.B. Hunt was named to Fortune's list of the World's Most Admired Companies for the 12th time. The company was also recognized by Newsweek as one of America's Greatest Workplaces for Women and Greatest Workplaces for Diversity.
Isuzu produces 100,000th gas-powered N-Series truck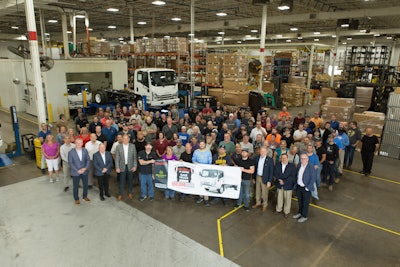 Isuzu Commercial Truck of America announced this week that the 100,000th gasoline-powered Isuzu N-Series truck was produced at the Builtmore Contract Manufacturing facility in Charlotte, Michigan.
Since April 2011, all Isuzu N-Series gas trucks for the U.S. and Canada markets have been assembled in Charlotte by Builtmore, the go-to-market brand of The Shyft Group.
The production milestone comes less than five years after the 50,000th gas-powered N-Series truck was built.
"This is a testament to the increasing popularity of our gasoline-powered N-Series offerings, which can be attributed in large part to the outstanding quality our partners at Builtmore build into every truck," said Shaun C. Skinner, president of Isuzu Commercial Truck of America and Isuzu Commercial Truck of Canada.
Isuzu N-Series gas trucks are powered by a 6.6-liter General Motors V8 engine that produces 350 horsepower at 4,500 rpm and generates 425 lb.-ft. of torque at 3,800 rpm. The trucks are available in models ranging from Class 3 to Class 5.
The Class 3 and 4 NPR and NPR-HD models employ a GM 6L90 six-speed automatic transmission while the Class 5 NQR and NRR are equipped with an Allison 1000 Rugged Duty Series six-speed automatic gearbox.
Penske's Premier Truck Group acquires Canadian dealerships
Penske Automotive Group announced Monday it has acquired Transolutions Truck Centres (TSTC), located in Winnipeg, Manitoba, Canada.
With this acquisition, Penske's Premier Truck Group continues to expand and complement its operations in Canada by establishing a presence in an additional Canadian province.
TSTC consists of five locations throughout the greater Winnipeg market, including three full-service dealerships and two parts and service centers. Penske said TSTC sells and services Freightliner Trucks, Western Star Trucks and Thomas Built Buses, and is the licensed dealer for SelecTrucks, Daimler Truck's used vehicle brand, for the entire territory of Manitoba.
The TSTC acquisition is expected to add 73 service bays, 59 technicians and approximately 200 new members to the Premier Truck Group team. The acquisition also is expected to generate approximately $180 million in annualized revenue. With the inclusion of the TSTC facilities, Premier Truck Group now operates 44 locations throughout North America, the company said.