Trucking news and briefs for Monday, Aug. 14, 2023:
CVSA wants more time to comment on automatic emergency braking proposal
The Commercial Vehicle Safety Alliance has asked for a 30-day extension to the comment period for the joint notice of proposed rulemaking (NPRM) proposing to require automatic emergency braking (AEB) systems on trucks.
The rulemaking was proposed in July and would require heavy commercial vehicles with FMVSS-required electronic stability control systems to be equipped with an AEB system. The notice was filed jointly by the Federal Motor Carrier Safety Administration and the National Highway Traffic Safety Administration.
CVSA said in its request that the initial 60-day comment period "is not adequate time to prepare and approve comments on such a complicated and important issue."
[Related: Comment period on automatic emergency braking opens]
The group added that it and the Commercial Vehicle Brake Manufacturers Council (CVBMC) "are working to develop comments in response to the proposal and would like the opportunity to collaborate with other entities that will be commenting, to ensure all issues and concerns are addressed and our organization can provide NHTSA and FMCSA with comments that will contribute to a comprehensive, well informed, science and data-based NPRM."
CVSA noted that it is working to facilitate an industry discussion toward the end of August that will include brake manufactures, motor carriers, and commercial motor vehicle manufacturers, to share their thoughts on the proposal.
"Granting a 30-day extension to the comment period would allow for greater stakeholder discussion and engagement, which will result in better, more comprehensive feedback to the NPRM," CVSA added.
The comment period is currently open through Sept. 5. Comments to NHTSA can be filed here, and comments to FMCSA can be filed here.
[Related: FMCSA, NHTSA set to propose automatic braking mandate]
Averitt launches new in-house safety video campaign
In an effort to continuing to promote a culture of safety, Averitt Express (CCJ Top 250, No. 26) recently launched a safety video campaign for its 5,000-plus drivers.
The objective of the program, which began at the start of 2023, is to inspire and encourage safe driving practices through voluntary online refresher courses, the company said.
The first quarter's course focused on how to drive safely in adverse conditions, presenting real-life situations that were captured on Averitt's outward-facing cameras, while the second-quarter video covered tips on how drivers can control their speed.
All drivers who completed the course during each quarter were entered in separate drawings for 10 winners of Red Thinkin' Rewards points, Averitt's points-based incentive program. Thousands of drivers participated in the program in the first and second quarters, and Averitt plans to continue the momentum by focusing on a specific online video each quarter.
All Averitt employees are eligible to earn Red Thinkin' Rewards points for outstanding performance in a variety of areas, including achieving safety milestones, years of service, and meeting key performance indicator (KPI) goals. These points can be redeemed for thousands of items, from vacation packages to golf clubs, electronics to jewelry, and more.
"We're proud of our culture of doing things the right way and the safe way," said Jason Bolton of Averitt's safety leadership. "The quarterly campaigns are another way to build on that commitment, and we're thrilled with how our driving associates responded."
Werner driver surpasses 5 million safe miles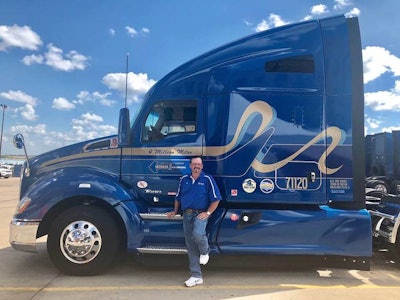 Werner Enterprises (CCJ Top 250, No. 13) truck driver Tim Dean has achieved the remarkable milestone of driving 5 million accident-free miles. Dean joins retired Werner driver Charley Endorf as the second driver in company history to reach this elite milestone.
To honor his accomplishment, Werner hosted a special ceremony at its headquarters in Omaha with Dean's family and Werner associates.
Reaching 5 million accident-free miles is a rare milestone. The average professional truck driver drives about 2 million miles over the course of their career, according to the American Trucking Associations.
"Today, we have the pleasure of showcasing what greatness looks like in the daily work of the American professional driver," said Werner's Chairman, President and CEO, Derek Leathers. "It's the accomplishment of waking up every day, working hard and delivering goods that matter, both safely and on time, to those who have entrusted us to do so. We commend Tim for his contributions to Werner and the industry as a whole and are incredibly proud of him for his unwavering commitment to safety over the last 35 years. We look forward to Tim's continued success on the road as a professional driver, one safe mile at a time."
Dean joined Werner in 1988 and has received several accolades during his tenure with the company. In 2009-2010, he served as an ATA America's Road Team Captain and has also been a Werner Road Team Captain and mentor since 2005.
For 22 years, he has competed in the Nebraska Truck Driving Championships, placing first in his class nine times and earning Grand Champion recognition in 2012 and 2018. He was awarded the Commercial Vehicle Safety Alliance IDEA (International Driver Excellence Award) in 2019. In addition, he was named the Nebraska Trucking Association's Driver of the Year in 2019.