Trucking news and briefs for Friday, July 7, 2023:
Comment period on automatic emergency braking opens
The Federal Motor Carrier Safety Administration and the National Highway Traffic Safety Administration are now accepting comments on a proposal that, if finalized, would mandate automatic emergency braking (AEB) systems on trucks with a gross vehicle weight rating of more than 10,000 pounds.
The notice of proposed rulemaking (NPRM) published Thursday is open to public comment for 60 days through Sept. 5. Comments to NHTSA can be made here, while comments to FMCSA can be made here.
The NPRM responds to a mandate under the Bipartisan Infrastructure Law directing the Department of Transportation to enact a Federal Motor Vehicle Safety Standard (FMVSS) that requires heavy commercial vehicles with FMVSS-required electronic stability control systems to be equipped with an AEB system, and also promotes DOT's January 2022 National Roadway Safety Strategy to initiate a rulemaking to require AEB on heavy trucks.
The notice also proposes Federal Motor Carrier Safety Regulations (FMCSRs) requiring the electronic stability control and AEB systems to be on during vehicle operation.
"Considering the effectiveness of AEB and electronic stability control technology (ESC) at avoiding these crashes, the proposed rule would conservatively prevent an estimated 19,118 crashes, save 155 lives, and reduce 8,814 non-fatal injuries annually once all vehicles covered in this rule are equipped with AEB and ESC," the agencies said in the NPRM. "In addition, it would eliminate 24,828 property-damage-only crashes annually."
The proposed requirements also include two tests to ensure that the AEB system does not inappropriately activate when no collision is actually imminent. These false positive tests provide some assurance that an AEB system is capable of differentiating between an actual imminent collision and a non-threat, the agencies said. While the tests are not comprehensive, they establish a minimum performance for non-activation of AEB systems.
This proposal would require that all of the NHTSA AEB requirements be phased in within four years of publication of a final rule. Trucks and certain large buses with a GVWR of greater than 26,000 pounds that are currently subject to FMVSS No. 136 would be required to meet all requirements within three years. Vehicles not currently subject to FMVSS No. 136 would be required to have ESC and AEB systems within four years of publication of a final rule.
FMCSA's proposed rule is intended to ensure that commercial motor vehicles equipped with the ESC and AEB systems mandated by NHTSA are maintained and operated safely.
NHTSA and FMCSA also jointly determined not to propose AEB retrofitting requirements for existing heavy vehicles or ESC retrofitting for vehicles not currently subject to FMVSS No. 136. "For technical reasons, AEB and ESC retrofits are difficult to apply broadly, generically or inexpensively and thus this NPRM does not propose a retrofit requirement," the agencies said.
[Related: Proposal to mandate automatic emergency braking systems announced]
Driver's split-sleeper exemption request denied
The Federal Motor Carrier Safety Administration announced Thursday it has denied a request from truck driver Matthew Killmer that would have allowed him and other truck drivers to shorten the required seven-consecutive-hour sleeper-berth period to five hours to accumulate the required 10-hour rest period under split-sleeper rules.
Current regulations allow drivers to split sleeper-berth time into 8/2 or 7/3 segments to satisfy the 10-hour break requirement, as long as driving time before and after each rest period, when added together, does not exceed 11 hours or exceed the 14-hour on-duty limit.
Killmer, in his request, said in the current 10-hour break and 8/2 and 7/3 sleeper-berth splits FMCSA has not "considered the serious amount of lost time" a truck operator experiences on a weekly basis. "Already commercial vehicle operators face lost time from family, hardships with safe parking, lost income/revenue and much more. The 5/5 sleeper-berth split may not alleviate some of what they face, yet it will effectively help them in safe truck parking and lost income/revenue."
In denying the request, FMCSA said Killmer "failed to establish that he would likely maintain a level of safety equivalent to, or greater than, the level achieved without the exemption." The agency added that in its most recent hours of service changes in 2020, it modified the split-sleeper rules to the current 8/2 or 7/3 splits "to provide more flexibility for drivers."
FMCSA noted that it considered other split configurations, like Killmer's 5/5 request, but found "there is no clear evidence -- to say nothing of a scientific consensus -- that a 6-hour (or shorter) sleeper-berth period is long enough to prevent cumulative fatigue. That is especially obvious since drivers cannot be expected to fall asleep immediately." The agency added that the 7-hour rule "allows enough time for drivers to relax, de-compress, and obtain more than 6 hours of sleep."
[Related: Another driver seeks split-sleeper flexibility]
BorgWarner spin-off begins trading
Phinia Inc. began trading Wednesday as an independent company on the New York Stock Exchange under the ticker symbol "PHIN" after the completion of its spin-off from BorgWarner (NYSE:BWA) on July 3.
The company said the spin-off "created a leading Fuel Systems and Aftermarket business, with strong brands including Delphi, Delco Remy, and Hartridge." Phinia said its mission is to deliver high quality, innovative systems and components for OE and aftermarket customers across commercial and light vehicles and industrial applications, while leveraging fuel technology as a pathway to carbon neutrality.
"Today is a very exciting day as we begin this new chapter as an independent business," said Brady Ericson, President and Chief Executive Officer of Phinia. "With our focused strategy, scale, talented workforce, and strong financial resources, this move gives us the freedom to grow our business and create value for our customers, employees, and shareholders. Our customers are looking for quality, efficiency, performance, and reliability, and PHINIA is pleased to be their global partner."
Ericson has more than 30 years of industry experience and brings in-depth knowledge of the global commercial vehicle, industrial and automotive markets and an extensive engineering background. He previously led three different business units of BorgWarner and was BorgWarner's first Chief Strategy Officer.
He is joined by a strong executive team with a track record of success, including Chris Gropp, Vice President and Chief Financial Officer. Gropp has spent over 20 years with BorgWarner, and she most recently held the position of Vice President of Finance for Fuel Systems and Aftermarket.
PHINIA's primary focus will be on applications and markets that will benefit the most from the energy density and utility of a fuel – driving the efficiency and performance of today's products, helping keep efficient vehicles in operation longer, and supporting the transition to carbon-neutral and carbon-free fuels of tomorrow.
"Our strategy centers around developing sustainable solutions for internal combustion engines and leveraging our technology for alternative fuels which we believe will rapidly become a key contributor on our journey to carbon neutrality," Ericson said. "Our vision of a sustainable future includes a wide range of solutions including carbon-neutral and carbon-free fuels."
Arkansas Trucking Association sends 9 drivers, 2 techs to national competitions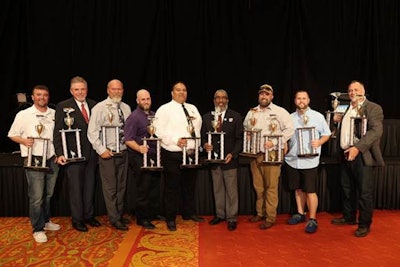 Nine professional truck drivers and two technicians have qualified to compete for national titles after taking top prizes in the 2023 Arkansas Trucking Championship.
The written and hands-on competitions brought together 152 of the best drivers and 46 of the top technicians in the state for a demonstration of safety knowledge and skill. Hosted by the Arkansas Trucking Association, the championship was held June 23-24 at the Rogers Convention Center in Rogers, Arkansas.
Over the course of the two-day event, drivers tested their skills in a pre-trip inspection competition, written exam and hands-on obstacle course. The driving skills portion was the biggest event, attracting hundreds of cheering friends, family, colleagues and spectators. To qualify for the truck driving championship, contestants must be accident free for the past year.
The following professional truck drivers will represent Arkansas in their respective classes at the National Truck Driving Competition, to be held Aug. 16-19 in Columbus, Ohio:
2023 Arkansas Truck Driving Championship Grand Champion and 4-Axle Class Winner: Loren Hatfield (Maumelle) of ABF Freight
3-Axle: Chaunce Umfleet (Lonoke) of FedEx Express
5-Axle: Phillip Gaganis of J.B. Hunt Transport (Rookie)
Flatbed: Gary Mars (Fayetteville) of Walmart Transportation
Sleeper: Keith Alderson (Greenwood) of Walmart Transportation
Step Van: Brian Figgins (Lowell) of FedEx Ground
Straight Truck: Jessie King (Little Rock) of FedEx Freight
Tank: Bret McBain (Bella Vista) of Walmart Transportation
Twins: Jose Ara (Texarkana) of Old Dominion Freight Line
Technicians competed in two tracks – truck and trailer. Anthony Nunez of UPS was crowned the Truck Technician Grand Champion. On the trailer technician track, Christopher Terifay, also of UPS, was named Grand Champion. Their combined scores helped garner the Team Award for UPS. In September, Nunez and Terifay will represent Arkansas in the National Technician Skills Competition, SuperTech 2023, in Cleveland, Ohio.