Trucking news and briefs for Tuesday, Oct. 24, 2023:
FMCSA changing Portal account login system
In order to improve security and comply with a federal mandate for Multifactor Authentication (MFA), anyone with an FMCSA Portal account needs to take action by Dec. 1 to keep access to their account.
Users will now access the FMCSA Portal through a Login.gov account instead of using an FMCSA Portal username and password.
To ensure continued access to the FMCSA Portal, users must set up a Login.gov account by Dec. 1. FMCSA has provided directions to create a Login.gov account here.
The change is the result of a directive from the Federal Cybersecurity plan under White House Executive Order 14028 and Office of Budget Memorandum M-22-09, both part of what's overall dubbed a "Federal Zero Trust Strategy." It is requiring all federal agencies to adopt secure MFA to enhance information security by Dec. 31. MFA is a method to verify your identity requiring two or more pieces of evidence. These factors can be something you know (like a password), something you have (like an access card) or something you are (like facial recognition or fingerprint).
Carrier and company users with questions or who need help setting up their Login.gov account should contact FMCSA by dialing 1-800-832-5660 or submitting a question and chatting with an agent here.
WIT names Influential Woman in Trucking finalists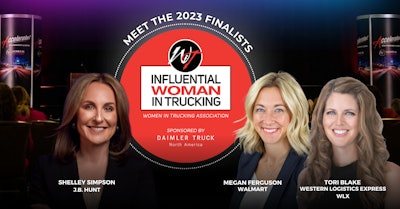 The Women in Trucking Association (WIT) announced three finalists for its 2023 Influential Woman in Trucking award, sponsored by Daimler Truck North America. The award was developed in 2010 to recognize female leaders and to attract and advance women in the trucking industry.
The award highlights the achievements of female role moles and trailblazers in the trucking industry. The 2023 Influential Woman in Trucking finalists are:
Tori Blake, Chief Financial Officer and Co-owner, Western Logistics Express and WLX
Megan Ferguson, Vice President and of End-to-End Delivery Acceleration, Walmart
Blake has made it her mission to mentor women in all facets of her business. In her role, she is responsible for financial management, talent acquisition, employee development and strategic visioning. WLX|WLE have been recognized as one of Kansas City's fastest growing companies each year she has been on the team, as well as one of Kansas City's best places to work. She was also named Kansas City Business Journal's 2023 CFO of the year.
Ferguson holds more than 15 years of experience at Walmart and Sam's Club, with a deep background in transportation operations and strategy and merchandise operations. She joined Walmart in 2007 as a Private Fleet Strategy Intern and moved into the role of Project Manager of Walmart's Private Fleet Strategy upon obtaining a degree in Supply Chain Management at Michigan State University. During her career at Walmart, she has filled transportation leadership roles in sourcing and procurement, inventory management and optimization as well as merchandise operations. In her current role, Megan brings Walmart's delivery strategy to life, across first, middle, and last mile, and always prioritizing the customer's needs.
Simpson's 29-year career at J.B. Hunt reflects the company's continued progression as an innovative leader in the transportation and logistics industry. Since joining the company as an hourly customer service representative, she has held multiple positions in business segments across the company, including leading Integrated Capacity Solutions, Truckload, Customer Experience, Highway Services and most recently serving as Chief Commercial Officer and Executive Vice President of People and Human Resources. She also led the development of the company's freight matching technology platform, J.B. Hunt 360°.
There will be a panel discussion at the WIT Accelerate! Conference & Expo held in Dallas, Nov. 5-8. The winner will be announced after the panel discussion on Tues, Nov. 7 at 10:15 a.m. Central time.
Volvo recalls nearly 2,000 trucks over steering issue
Volvo Trucks North America is recalling approximately 1,933 model year 2024 VNL, VHD, and VNR trucks. National Highway Traffic Safety Administration documents state that the fastener that connects two steering components, the pitman arm and draglink, may be loose, which can cause the connection to fail and result in a loss of steering control, increasing the risk of a crash.
Volvo said the recall population is vehicles built between July 21 and Sept. 9, 2023, with the issue being caused when improper torque may have been used on the castellated nut on the pitman arm to the drag link.
Volvo said the driver may detect excessive play/looseness or vibration in the steering, which would provide warning of the issue. Failure of the cotter pin or loosening of the nut may also be detected during pre-trip inspections, Volvo added.
Dealers will inspect and tighten the castle nuts and install new cotter pins, free of charge. Owner notification letters are expected to be mailed Dec. 4. Owners can contact Volvo Trucks' customer service at 1-800-528-6586 with recall number RVXX2311. NHTSA's recall number is 23V-690.
Hyundai Translead recalling certain intermodal chassis
Hyundai Translead is recalling approximately 562 model year 2022-'24 CGN3-20/40 and CGNS-20/40 12-Pin extended chassis. National Highway Traffic Safety Administration documents stated that the cross braces located above the chassis air tanks may have been improperly welded.
An improperly welded cross brace can detach from the vehicle, creating a road hazard, the recall added. A falling cross brace could also damage the air tank airline, causing an unintended brake lock. Both scenarios can increase the risk of a crash.
Owners are advised not to operate the chassis until the repair has been performed. Hyundai Translead will work with owners and repair shops to apply welds and install brackets on cross braces, free of charge. Owner notification letters are expected to be mailed in this month. Owners can contact Hyundai Translead customer service at 1-800-251-0871. NHTSA's recall number is 23V-685.
Small number of Volvo, Mack trucks recalled for ESC issue
Volvo Trucks North America and Mack Trucks are recalling certain 2024-model-year trucks over a software programming error that may cause the electronic stability control (ESC) to be inoperative.
Affected units include approximately 29 model year 2024 Volvo VNL and VNR trucks, and 13 model year 2024 Mack Anthem and Pinnacle units.
Dealers will reprogram the control unit software, free of charge. Owner notification letters are expected to be mailed Dec. 3. Owners may contact Volvo Trucks' customer service at 1-800-528-6586 with recall number RVXX2310 and Mack Trucks' customer service at 1-800-866-1177 with recall number SC0450. NHTSA's recall numbers are 23V-689 (Volvo) and 23V-691 (Mack).