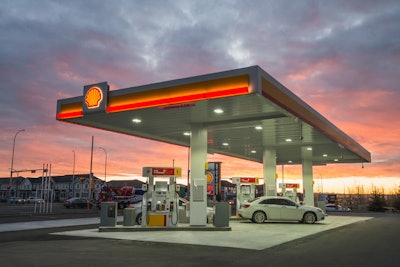 Fleet technology news and briefs for the week of May 23rd.
Shell expanding its telematics offerings
Shell Fleet Solutions, a subsidiary of Shell Oil, has been in the fuel card business for more than 30 years in the United States. Last month the company expanded with a new Shell Telematics offering that comes with a fully compliant electronic logging device (ELD).
Shell Telematics uses a Geotab device in the vehicle to capture data for reporting driver behavior and vehicle performance. The cloud-based Geotab platform works with all vehicle classes and "there are so many different use cases," said Tim Murray, sales director at Shell Fleet Solutions.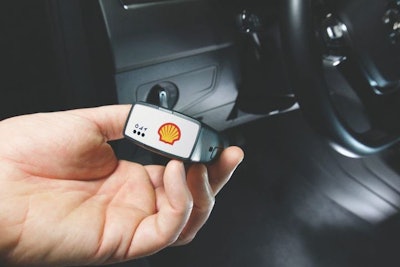 The primary use cases are saving fuel and improving safety and operational efficiency, he noted. Shell Telematics gives fleets dedicated account managers to tailor the fuel card and telematics offerings to their needs. The account managers stay with customers for the life of the contract, Murray said.
As fleets transition to alternative sources of energy, such as electric or hydrogen-powered vehicles, "we are able to work with those folks and link in those pieces," he said.
Shell Telematics comes with a dashboard for fleet managers that has various exception reports. It also has a driver app that gives access to notifications and performance metrics for unsafe driving and idling behaviors, and for additional fleet management tools.
A unique report that is available from Shell Telematics combines fuel card and telematics data to calculate CO2 emissions. As fleets reduce fuel consumption the calculator shows the amount of carbon avoidance, he said.
MiX Telematics releases stand-alone driver tracking app
MiX Telematics has a new MyMiX Tracking app that leverages mobile phone technology for real-time driver tracking. The app also records, measures and displays behaviors for drivers to self-correct in areas that include speeding, harsh braking, harsh acceleration and mobile phone use while driving.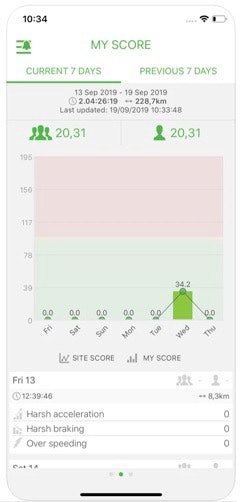 The company says the new app is a cost-effective alternative to a hard-wired onboard computer, which is ideal for fleet customers that run sub-contractor vehicles, leased vehicles, company cars, short-term rentals or grey fleets.
"We are seeing high interest among our fleet customers for simpler telematics solutions that don't require hardware to start and that fleets can grow into," said Charles Tasker, chief operating officer at MiX Telematics.
Werner Enterprises integrates with Navistar to reduce repair time
Werner Enterprises has integrated Navistar International 360 (I360) into its Werner EDGE platform to speed vehicle repair time with transparent communications of fault data to the International service network.
"With a comprehensive, easy-to-use interface, Navistar I360's communications and fleet management platform provides dual benefits for our professional drivers and Werner associates, enabling faster, more efficient support across the organization," said Werner's Chief Information Officer Daragh Mahon.
The API integration with Navistar launched in March 2021. Werner is able to send trucks to certified OEMs with the parts inventory to quickly get vehicles back on the road and gain warranty coverage on the repairs.
"Werner is finding creative ways to leverage available data from our systems to automate back office processes and improve the driver experience," said Navistar's Director of Customer Aftermarket Technology Brian Mulshine.
The integration will save 10 minutes per repair event and reduce data entry. Werner's call center team is able to address repair events in an average of two calls compared to a previous average of 12 calls per event. Werner's professional drivers are getting back on the road faster with a reduction in dwell time of 30%, the company said.
DAT network adds FourKites visibility
Truckload freight marketplace DAT Freight & Analytics is working with FourKites, which provides a real-time supply chain visibility platform, to bring visibility to the DAT network.
DAT said the new visibility features from FourKites will help freight brokers improve customer service and strengthen relationships with carriers by reducing the need for check-calls and ETA management. It will also enable carriers to quickly integrate tracking through their ELD or other applications.
DAT customers will have insight into the status of their loads from dock-to-dock, including predictive ETAs and wait-time information at more than 1 million shipper docks across North America. Trucks on the FourKites platform will be identifiable to shippers and freight brokers in the DAT network for DAT customers to have access to the largest pool of "trackable" capacity on the spot market, the company said.
Digital freight broker shares technology
ZUUM Transportation, a digital freight broker and technology provider, released a SaaS platform for freight brokers called ZUUM Automated Broker.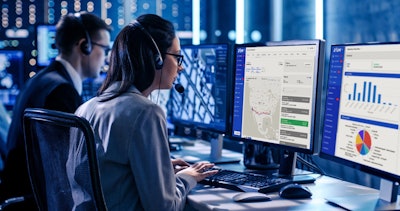 The company said the new platform addresses capability gaps for freight brokerages, 3PLs, and freight forwarders.
ZUUM offers digital freight-matching capabilities to shippers and carriers but is sharing its technology with external brokerages that could be considered competitors.
"Prior to launching, we have rigorously tested this with our own brokerage and have seen our top freight brokers cover over 30 shipments in a single day," said Mustafa Azizi, CEO of ZUUM Transportation. "This product is empowering brokers to focus on strengthening relationships with their partners."
The ZUUM platform also comes with digital tools for customer service, carrier management, pricing, performance monitoring, automated billing and invoicing and other back-office functions associated with an enterprise transportation management software (TMS) system.
BoxLock makes strategic hires amid rapid growth
BoxLock, a supply chain access control platform, has hired two experienced business executives as it enters a new stage of growth: Michael Coyne will serve as chief financial officer and Andrew Kelley as chief commercial officer.
Coyne most recently served as senior vice president of strategic development at Quick International (now Kuehne + Nagel), a highly-specialized logistics and freight forwarding company serving the life sciences, clinical trials, aviation, and other industries.
Coyne's background includes 19 years as a senior investment banking executive. Over the course of his career, Coyne has advised clients in completing over 140 mergers and acquisitions and with capital raising transactions that exceed $54 billion in value.
Kelley joined BoxLock in 2020 as Chief Commercial Officer to drive BoxLock's B2B go-to-market efforts. He has 20 years of experience in supply chain and logistics, software, finance and strategic partnerships.
Kelley most recently served as CEO of Bell Creek Partners where he provided strategic consulting services to technology founders and private equity firms on supply chain and logistics software solutions. Kelley previously led Corporate Development at Omnitracs and founded a digital-freight matching business.
BoxLock provides intelligent supply chain access control systems that are used by healthcare, aviation, operations and logistics companies to secure and transfer assets in the first, middle and final mile of their 24/7 supply chains. The technology includes secure and rugged smart locks that combine integrated barcode scanners and real-time connectivity with a suite of cloud-based access control, audit log and inventory management tools.
Luma wins Titan award for driver training
Luma Brighter Learning received a Titan Gold award from the International Awards Associate (IAA) in the competition for Product Innovation for its eNugget leaning management system, which was created for the trucking Industry.
"This Titan Business Award represents to me what our team strives each day to accomplish: innovation for our clients and the industry," said Dr. Gina Anderson, CEO of Luma. "We will continue to be an industry innovator so that we can help drivers come home safe to their loved ones."
The Titan award caters to public and private organizations, as well as business professionals worldwide. IAA hopes to honor achievements and nurture excellence in work life from entrepreneurs to companies and organizations.