Trucking news and briefs for Monday, May 24, 2021:
North Carolina piloting in-cab traffic alerts for truckers
The North Carolina Department of Transportation is partnering with a technology firm to provide in-cab communications to truck drivers in an effort to reduce the risk of commercial truck crashes.
NCDOT is partnering with Drivewyze parent company Intelligent Imaging Systems, a Canada-based company that provides innovative connected-truck technology.
The in-truck messaging provides real-time alerts of urgent road conditions. NCDOT says the alerts will help truck drivers react more quickly before encountering stopped traffic or major slowdowns.
"We strive to let people know of unexpected traffic conditions," said Kevin Lacy, the State Traffic Engineer at NCDOT. "We're excited to be working with an industry partner that is using new technology. Truck drivers will be able to get advance warning of a major roadway incident before they see it on one of our dynamic message signs."
The department is contracting with Intelligent Imaging Systems to provide this service to truck drivers traveling through North Carolina. The first-in-the nation pilot will cover all 182 miles of Interstate 95 and the rural portions of Interstate 40 outside the Triangle, the Triad and Asheville.
The new alerts will have messages such as "Sudden Slowdown Ahead" and "Congestion Ahead" about 2 or 3 miles before commercial truck drivers encounter the slowed traffic or incident. Information will be in real time via INRIX, a leader in transportation analytics and connected vehicle services. These alerts will complement other notifications subscribed trucks already receive through the Drivewyze notification service.
Shippers conditions hit record low in March
Just a week after FTR reported its Trucking Conditions Index hit a record high in March, the firm's Shippers Conditions Index for the same month fell to -17.8, the lowered reading on record and more than five points lower than February.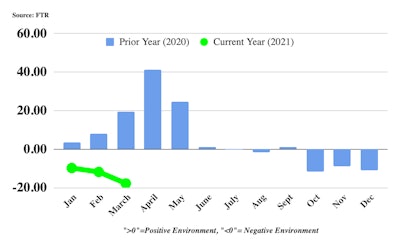 FTR forecasts conditions for shippers will improve in the coming months, but the SCI will remain negative into 2022.
"While May and June are expected to be the worst months for shippers as rate increases in truck and rail hit their peak for the year, it is possible that the tight conditions could persist for longer," said Todd Tranausky, vice president of rail and intermodal at FTR. "Capacity is expected to remain a constraining factor for transportation through the end of 2021 as truck and rail each struggle to regain employees lost during the pandemic. Strong consumer and industrial demand means freight volumes will remain strong at the same time, setting up a challenged market for shippers over the next few months."
The Shippers Conditions Index tracks the changes representing four major conditions in the U.S. full-load freight market: demand, freight rates, fleet capacity and fuel price. The individual metrics are combined into a single index that tracks the market conditions that influence the shippers' freight transport environment.
Werner receives first T680 Next Gen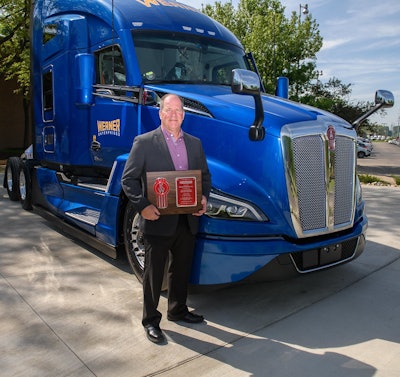 Werner Enterprises (CCJ Top 250, No. 11) received the first Kenworth T680 Next Generation production truck Thursday during a special ceremony at the Kenworth manufacturing plant in Chillicothe, Ohio.
The T680 Next Gen on-highway flagship improves on the previous generation truck's fuel efficiency, performance and aerodynamic styling.
"We are a company built by a driver for drivers, and our drivers are passionate about the Kenworth T680s that have served as an integral part of our fleet for many years," said Scott Reed, Werner senior vice president of equipment purchasing and maintenance. "The T680 Next Gen's excellent comfort, styling and performance is highly anticipated among our drivers, and we are all eager to see the new model join our fleet."
The Kenworth T680 Next Gen provides drivers with the new customizable 15-inch digital display, next generation Kenworth SmartWheel, additional advanced driver assistance systems (ADAS), forward lighting with signature LED headlamps, comfortable cab and sleeper, and a sleek aerodynamic design. The trucks are available in day cab, 40-inch, 52-inch and 76-inch-sleeper configurations and are standard with the proprietary Paccar Powertrain featuring the 2021 Paccar MX-13 engine, Paccar TX-12 automated transmission and Paccar DX-40 drive axle.