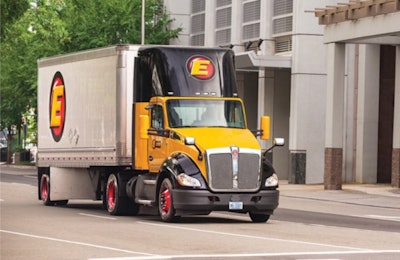 Sales of trailer tracking and monitoring systems have been healthy among truckload carriers. This year has seen a record high with fleets upgrading to 4G and 5G devices with expanded functionality to avoid service disruptions from sunsetting 3G CDMA cellular networks.
Use of the technology has been far less common in the less-than-truckload industry sector. Comparatively, LTL fleets operate trailer equipment in a tighter network with more terminal locations, but this doesn't make assets any easier to manage.
With rising demand from e-commerce, LTL carriers are under pressure to increase capacity. Some are turning to trailer tracking as a way to accomplish this and other needs.
Estes plans fleet-wide rollout
Recently, Estes Express became the first major LTL carrier to begin a fleetwide deployment of a trailer tracking system. The company has been having conversations with a vendor, Spireon, for three or four years to understand how to leverage the technology, explains Rich Schwartz, Estes vice president of engineering and corporate optimization.
Richmond, Virginia-based Estes is an end-to-end transportation and custom logistics solutions provider with 90 years of freight shipping expertise.
Schwartz is planning to use the technology to give fleet operators better tools to do their jobs and to automate and optimize a wide range of yard, dock and pickup and delivery (P&D) processes.
The plan for the deployment, he said, is to "think big and start at a smaller scale." Estes will start by using location data from trailers to optimize processes for yard checks and to manage detention at customer sites.
To perform a yard check, Estes currently prints out a list of trailers at the site that have a city or over-the-road linehaul manifest. This information comes from its legacy software system. Workers then have to go through a manual process of identifying trailers on-site that are not on the list and then physically opening their doors to verify they are available to use.
Estes has trailers at more than 250 terminals and at thousands of customer sites. Doing a yard check takes significant time, especially at large terminals such Joliet, Illinois, which has 750 trailers on any given day, he said.
Schwartz is most excited about using the technology to save drivers time. Estes plans to provide drivers with the location of trailers they are assigned to pick up at company and customer sites anywhere in the United States. Estes will have Spireon data integrated with the fleet's mobile platform from Trimble that drivers use.
"The last thing we want is for drivers to go into another app to look for a trailer," he said.
Expanding efficiency
Estes will also integrate trailer location data with a proprietary application it uses for dock and yard operations. Trailer locations in the yard will be communicated to the mobile computers in vehicles it uses for jockeys.
Schwartz is in the process of putting new metrics to use to monitor how the fleet is utilizing trailers at each location for P&D and linehaul operations. Tracking usage in terms of miles will help the company better maintain equipment, he said, and move equipment to locations to balance supply with demand.
In addition to using the Spireon FleetLocate technology on box trailers, Estes will be installing devices on its fleet of 800 intermodal containers. Having visibility of containers will help the fleet reduce its chassis rental costs, which start once the chassis leaves the rail yard.
Since containers are not connected to a power source, Estes is using a solar-powered device from Spireon.
Another planned use for the technology is tracking the location of converter dollies to automate inventory checks. Currently, Estes does a manual inventory count of dolly equipment twice a year.
"It is a challenge for every carrier to know where every piece of equipment is at," he said. Tracking dollies will help with planning equipment purchases. If the data shows the fleet is only using 5,000 of the 7,000 dollies in the fleet, "we have some things to consider."
Future considerations include getting tire pressure and cargo sensor readings from trailers through the Spireon platform. If the company had a cargo sensor, "we would never have to open another trailer in a yard to know if it was empty or has freight," he said.
Schwartz is also intrigued by the possibility of monitoring how the capacity of trailers are utilized. A cargo sensor that measures cargo volume, for example, could be used to determine how efficiently dock workers are loading trailers to "put more science into our true capacity. If we had trailers that are not full, we are going to back them in and fill them."
"One of the things we looked at with trailer tracking devices is we wanted something we could build upon," he added. "To digest all that data from day one would be very tough for us."
Spireon is in the process of installing the FleetLocate platform at 20 locations of Estes that have the highest velocity of trailers passing through. The plan is to install 1,000 trailers per week and have all 40,000 trailers in the fleet completed by year end, he said.