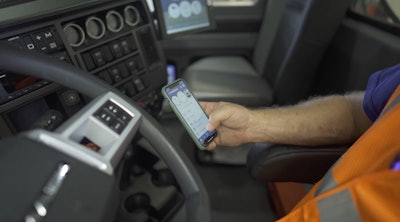 Technology news and briefs for the week ending Sept. 18:
McLeod Software having banner 2021
At the McLeod Software user conference, Sept. 12-15 in Grapevine, Texas, the company reported a record number of new customers in 2020. In 2021, sales for its transportation management software used by carriers and freight brokers rose 58%, year over year. McLeod currently has more than 1,100 customers and 550 employees.
McLeod announced a new DataFusion framework expanding on its traditional EDI services that its customers use to electronically communicate with trading partners. DataFusion gives McLeod customers the ability to connect to their customers' supply chains in new ways, such as with API web services.
The company also introduced a new product to help carriers automate tasks and speed up the process of driver onboarding, orientation, and preparing for dispatch.
On the business intelligence front, the company has a new version of McLeod IQ with quicker data refreshes and an improved customization process. Users can slice metrics to identify root causes and trends. Another addition in McLeod IQ is for LTL carriers to track pickup and delivery details by terminal.
P&G taps Trimble for supply chain procurement
Trimble formed a strategic relationship with Procter & Gamble that will enhance how shippers and carriers partner during the transportation procurement process, the companies said. The initiative will result in developing an agile transportation procurement collaboration platform from Trimble.
"We look forward to working closely with P&G to leverage their extensive supply chain expertise to improve the procurement process for both shippers and carriers through technology," said James Langley, senior vice president, Trimble Transportation.
P&G will inform development of a platform focusing on procurement of transportation capacity by creating closer shipper and carrier relationships and helping each find the right partners. The platform will also expedite the contracting and onboarding process to improve transaction velocity and cost-effective movement of freight.
"This collaboration empowers us to pair P&G's industry intelligence with Trimble's deep experience in transportation technology," said Michelle Eggers, vice president, Global Logistics Purchases, for P&G.
Transflo releases automation suite
Transflo has released a suite of document automation services, Transflo Intelligent Automation (TIA), for carriers, freight brokers, factoring providers, shippers, and freight auditors.
TIA extracts data from digitized freight documents like Bills of Lading, Proof of Deliveries, freight invoices, maintenance reports and hours of service logs. Document capture can be performed quickly by drivers on the road using the Transflo Mobile+ app or at the 2,500 truck stop locations in the Transflo Express network.
The extracted data is automatically processed and delivered to pre-selected fleet personnel and integrated into accounting, invoicing, maintenance reporting, and transportation management system (TMS) platforms.
Documents are then automatically classified and indexed, and then uploaded for long-term storage within a web-based dashboard, the Transflo Portal, which serves as a single point of contact for invoicing, settlements, driver tools, and integrations with TMS platforms.
Bluewire creates safety sharing platform
Bluewire has developed an online community, Bluewire Connect, to help the trucking industry fight back against nuclear verdicts. The exclusive platform is for the entire U.S. transportation and related commercial auto liability insurance sectors to exchange trucking safety and defense information and share experiences across a secure platform.
The company says the platform gives trucking professionals in defense litigation, safety, risk management, a centralized aggregator of industry news, a forum for discussions, a source of continual education, and a resource repository of plaintiff materials that will serve as an incubator for new ideas and procedures.
Trucking professionals can join Bluewire Connect (Bluewire.ai) to submit a membership application. Bluewire says it vets all applications, and grants exclusive access to valid subscribers only to ensure the highest level of security.
Clockwork gets $5.5 million seed
Clockwork Logistics Systems concluded a $5.5 million seed round from leading logistics venture investors. Clockwork is designed to bolt onto an existing operating system of shippers to see performance metrics of carriers at the driver level. The platform can also be used by carriers and truck drivers to capture Proof of Delivery (POD) data.
S2Q Systems launches quote automation for carriers, brokers
S2Q Systems has a new email workflow automation platform, Speed to Quote, that helps transportation logistics companies quote shipments in under a few seconds. The system is fully integrated with email platforms. The new startup is focused on helping expedite carriers and freight brokers analyze and respond instantly to incoming quote requests via email without sacrificing the human element.