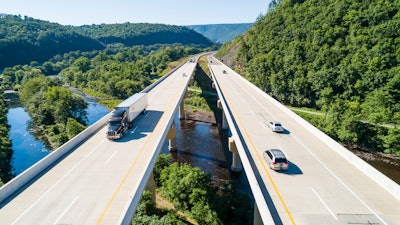 Convey, a last-mile technology leader that powering Direct to Consumer delivery experiences, has been acquired by project44, an advanced visibility platform for shippers and logistics service providers, the companies announced Tuesday morning.
Convey, which counts Wal-Mart and The Home Depot, among its customers, combines real-time visibility, post-purchase experiences and machine learning-powered analytics to improve the overall customer experience. Together, the two companies will serve the global supply chain end-to-end, providing real-time visibility and actionable insights from raw materials to the front door to help brands deliver differentiated direct-to-consumer and eCommerce experiences for their customers.
The $255 million acquisition is project44's third this year and its largest to date.
project44 is the largest visibility platform company as measured by ARR, customer count, and number of carriers and with Convey, project44 now connects more than 880 global shippers and third-party logistics providers with a network of 113,000 carriers, 2.6 million assets and more than 9 billion last-mile shipment events.
This acquisition is also significant because it demonstrates project44's position as the acquirer of choice for Generation 2 logistics technology companies. With three such acquisitions in the past six months, including Ocean Insights, ClearMetal, and now Convey, project44 is the largest Generation 2 logistics technology brand. These modern tech stacks allow project44 to rapidly reuse componentry from the acquired company's technology within the project44 platform in a dramatically shorter turn-around time than is possible for traditional Generation 1 logistics technology companies.
"project44 is solving today's most critical business challenge – how to deliver on continuously evolving customer expectations while remaining operationally efficient during unprecedented uncertainty and growing complexity," said Jett McCandless, CEO and founder of project44. "Our acquisition of Convey brings project44 all the way to the front doorstep and helps our partners become more proactive and efficient so they can get people the products they want and need this holiday and beyond."
Added capabilities from Convey, including the ability to resolve parcel delivery issues through automated customer communication, have bolstered project44's suite of workflow solutions, allowing carriers and logistics service providers to spend less time working manually and more time focused on their core business.
"The stakes are high for companies to not only fulfill and ship orders but to make the right promises about availability and delivery. However, volatile conditions, overwhelming complexity and blind spots in the supply chain make this difficult to achieve," said McCandless. "We've solved this with the acquisition of Convey, making project44 the unequivocal choice for any company that wants to leverage supply chain and logistics as a competitive advantage and driver of brand loyalty."
Salesforce, Google and Adobe have transformed virtually every aspect of the digital customer experience through visibility and intelligent decisioning in the shape of marketing automation, targeted advertising and personalization, said Rob Taylor, founder and CEO of Convey. "Now with Convey, project44 is bringing this approach and cutting-edge technology to the most complex customer experience challenge yet: the supply chain."