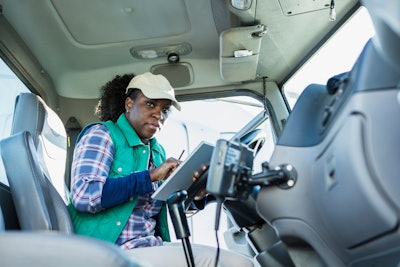 Getty Images
Mega telecommunications company AT&T began the sunset of its 3G network Feb. 22 at which point modules and devices that request 3G voice and data-only services from the AT&T network will no longer work – a wind down that will affect more than 350,000 Class 8 vehicles.
AT&T and Verizon began the rollout of 5G wireless services Jan. 19. The deployment of the 5G network offers faster speeds and broader range, but according to global technology intelligence firm ABI Research, the sunset of 3G will further affect the already strained supply chain.
"It is entirely likely that many fleets that have not yet transitioned will be unable to purchase, remove and replace devices prior to February 22," said Susan Beardslee, supply chain and logistics principal analyst at ABI Research. "This will result in serious compliance, safety, vehicle health and operational capability challenges to an industry that moves roughly 72.5% of the nation's freight by weight and during a time of rolling, crucial shortages of consumer and business products."
ABI said in a news release that options for carriers late to update to 4G-compliant equipment include a temporary ELD exemption from the Federal Motor Carrier Safety Administration (FMCSA) as they did for pandemic-related needs. Longer-term, as connectivity and ADAS advance, more telematics will come factory/line-fit/OEM-grade with the unit pre-installed. Future scenarios to consider are modular hardware designs and hardware upgradeability, eSIM software and greater inventory planning in advance.
For now, telematics and other IoT connected devices will no longer function as needed unless they have 4G and higher capability.
"Essentially, when the devices no longer function, drivers cannot digitally track their hours of service. Considering that driver fatigue tops the list of road dangers, this sunset severely impacts ELD compliance and road safety," Beardslee said.
Telematics companies have been working toward the shift in recent years as Verizon stopped accepting new 3G-CDMA subscriptions to its network after June 30, 2018, and AT&T blocked new 3G-GSM activations in 2019.
While some providers have the resources to redesign products to align with available product, many have allocation challenges and six-month lead times from their suppliers, Beardslee said. And that leaves thousands of vehicles in the dark after sunset.
As companies transition, any long-haul truck that relies on 3G technology, which is mandated to record and monitor driver's hours of service, will become non-compliant with FMCSA rules.
It will also impact cross-border trade with Canada and Mexico as both countries have delayed their 3G sunsets to mid-decade. Mexican and Canadian fleets using current AT&T 3G devices will no longer be able to transmit or receive data between drivers and dispatch if they enter the U.S. after Feb. 22.
"Let's hope that when an inevitable 4G shutdown occurs in the future, telematics companies and fleets will be better prepared," Beardslee said.
3G was first introduced in the U.S. two decades ago and its shutdown unlocks space on the broadband spectrum for 4G and 5G. AT&T is the first of the major cell providers to shut down its 3G network to make room for newer 5G networks and beyond. Other network shutdown dates are:
Sprint 3G (T-Mobile): March 31
Sprint LTE (T-Mobile): June 30
T-Mobile 3G: July 1
Verizon 3G: Dec. 31
FMCSA also notes that many cell providers such as Cricket, Boost, Straight Talk, and several Lifeline mobile service providers, utilize the AT&T, Verizon and T-Mobile networks.