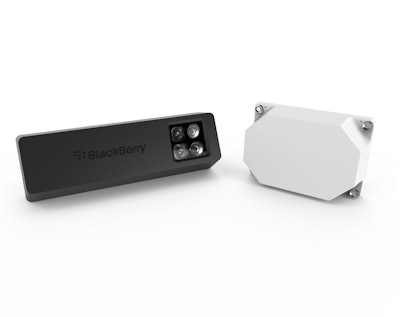 BlackBerry
Asset management is more important than ever for trucking companies in this era of significant capacity issues due to backups in the supply chain.
When a trailer isn't rolling, the money isn't flowing, and neither are the goods.
And according to ACT Research, orders for trailers at the manufacturer are extended through the end of the year, leading trucking companies to search for new ways to improve driver and asset utilization to increase uptime to meet growing customer demand.
Georgia-based Brown Trucking uses trailer tracking from SkyBitz on its 3,500 trailers and 700 power units to alleviate capacity issues.
Knowing trailer location, cargo status and other trailer details is "critical to make sure we are as efficient as possible and getting maximum utilization," said Brown Trucking President Michael Silverwood. "We can't go without tracking trailers."
And companies like SkyBitz, Phillips Connect and BlackBerry Radar, among others that develop trailer tracking systems, are innovating their trailer tracking to mitigate two major issues in the freight industry: driver retention and supply shortages.
ISAAC recently integrated BlackBerry Limited's BlackBerry Radar, a multi-sensor trailer monitoring and reporting system, into its ISAAC Open Platform ELD to provide fleet owners greater visibility into their operations, allowing them to better optimize their driver hours and improve trailer utilization. The combination gives an aggregate view of near real-time data on tractor and trailer operations, including route and mileage, temperature, humidity, door open/close and cargo load state, in a single console. This helps to better manage and automate dispatch operations, driver messaging and hours of service compliance to boost productivity, improve asset utilization, reduce costs and improve services to customers.
"With supply chain issues that show no sign of easing up anytime soon, having timely and accurate data that can help you eliminate wasted time and effort and that improves service, the life of drivers and the bottom line has never been more important," said Christopher Plaat, SVP and GM of BlackBerry Radar, BlackBerry. "Being more efficient is critical during these unprecedented times when there are added pressures on compliance, equipment utilization and drivers as the lifeblood of our economy."
Phillips Connect recently introduced three new Smart nosebox GPS gateways that can transform trailers into managed assets that provide telematics benefits. The new options provide GPS trackers and sensor hubs that deliver total awareness of trailer location, status and critical trailer conditions to the cloud.
"For years … knowing where your trailers are was really an important feature. Now everybody can pretty much do that. We do it very efficiently because we can embed GPS and our cellular radios right into the nosebox," said Phillips Connect Executive Vice President Jim Adler. "The other piece of that is the health of the trailer, and that's what we really focus on more than just where's my trailer."
Siamak Azmoudeh, vice president of PLM and business development at SkyBitz said that is the future of trailer tracking systems – not just GPS but the health of the trailer in real time.
Azmoudeh said trailer tracking initially was a solution to finding a misplaced or stolen trailer and was more a luxury than a necessity. He said that mindset has changed as companies realized they were investing a lot of money in excess amounts of trailers to be able to move more product instead of more efficiently using their assets.
"In the old days, most of those companies had a high ratio of trailers to trucks, and then people are suddenly thinking, 'This is a lot of lopsided investment. I'm buying a lot of trailers that I think I need to fulfill the business, but I really should be able to do this with a smaller number of trailers if I had a better way of managing.'"
SkyBitz tracks close to 650,000 unpowered assets, providing door-to-door visibility: is the trailer loaded or empty; when was it loaded or emptied; is it moving or stopped, etc.
But now it can also provide visibility into trailer health from tire anomalies to lighting outages to brake pad conditions.
"Where we're going with this technology is keeping them safe and keeping them roadworthy and knowing ahead of time what's going on with that trailer," Azmoudeh said. "Drivers are supposed to do an inspection when they come in – make sure that if they see something wrong, they can note it down – but companies want to get ahead of that because they're trying to automate things. Capacity challenges really push you toward more automation, better visibility to current assets and using technology to improve how you use every asset so you can maximize the productivity" and spend less capital on equipment.
He said it's also about improving uptimes to improve driver satisfaction in a time when drivers are hard to come by.
Adler said Phillips Connect focuses heavily on driver retention with its products. He said better trailer technology helps alleviate driver frustration and, therefore, driver turnover.
"If they're not turning, they're not earning. They get very frustrated if they try to connect to a trailer and there's any downtime at all," Adler said. "Driver retention is something we really focus on and try to make sure that when you dispatch a driver to a trailer, you know where that trailer is … you also know what the health of the trailer is."