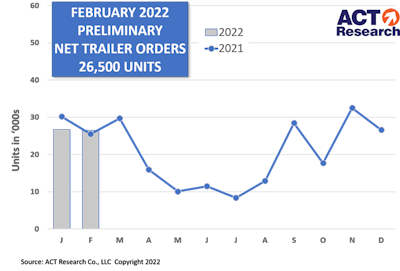 Net trailer orders for the last six month have remained relatively flat as OEMs manage how many inbound orders they will accept amid crushing supply chain woes that have slowed builds.
According to FTR – even with manufactures keeping a close watch on build slots – order bookings have exceeded production by about 3,000 units over the last six months, allowing for a modest increase in backlogs.
"The commercial trailer industry is the most stable it's ever been," said Don Ake, FTR vice president of commercial vehicles. "OEMs will increase production as soon as they can get more parts, components and workers. When this finally breaks loose, order volumes will jump substantially."
Frank Maly, director commercial vehicle transportation analysis and research of ACT Research, noted that net orders have averaged 26,600 trailers per month since November, and February's volume (26,500) tracks on that trajectory.
"Supply-chain and staffing headwinds continue to challenge OEMs in their efforts to increase output to meet extremely strong fleet equipment demands," he said. "Initial projections indicate that the supply chain has allowed OEMs to build at a hard-fought consistent rate over the last three to four months. Expect this to continue in the short-term, as the supply chain begins to adjust to underlying demand."
Demand for new equipment hasn't receded and the supply of new equipment is so restricted that Ake said, "some previously retired trailers that were being used for storage or drayage are now being refurbished and returned to active duty. Freight growth continues in all segments, so every month the need for trailers intensifies."
Trailer orders for the past twelve months have totaled 242,000 units.