Technology news and briefs for the week of June 19, 2022:
Rand McNally upgrades camera, platform solution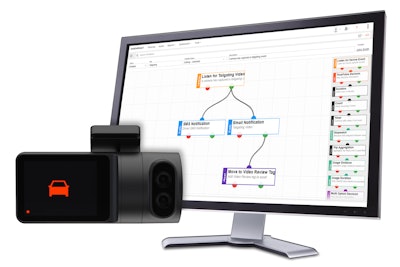 Rand McNally's Rand Video Telematics (RVT) solution is now available on the company's newly released Rand Platform.
RVT customers will have access to advanced features that include enhanced reporting and dashboard views of advance fleet tracking features such as details from vehicle "breadcrumb" trails, geofences and more; the ability to create geofence interactions unconstrained by "polygons" with a drawing feature; and a drag-and-drop workflow tool that can be anything the customer needs rather than selecting from prescribed metrics, reports or alerts. In addition, recent upgrades to the dual-facing camera offers the ability to monitor road-facing risky driving behaviors such as tailgating, collision detection, unsafe cornering, harsh braking and sudden speed increase.
The company in March launched its two-way dash camera with machine vision and artificial intelligence telematics, powered by Lytx's Surfsight, which has more than 185 billion miles of professionally analyzed driving data.
Rand McNally said the product has several useful features unique to in-vehicle cameras. It can be used as a two-way camera or a roadway-only facing dash camera, and in cases where privacy is a concern, managers can disable and cap the in-cab-facing camera or use it as a sensor to help identify distracted driving behavior without video recording. In addition, the roadway-facing camera can live stream video to provide managers with real-time access to what's going on at a job site, backups at the yard and other daily situations.
Lytx to launch DVIR service in Q3
Telematics provider Lytx is working to release a new driver vehicle inspection reports (DVIR) service by the third quarter to help fleet managers proactively identify and address issues with their vehicles to maximize the efficiency and dependability of their fleet during a time of high fuel prices and a severe shortage of vehicles and parts.
Lytx DVIR Service, which can be bundled with its ELD service or added separately is the next offering that will join Lytx's all-in-one suite of customizable fleet management solutions, which also include video safety, compliance, maintenance, fuel management, asset tracking and fleet tracking tools. Lytx does not require customers to purchase ELD service in order to add DVIR.
For fleet managers currently using Lytx's platform and tools, adding DVIR Service will provide them with a simplified electronic option that includes a customizable checklist that can be accessed through the Lytx driver app and web account. Areas of concern within a custom checklist, such as service brakes for a vehicle or trailer, can be tracked closely, and issues can be reported directly to a mechanic or fleet manager.
Drivers using Lytx DVIR Service can also upload photos and videos (up to 3 seconds) to enhance their reports and help mechanics better understand issues with a vehicle or trailer, saving time by eliminating paper reports or having to log into a separate app to access DVIR functionality.
Lytx said its DVIR service has helped fleets improve efficiencies, increase safety and save money.
Circle Logistics integrates Transport Pro software
Freight brokerage firm Circle Logistics has integrated transportation management company Transport Pro's software to streamline processes for employees assisting shippers with carrier capacity matching.
The integration combines Transport Pro's capacity management and freight management system with Circle's personalized freight and shipping solutions to build efficiency around freight pricing, booking and shipping to help shippers find available trucks.
Eric Fortmeyer, president and CEO of Circle Logistics, said the integration simplifies processes by minimizing unnecessary phone calls and rudimentary work and provides data insights that drive informed decision making regarding which in-network loads to assist its customers in booking.
In addition to in-network matching, Transport Pro provides integrations with platforms like Truckstop.com, Trimble Transportation, FreightVerify, DAT and Trucker Tools.
Boyle deploys Netradyne camera platform
Massachusetts-based Boyle Transportation, a specialized transportation logistics provider for life sciences and defense companies, has partnered with Netradyne to deploy the software company's vision-based Driver•i safety camera platform across its fleet of vehicles.
The company, which transports sensitive commodities for the U.S. military and medicines for pharmaceutical and biotechnology companies in its specialized temperature-controlled trucks, also uses Driver•iHubX for four additional camera views around its vehicle exteriors because of the sensitive nature of its shipments.
Michael Lasko, director of quality and environmental health and safety at Boyle said the company appreciates Netradyne's ability to put drivers in control by allowing them to check their metrics and GreenZone scores as well as its system of recognizing positive driving behavior and not just highlighting areas of needed improvement.
Driver•I provides actionable data to safety managers to help them determine how to provide assistance to professional drivers by identifying individual training needs with the aim to reduce claims and exonerate drivers in the event of an accident.
PayCargo gets $130M investment for growth
Logistics payments and data infrastructure platform PayCargo has received a $130 million investment to support the company's continued expansion, both domestically and internationally, development of new products and potential growth opportunities through M&A.
The company's cloud-based payments network enables payers to quickly and securely pay air and ocean carriers, maritime ports, ground handlers, freight forwarders and customs brokers, among others. It integrates with over 50 transportation management systems, enterprise resource planning and terminal operating systems entities across various transport modes and has a network of 40,000 businesses.
PayCargo continues to invest in software updates, development and enterprise-grade security to support this hyper-growth across North America, Europe and other geographies. Some of its new tools include real-time customer reporting and invoicing and workflow tools to streamline partial payments and reconciliation, advanced payments and automated refunds in any currency.
The investment is being managed by Blackstone Growth or BXG, which has invested significantly in the broader logistics, supply chain and e-commerce space, including acquiring a leading port operator in North America and over 1.1 billion square feet of warehouse assets globally.