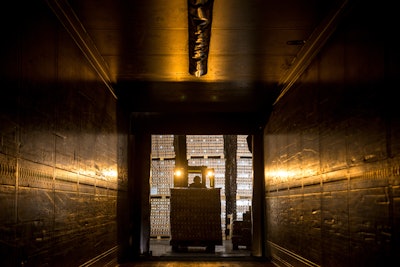 Trucking companies are known for lagging behind the curve when it comes to adoption of technology. But they have begun increasing investments in tech, whether because of regulations requiring them to invest in electronic logging devices or today's inflationary economy encouraging the use of fuel-saving telematics systems.
While those technologies are helpful and necessary, industry experts say having those many disparate systems can create inefficiency – the opposite of what customers expect in the age of ecommerce.
Customers in the trucking sector now want the same level of transparency into their freight that they have grown to expect on their personal shipments, and that's where the transportation management system (TMS) steps in, connecting all the systems to drive efficiency and provide greater supply chain visibility.
Matt Cartwright, CEO of SaaS-based TMS provider Magnus Technologies, said it's common for systems – finance, maintenance, customer integrations, ELD, etc. – to be siloed solutions. A TMS, he said, is the master of all the data, ingesting that data, rendering it to its users and then passing it along to partners as necessary.
"The TMS is like the cardiovascular system plus the lungs. It's integral to absolutely everything; it's needed to tie everything together," Cartwright said. "The brain can work on its own but obviously has to be integrated with the cardiovascular system since oxygen and blood are required for the brain to keep working. It's just a key component that really has to be pervasive throughout your entire business process."
He said the primary requirement necessary to create true transparency is being fully digitally integrated with all the various trading partners, customers, drivers, and reporting entities, etc., as well as a company's different systems like telematics, for example.
[Related: Investing in a SaaS-based TMS could reduce costs long term]
The meaning of visibility has changed
Project44 Chief Industry Officer Bart De Muynck said having telematics doesn't mean having visibility. When he previously worked for one of America's largest multinational food, snack and beverage companies, its fleet had telematics, but it wasn't connected to the TMS.
"For trucking companies that haven't, they need to invest in a TMS because it will attract better-paying, more sophisticated customers, as well as drivers," De Muynck said. "Investing in technology really shows that you are leaning into the future. You're here for the long run, and you're prepared to take those types of quote unquote risks that go along with any good emerging business."
He said trucking companies in the past have connected to shippers' TMS because the shipper has demanded visibility and have been slow to adopt the technology themselves because of the cost. With rising fuel and insurance prices, inflation and the driver shortage driving wages up and the requirement to spend capital on ELDs, there isn't a lot of money left to invest in new technology, he said.
But consumerization of trucking is shifting the onus onto trucking companies in addition to shippers.
De Muynck said newer companies like Rose Rocket have penetrated the market to offer more affordable options to smaller carriers so they can compete.
Rose Rocket Co-founder Justin Bailie said having a TMS and providing visibility is "absolute table stakes" in today's economy because if a carrier can't provide that visibility, a shipper will move on to the next candidate.
"We say in our business that Amazon really created an impossible standard; they turned on the idea that you should be able to see where your stuff is in real time, and that has become what every shipper is saying to their carriers: 'If I can track my (Amazon purchases), I should be able to track this highly valuable piece of freight that I'm giving you,'" Bailie said. "It's all about providing real-time information to whoever the customer in the value chain is."
And integrating all parties into one system enables full real-time freight visibility, which he said goes beyond the physical location of a driver, tractor and trailer.
"When we think about visibility, there's often this concept of a little dot driving on a map, and that is obviously a large part of it, but that's a little bit out of context in that it doesn't matter if you can see where the truck is if you don't know where your particular order is or when it's scheduled to come in," Bailie said. "There's more than just this dot on a map … Visibility is now increasingly becoming more than just the truck. The term visibility, I think, is really widening in that it means access to documents. Where can I access information from all the different parties? Providing the information back to the customer is really part of what visibility means: transparency into the business, not just the truck."
Though visibility is broader than tracking, tracking remains a top priority.
A Descartes survey found that advanced tracking of truckload transportation (47%) was the top fully deployed innovation among 1,000 respondents across the supply chain, but only 27% of respondents said they have integrated real-time shipment tracking into their TMS. It also found that TMS was the highest priority for carriers and logistics services providers but the fourth highest priority for manufacturers, retailers and distributors.
According to a recent Kenco survey, 65% of supply chain leaders said they plan to invest in technology to help with supply chain visibility over the next year. Supply chain visibility is rapidly maturing, according to the Descartes survey that found between 35% and 43% of respondents across all modes, including truckload, cited technologies in pilot or partial deployment. The survey said supply chain visibility was the fourth most important digitization effort at 43%.
Having that visibility means real-time reactions and ultimately better relationships.
De Muynck said no truck is ever exactly on time; they're either early or late.
"People think if you're half an hour early, you're on time," he said. "No, at Walmart they penalize you just as much for being half an hour early than if you're half an hour late because you're filling up the yard, and you're messing up those processes, and now you're creating issues at the dock door because that dock door is not being used efficiently."
He said a TMS can help mitigate those types of issues and improve customer relations, helping carriers win more freight, making the investment in a TMS platform worthwhile.
"Most good shippers … are never looking for the cheapest rate. They're looking for a reasonable rate with high quality of service, but they're also looking at companies that have a technology mindset, meaning you have to make it easy for people to want to do business with you," De Muynck said. "If you don't have a TMS, well that's going to be pretty hard."