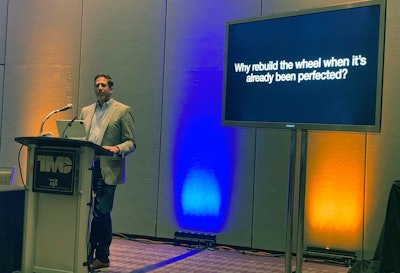 Phillips Industries CEO and founder and CEO of Phillips Connect Rob Phillips announced Sunday at TMC's 2023 Annual Meeting & Transportation Technology Exhibition in Orlando the formation of Phillips Innovations, an accelerator for bringing products into the Phillips platform by collaborating with technology trailblazers that are developing original solutions for the transportation industry.
"Our industry is slow at adopting technology," Phillips said, adding that the goal for Phillips Innovation is to bring onboard expertise that Phillips doesn't already have in-house.
While Phillips is rolling the dice with tech companies on the cutting edge, those same companies will get a trucking industry stalwart in Phillips. Upwards of 99% of all trucks are delivered with Phillips products, and over 80% of trailers.
Phillips said his company is "all about collaboration" as it seeks to build momentum in the smart trailer space and add more technologies to its platform, and is "investing heavily in the launch of Philips Innovations."
At launch, Phillips Innovations will have two areas of focus: sustainable energy, including solar power and electrification products for trucks and trailers, and patented vision systems, including a universal backup camera that uses open-source software and mobile applications Phillips has slated for release in the coming months.
The first partnership is with Spartan Radar on its multi-zone object detection for dynamic situational awareness. The system gives the driver an audible alert as objects move into a trailer's blind spot. Phillips expects to integrate Spartan's capabilities with its own backup camera systems. It also plans later this year to make available Spartan's collision warning and driver alert system, Hoplo.
Next is a partnership with Merlin Solar, a developer of thin, pliable and lightweight solar panels. Phillips expects to make the panels available in the coming months to truck and trailer OEMs, and later this year as a retrofit.
The third initial partnership is with ProEV, a manufacturer of high voltage harnesses. Phillips said his company is interested in layering a high voltage harness with a low voltage harness Phillips already produces for potential use in electric and hydrogen electric vehicles.