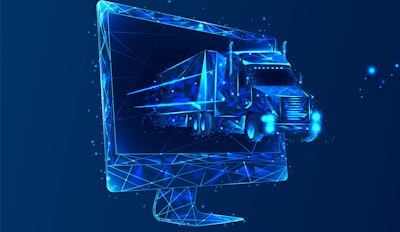 Nearly 95% of fleet managers said their business is impacted by increasing overhead of internal processes, and 32% said fuel price increases are impacting their business.
That's according to a recent survey of over 300 fleet professionals by ABI Research in conjunction with fleet software company Ridecell that aimed to get a better understanding of the pain points today's fleets face, what's important to their operations and their thoughts on digital transformation. According to the survey, 62% of fleet managers listed digitization as their top priority, and 55% listed workflow automation as their top priority. Yet, at the beginning of ABI and Ridecell's recent webinar, attendees were asked in a live poll where they were in their digital transformation journey only to find that most don't have a plan but rather were in attendance to learn more.
"In terms of planning for digital transformation, one half of fleet managers have a digital transformation strategy in place for their business. A lot of them are still in that planning phase when they should really be doing a lot more," said Adhish Luitel, a senior analyst at ABI covering supply chain management and logistics.
Luitel and Ridecell's Executive Vice President of Alliances and Marketing Mark Thomas offered fleets some insights on digitizing operations to help reduce the impact of things like fuel price increases and to improve internal processes.
Luitel said digital transformation refers to the use of data analytics and automation to optimize and simplify fleet management, and it can impact everything from uptime, downtime and idling time, as well as driver and employee satisfaction, fuel consumption and emissions, accurate cargo tracking and customer satisfaction, safety and more.
"Fleet management processes can lead to a lot of errors, and they can often contribute to inefficient data collection and analysis, making it difficult to identify trends or patterns as well as create challenges around optimizing fleet performance. So fleet managers may struggle to keep track of things like maintenance scheduling for each vehicle, leading to increased downtime and higher maintenance costs. This can prove to be very costly in the long run, especially for long-haul trucking and leasing companies because for them vehicle lifecycle management is key," Luitel said. "The overall goals of operational efficiency and cost reduction mean the importance of digital transformation for fleets cannot be overstated, and by leveraging technology to optimize fleet management, companies can improve their bottom line, enhance customer experience, as well as reduce risks."
He said the key to this is connecting vehicles because it enables fleet managers to better monitor and optimize their operations in real time, and connecting vehicles can also lead to an abundance of data that can be used to track inventory and monitor cargo conditions, among other things.
While digitization is among the top two fleet management objectives over the next few years, according to the survey, there are barriers to implementation. The biggest barrier, Luitel said, is lack of internal infrastructures and the inability to find the right vendors.
Thomas said the fleet and transportation industries are regularly characterized as digital laggards, but he thinks there's a bit of an oxymoron there because he can't walk around a trade show without bumping into a provider.
"Every vendor has now created their own system … and one of the challenges with where we are today in the fleet and mobility business is that most of these efforts and initiatives are siloed," Thomas said.
Many fleets are already using these vendors. Eighty percent have implemented a GPS tracking solution; 72% have implemented a fleet management solution; and 63% have implemented a digital vehicle diagnostics solution.
But the key, he said, is linking these systems already in place using fleet automation.
"It'll allow companies to move beyond the current approach, which is these systems are designed to interpret data connectivity and turn raw data into fleet insights," he said. "What we're moving towards now is a digitally transformed industry where these fleet insights are turned into automated actions."
Luitel said most of the current systems that integrate vehicle data are generating an increased number of recommended actions, which in turn leads to additional manual tasks. He said the next step in digital transformation is for fleets to eliminate manual tasks by applying predictive analytics and automation.
The best way to achieve a quick win, he said, is for prospective adopters to start with automating internal processes and vehicle lifecycle management. He said automation that moves information between internal and vendor IT systems is a good starting point. He also suggested investigating keyless technologies and applications for advanced automated workflows. Keyless technology like Ridecell offers that provides vehicle control is great low-hanging fruit for fleets to start with, he said.
Luitel said fleet managers are realizing the growing need to move beyond just interpreting data toward automated actions based on data insights.
"Fleet data also must be integrated and made actionable for businesses to actually enjoy real returns," he said.