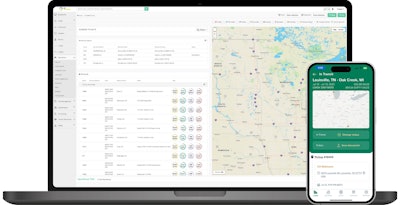 GP Transco
A dry van carrier out of Illinois has officially stepped into a new line of business not typical of a trucking company. GP Transco launched its own transportation management system (TMS) about six years ago; now the company has branched into software, taking its SaaS-based OpenRoad TMS product to market – offering its competitors the key to the company's success.
When other carriers have visited GP Transco's office for networking or benchmarking, Sergey Bort, vice president of marketing and strategic business development, said they were always impressed with the TMS.
"A lot of (carriers) are actually using very antiquated tools like Excel for managing their entire operation. Imagine a spreadsheet with 47 different tabs at the bottom that 25 people are editing at the same time, and it's kind of a nightmare," Bort said. "A TMS that's easy to use can be mind-blowing, especially for the people who are using spreadsheets, and unfortunately, in our industry, even companies our size sometimes are using spreadsheets to run their business. So it's kind of low hanging fruit."
GP Transco took its TMS to market about six months ago, and it already has a couple hundred users from small- to mid-size carriers – all dry van, though the system can support other sectors.
Bort said the company recently received results from a satisfaction survey it shared with its customers, and satisfaction averaged 4.7 out of 5. He attributed that satisfaction score to the ease of implementation and the system's ability to integrate easily via API to other disparate services.
[RELATED: TMS helps carriers improve supply chain visibility]
"For the first time ever, they get a centralized hub where they don't have to log into every service separately. Everything feeds into OpenRoad TMS, and they can see all the information," Bort said. "They can see where their trucks are; they can see TA (locations); they can see fuel prices; they can see their accounting; they can see their payroll and all of that in one place. And that's what customers have really been loving.
"And then they've really been loving the planning feature. It's called OpenRoad Planner, and essentially it's a visualization tool that allows you to visualize an entire week for your entire fleet: where every truck is going to go, what time it's going to arrive, what time it needs to leave and all the attached documents – all the information all in one place," he added.
The platform's features include IFTA and state reports, affordable fuel finder, fuel card integration, weather alerts, automatic detentions, tolls management, OpenRoad TMS Planner, a driver mobile application, driver and dispatcher performance monitoring, automatic settlements, safety and compliance, alerts and notifications, Cloud-based document storage, one-click invoicing, auto-notifying driver ETA, complete trip/week driver planner, paperless BOL management, and fuel, maintenance and trailer and yard management tools.
All of these features came from GP Transco's own needs as a trucking company.
Bort said when the company was shopping around for a TMS several years ago, it wasn't able to find something that was both easy to use and implement while also being feature rich. Everything they found was complicated to use and implement and antiquated, looking like it was made in the 90s, or it was something that was feature poor but looked sexy and easy to use.
The company decided to make its own.
"One of the bigger, interesting differentiators, I think, for OpenRoad TMS is it's sort of made by truckers for truckers. It's made by a company that we built it for ourselves; we know the issues we're trying to solve unlike some other transportation management systems that are Silicon Valley companies that are sort of imagining what would it be like to be a trucking company," Bort said. "They're trying to put themselves in our shoes, but they don't necessarily always hit it right. With us, it's very relatable for the customers because we've been through these things; we've overcome these different challenges, and we've used this tool to do it, so we can tell people exactly what they can expect and how to do it."
GP Transco was recognized as one of CCJ's Innovators for its TMS because it has yielded an impressive ROI of roughly 480% for the company. It has also helped the carrier with driver and back-office retention as well as customer satisfaction.
Bort said other carriers took note.
"(Carriers) come to us … and they ask us how we do it, and it really comes down to two things, which is people and technology," he said. "We can't share people, but now we can share our technology," which starts at $225 per month with access to all features for three office users and 15 drivers, according to the OpenRoad TMS website. Bort said the cost of the TMS is negligible compared to how much you save.
"The success of GP Transco – we're a seven-time Inc. 5000 company for growth – is a good testament to what a carrier can do by using modern technology," Bort said. "So don't be shy of using technology is the advice I always give because this industry is unfortunately still filled with people that are afraid of technology, and I think that's something we need to overcome together.
"We really want to see other carriers succeed and become more modern because if the industry becomes more modern as a whole, it's better for everyone as opposed to us worrying about keeping our cards close to our chest."