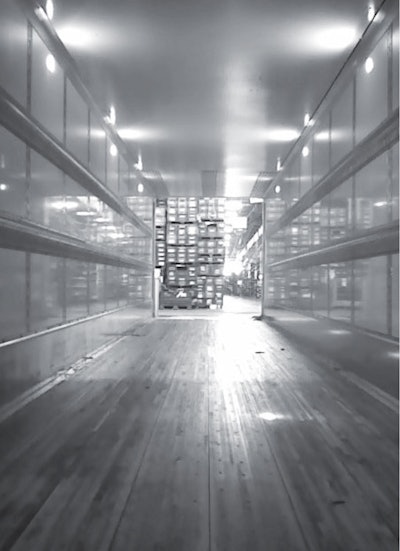 Solera
Cargo thieves often conduct surveillance outside of distribution centers and follow trucks in hopes the driver will go directly to a truckstop for dinner or road snacks, a shower or just to rest before hitting the road. And that's when they strike, stealing loads of goods that are often more valuable than the trailer itself.
And long weekends – like the recent Fourth of July holiday – make freight even more susceptible to theft. While there are multiple devices to help prevent theft, cargo camera solutions are being developed to help retrieve lost loads in addition to helping trucking companies increase capacity, among other benefits.
There aren't a ton of options on the market as this type of technology is still in its infancy, but companies like Orbcomm and Solera's Spireon have said demand for cargo cameras is on the rise and expected to continue to grow.
"The driving force behind the increased adoption rate is the need to do more with the trailers you have. Knowing where the trailers are is the first step to improving your trailer turns," said Roni Taylor, senior vice president of strategy and business development for Spireon. "Freight demand is at an all-time high while new trailer orders are delayed 18 to 24 months. Trailer leasing companies have no trailers to lease, so trucking companies must increase the capacity of the trailers they have today."
Taylor said devices that offer accurate trailer load status are becoming a must in the industry. More than 30% of Spireon's currently deployed devices include its IntelliScan camera-based cargo sensor, but she said that number has been growing over the past 12 months and will be closer to 40% by the end of 2022.
Technology as simple as trailer tracking can tell a company where its trailer is, but cargo cameras offer additional insights.
Knowing whether a trailer is loaded or empty has traditionally been a valuable piece of information in optimizing fleet operations, but there's more to it than that, said Chris MacDonald, senior vice president of North America sales at Orbcomm.
"While this data is useful, it is rudimentary compared to having state-of-the-art camera technology that captures how much of a trailer is loaded or unloaded, if there is dunnage, or if cargo has been damaged, which provides greater visibility and better insights to improve asset utilization, compliance and profitability," MacDonald said. "The key is applying robust machine learning and AI to the camera to enable advanced features and intelligence and capture near-real-time asset activity across a fleet. Standard camera technology will still have value, but the user would have to look at the images to determine the data versus the system providing actionable information to make more informed business decisions."
Current use cases include optimizing trailer turnaround time in yards by eliminating visual inspections; improving trailer utilization by maximizing the amount of cargo space used; reducing risk of cargo damage insurance claims (avoiding overfilling, loaded and secured properly, departure/arrival); identifying trailers with dunnage (pallets, garbage, etc.); identifying improperly loaded cargo and cargo damage; and capturing potential theft and unauthorized door openings (images at door open/close).
Developers are already looking at future use cases like identifying those who enter the trailer and at what time; capturing warehouse metrics and sharing load progress, status of loading/unloading and worker/load process tracking; and increasing advanced theft visibility through facial recognition and non-geofence locations, among other things.
While capturing theft isn't the only benefit to cargo camera technology, it can help.
Scott Cornell, transportation lead and crime and theft specialist at Travelers Insurance, said cargo theft was up 25% over the year in May, according to a report from CargoNet, though he noted there is no mandatory reporting of cargo theft in the U.S., and the report could be skewed if CargoNet obtained new reporting members.
But he said technology like cargo cams is the last layer of protection from theft. He said he views cargo sensors, cameras and tracking as reactive measures after a theft has already occurred, and it takes a layered approach to be proactive and prevent theft before it occurs.
"We teach our clients how to prevent cargo theft, and we do a three-layered approach with that," Cornell said. "The first layer is always based around processes and procedures. It's the most critical layer; if you don't put good processes and procedures in place, the next two layers will be ineffective."
He said carriers should use reports from organizations like CargoNet and share the breakdown of data with drivers so they know what trends (locations across the U.S. where they are more vulnerable to cargo theft and the types of cargo most likely to be stolen) to watch for. The next layer, he said, is equipment like hard locking devices, and the last layer is technology.
"I haven't seen any widespread use of cargo cams to prevent cargo theft as of yet," he said. "In the future, maybe we'll see more widespread use of cargo cam technology, but right now the leading technology out there is probably the use of covert tracking."
MacDonald said the biggest drawback in cargo camera evolution right now is the capital investment required for fleets to maximize their return on investment as well as the issue of trailer ownership. But the technology can help remove additional costs that are already present within daily operations, helping to validate the ROI.
And Cornell said such measures could be beneficial to business relationships as theft not only disrupts shipments but can damage a carrier's reputation.