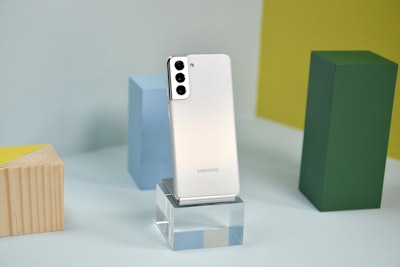 A number of technology suppliers entered the new year by unveiling new products and services as public and private fleets are stretched thin trying to meet demand and make the most from investments in equipment and technology.
Samsung released a new suite of Galaxy S21 devices for businesses in the transportation and logistics sector. Designed with fast connectivity and defense-grade security in mind, Galaxy S21 also has features that support applications for compliance, vehicle monitoring and tracking.
Highlights of the new devices include:
Pro-grade camera with multiple lenses and high resolution to make video conference calls and share camera views during inspections.
S Pen Accessory for employees to use for signing documents and for other digital workflows.
High security: The S21 series is secured by Samsung Knox Vault, Samsung's own proprietary chipset level (SoC) security platform for company and customer data.
High marks for visibility
Supply chain visibility platform FourKites has assembled a new Premier Carrier List for the fourth quarter of 2020. The list has 382 motor carriers, brokers and 3PLs who have provided their customers the highest quality of visibility-related data on loads.
Shippers are now using the list as a carrier selection tool.
"At a time when visibility has never been more integral to the on-time delivery of our shipments, FourKites' Premier Carrier List continues to be a valuable asset, helping us select the carriers that are as committed to data transparency as we are," said Jeff Covington, supply chain manager of Smithfield Foods.
FourKites uses a consistency metric to evaluate the number and quality of location updates on a given load. To qualify as a Premier Carrier, fleets must track with 85% consistency. On average, those on the Premier Carrier list have 30% better on-time delivery than carriers who do not qualify.
The full Premier Carrier List is available exclusively to FourKites customers but a public-facing version can be found here.
Geotab forms energy business
Fleet telematics provider Geotab has launched a Geotab Energy business unit to support the adoption of electric vehicles (EVs).
Geotab Energy complements the Geotab EV division that specializes in providing telematics for plug-in hybrid and electric vehicles (EVs) by providing utilities with an accurate understanding of the impact of EV charging loads.
The reporting uses data from a vehicle's internal systems and will be available to utilities via the SmartCharge Rewards web platform. Geotab Energy developed this platform to give utilities relevant EV-specific data to support their own programs and possible infrastructure changes.
The rewards platform identifies optimal charging times and encourages EV owners to charge during those times by providing them with incentive-based rewards.
Safeguarding drivers
CarriersEdge updated its wellness course "Preventing Illness" with new information to help truck drivers learn how to best protect themselves from illnesses and practice good personal hygiene.
The course joins other updated wellness courses including "Recognizing & Managing Fatigue" and "Healthy Eating."
"Preventing Illness" is made up of three modules and uses text, images, interactive exercises, real-life examples, quizzes, and a final test to cover what employees need to know to ensure better health when it comes to contagious illnesses.
No-contact fleet maintenance
U.S. Bank's Voyager Fleet Program is now available to more than 50,000 state and local government agencies, nonprofits and schools that operate fleets and are members of the Sourcewell consortium.
Sourcewell is a government agency that holds hundreds of competitively sourced cooperative contracts. The agency awarded a contract to U.S. Bank for fleets to manage vehicle maintenance and repairs with contactless payments.
The U.S. Bank Voyager Fleet Card allows any public-sector organization to pay for fleet fuel and maintenance. Card swipes are no longer needed to pay for maintenance services. When a shop scans the VIN, the Voyager Maintenance Solution approves or declines the repair based on pre-determined parameters and costs are billed directly to the agency's Voyager account.