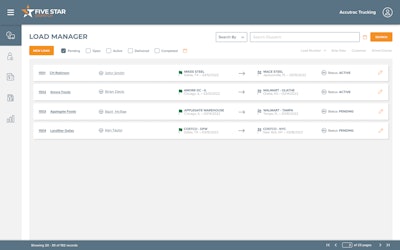 Five Star Services
A new provider of web-based tools for the trucking industry is targeting small carriers and young freight brokers with its full-service dispatching tool.
Five Star Services recently fully launched Five Star Dispatch to help these companies reduce stress and maintain or grow their operations.
The subscription-based tool offers a simple, streamlined system to track and manage trucks, loads, drivers, carriers and the finance functions of the business in real time from an easy-to-read dashboard. It provides a detailed and personalized report on the status of a company's business and includes accounting features, such as the ability to generate reports needed for IFTA filings and QuickBooks integration. Five Star Dispatch customers also have the benefit of submitting invoices for factoring directly to the eCapital portal.
Five Star Vice President Raye Ackerman said the company and its technology solutions are unique in its focus on a very specific segment of the marketplace: trucking companies with up to 10 trucks and newer freight brokers that are looking to grow.
"Technology shouldn't be a burden to the business or just another thing to manage. It needs to be simple to integrate into your business, easy to use on an everyday basis, and give you information that matters," Ackerman said. "That's why we created Five Star Dispatch. There are lots of solutions for large trucking companies and freight brokers, but not everyone is ready for a full TMS and the costs associated with implementing it. We really wanted to be true to our target market and built this tool with these clients in mind.
"We saw a need that is not being fulfilled today and created this solution with the primary concept of keeping it simple and uncomplicated," he continued. "We feel that's what the entry-level user is looking for, and we'll hold their hand through the entire process."
Ackerman said Five Star takes a technology-first approach to designing its products. He said the company's proprietary technology allows it to create tools that quickly, easily and efficiently solve the pain points unique to its target customers.
"The pandemic has accelerated the digital transformation of our industry, and clients want and need to be able to access and manage business and finance functions in real time, from wherever they are, outside of bank hours," Ackerman said. "With a real-time, holistic view into their business operations, our customers experience a range of benefits."
The all-in-one dispatch tool allows companies to actively manage all aspects of their trucking business with personalized insights and data from a single location. Ackerman said it streamlines operations to increase efficiency, saving time and money, allowing customers to focus on other critical areas of the business, such as carriers finding and securing more regular freight or brokers establishing more consistencies in their margins and operations.
Five Star Dispatch is available in two different subscription-based options determined by how many trucks a carrier is currently running. The owner-operator package is designed for up to three trucks, and the carrier package is for four or more trucks. For freight brokers, there is a flat fee with an upgrade option if they are also running trucking operations. No contracts or long-term commitments are required.
The new tool is part of the Five Star Services suite of products, which also includes Five Star Load Board, which allows users to search and find loads for free in real time.