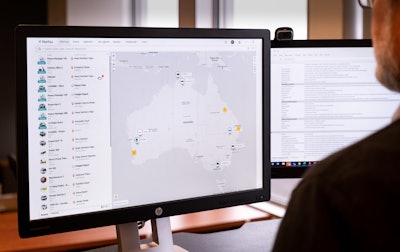 Rand McNally
Rand McNally has expanded its global footprint with the addition of an Australian fleet management and vehicle insights company.
TELEO Capital, which purchased Rand McNally in late 2020, recently acquired Fleetsu, combining Rand McNally's fleet business with Fleetsu's platform, data and analytics capabilities.
Joseph Roark, TELEO Capital Operating Partner and Rand McNally Chairman said Fleetsu's platform, analytics and data capabilities will allow Rand McNally to offer a connected vehicle solution across the full fleet supply chain. "The acquisition further expands Rand McNally's footprint as a global provider to long-haul and local fleets, field service companies, government, auto and truck OEMs (both fuel and EV platforms) and vehicle rental fleets," he added.
Rand McNally said in a news release issued Tuesday morning that this acquisition will help fleet operators maximize business productivity through access to real-time, on-the-road data that provides insights to solve for today's challenges like driver location and safety, engine performance and vehicle efficiency (fossil and electric).
"Fleetsu takes our existing expertise to the next level as we now offer the industry's best connected fleet platform complementing our already robust hardware, navigation, logistics, and publishing businesses," said Aaron Dannenbring, CEO of Rand McNally. " The combination of Rand McNally and Fleetsu creates a world-class connected vehicle powerhouse."
The 7-year-old Fleetsu platform features real-time location tracking with geofencing and direction and speed limit monitoring; driver safety information such as speed, braking, accelerating and cornering as well as customizable thresholds and triggers to ensure drivers are taking breaks; alerts and notifications, including when a vehicle enters a specific area, is underutilized and stolen mode tracking; logbooks; a report builder to improve business processes and reduce operating costs; and electric vehicle data with EV charging status, charging station data and more.
Fleetsu has secured several global truck and automotive OEM contracts, including Toyota Motor Corporation, Australia. Its customers also include Avis, Budget and Cummins.
As part of the deal, of which financial details were not released, Fleetsu comes under the Rand McNally name, and its founder Jakub Felinski joins as chief innovation officer.
"Fleetsu has quickly built a reputation grounded in being hyper-focused on meeting the needs of our customers, no matter how complex. With Rand McNally's strong navigation and transportation expertise and our already deep bench of leading engineers focused on creating technology data solutions, we are confident that we will be moving the industry forward," Felinski said. "We look forward to expanding our combined global business that writes a new chapter for connected transportation led by technology."