Paccar's new TX-18 and TX-18 Pro automated manual transmissions got me thinking about the first time, roughly six years ago, that I drove an AMT which as I look back on it now was sort of like my first middle school dance.
While giddy about that seventh grade dance, it just wasn't as smooth as I had thought it to be at the time, mostly because the wisdom gleaned through additional experiences eventually proved otherwise.
Such is the case with Paccar's new TX-18 and TX-18 Pro. Both transmissions show just how far AMTs have come, the most noticeable growth spurt being how smooth software-controlled shifting has become in a big rig—in this case, the Kenworth W990.
During a ride and drive event Friday at Paccar's Technical Center in Mount Vernon, Washington, I got a chance to try out both the standard TX-18 in Kenworth's W990 equipped with a 52-inch low roof sleeper and the TX-18 Pro in a heavy-haul day cab. First up was the TX-18 Pro.
Though the TX-18 and TX-18 Pro are built for heavy-duty vocational and severe service on/off-road applications up to 140,000 lbs. gross, both W990 models made me think how easy it is to slip into the seat of this beast and go.
After securing my seat belt and disengaging the park and trailer brakes, I stopped briefly at the column shifter. This marked the first time I would be shifting a big rig into gear by turning a small lobe on the end of a column shifter. It looked simple enough. The round black lever was marked with three large letters: D, N and R. Something like this could quickly win over new drivers and help retain those looking for an easier time in the cab, I thought. Just twist the lobe over from neutral into either drive or reverse and go. The lever also allows for manual shifting and control over the engine brake.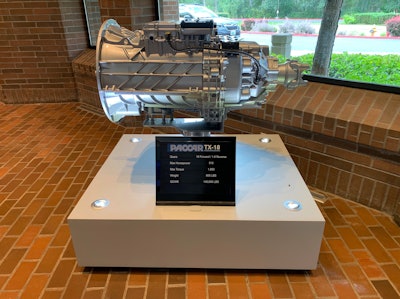 Once I clicked the shift column ear forward to 'D' for drive, the heavy-haul W990 with the TX-18 Pro was ready for Paccar's 1.6-mile test track.
After nudging the accelerator, I immediately noticed how smooth the truck rolled out with a 65,000 to 75,000-lb. load in tow (Paccar's gross weight range for each trailer). There was no awkward jerking thanks to Paccar's load based shifting software. Powered by Paccar's 12.9-liter MX-13, which provides up to 510-hp, the truck didn't hesitate to get to work. A gear icon next to the speedometer on the 15-inch digital display showed what speed I was in as I gained steam heading down the first straightaway. Along the way I kept thinking how smooth the truck shifted.
As I eased into a fairly sharp left turn, the engine brake made for easy one-pedal driving while torque assisted steering available with three levels of assistance made for a confident, effortless curve that brought me out onto another straightaway where the TX-18 likes to show what it can do while keeping an eye on safety. Engine overspeed protection will upshift to keep any leadfoot in check by preventing engine overspeed in drive, manual and low modes.
Really, the TX-18 is strong reminder of the important role a well-engineered transmission and software can play in improving the overall driving experience. As someone who grew up manually shifting cars, trucks, motorcycles and mountain bikes, I really appreciate how intuitive Paccar's software is at skipping gears to find the sweet spot for smooth, efficient driving.
Automated shifting, including skip shifting, is based on grade, vehicle weight, engine torque and throttle position to make the most efficient shift changes based on those conditions, according to Paccar's brochure. All of this behind the scenes data crunching enables more confidence and allows the driver to focus more on the road ahead.
I didn't detect any notable differences in driving behavior in the TX-18 equipped W990 with the 52-inch sleeper save for fuel economy and transmission temperature.
Fuel economy and field testing
Paccar engineers geared up to deliver improved fuel efficiency in the 800-lb TX-18, which includes a fuel-saving neutral coast mode that "disengages the driveline on slight downhill grades," the brochure reports and also goes on to say to "expect best-in-class fuel efficiency with the PACCAR TX-18 Series – up to 2% over similar transmissions."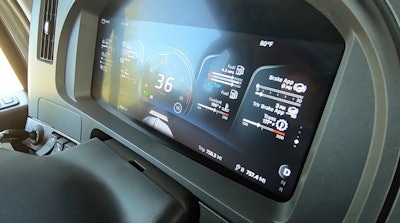 Sounds promising, so naturally I asked for numbers during a press conference but since the TX-18 and TX-18 Pro are still being demo'd by carriers and won't be rolling out until the fourth quarter, Kenworth's not ready to talk.
"Fuel economy numbers are not something I'm going to release to you guys right now, but it's favorable to some of the other applications that we've compared it against," Kenworth chief engineer Joe Adams said.
The W990 equipped with the 52-inch sleeper and the TX-18 showed 4.3 mpg in sixteenth gear at 36mph with 758 total miles on the clock. The heavy-haul W990 with the TX-18 Pro showed 4.7 mpg in sixteenth gear at 36mph down the same stretch of road with 447 miles on the clock. Keep in mind that these trucks just went through a prior ride and drive event that entailed a lot of stop and go track driving. Plus, neither truck has a lot of highway miles.
Kenworth's been pleased with those trucks that have been out field testing the TX-18.
"Trucks that have been out in validation and in demo fleets have performed very well," Adams said. "It's a really good driving transmission. Think about it…in heavy haul applications, having an 18 speed is a big advantage. And on the Pro model with the [six] reverse gears gives you a lot of options."
So far, interest remains strong in the TX-18 and there's a lot to like. In addition to a maintenance-free clutch, service intervals are at an impressive 500,000 miles or 5 years for on-highway applications or 250,000 miles or 3 years for vocational.
"Customers really appreciate having the ability to have a truck that's really fit for the job," Adams said, "and this transmission gives us the ability to do that on the automated side. So we expect interest to continue to be high on this transmission."
Shift change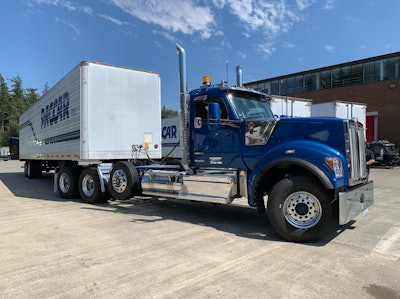 Paccar in February announced the availability of an 18-speed automated transmission for on-highway and select off-highway vocational applications. Those gearboxes – the TX-18 and TX-18 Pro, respectively – are now available for order with the Kenworth T680, T880 and W990 spec'd with a MX-13 or MX-11 engine. The TX-18 and TX-18 Pro support up to 510 horsepower, 1,850 lb.-ft. of torque and 140,000 pounds of GCVW.
"Where the performance comes in is having nice, equal steps between those gears that makes for efficient operation of the engine, but also smooth, shock-free shifting, which is very important when you're pulling heavy loads," said Kenworth general sales manager Stephan Olsen. "It makes for a smoother ride for whatever might be on the back of that truck, which sometimes has significantly higher value than the truck itself."
The 18-speed AMTs are build on the Paccar 12 speed, which Kenworth marketing director Jamin Swazo said has been a "huge success" since it's 2017 debut. "[Customers] have been asking for an 18 speed for a while," he added.
The TX-18 offers additional capability for heavy on-highway use for applications, such as heavy haul transport, while the TX-18 Pro adds enhanced capabilities and unique features for extreme duty vocational applications and other select off-highway applications.
The new 18-speed ratio is designed to provide smooth shifting and consistent performance in a wide range of operating applications. The TX-18 has three reverse gears, and TX-18 Pro has six, which pairs well with deep axle ratios. Multiple reverse gears offer improved maneuverability around job sites.
Both transmissions offer expanded high-capacity PTO functionality with an 8-bolt bottom mount and 4-bolt rear mount for a combined 160 hp capacity at 1,400 RPM and are equipped with an internal oil temperature sensor. The sensor shows transmission temperatures on the in-cab 15-inch digital display and provides driver notifications in situations causing excessive temperatures.
The TX-18 and TX-18 Pro are standard with Kenworth's column-mounted, right-hand shifter, placing gear selection and engine brake controls at the driver's fingertips for enhanced ergonomics. Both models are scheduled to roll out during the fourth quarter.