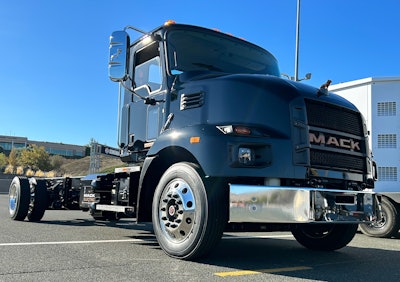 In a commercial truck's path to electrification, Mack's Class 6/7 MD took the quick path to the plug. Electrifying Freightliner's M2 took two decades. It took Mack's MD about two years.
Mack announced its re-entry into the medium-duty market in January 2020, but COVID protocols delayed the truck's production to September 2020. About 30 months later, Mack added an all-electric option and first deliveries will take place in the next few months.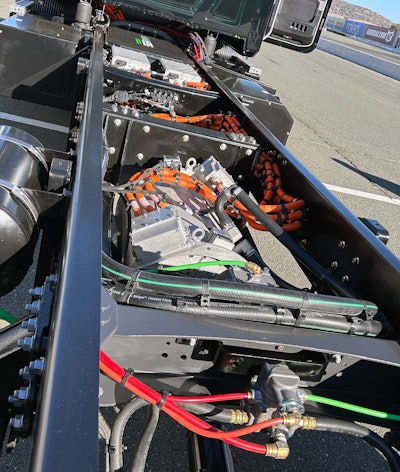 The Class 6 and 7 MD Electric sits alongside Mack's LR Electric refuse truck in the zero-emissions lineup – two totally different trucks that each target a similar duty cycle: low-mileage applications that spend a lot of time pressing the brake pedal and return to the terminal at night.
The MD Electric can be charged through AC or DC charging units. An AC 19.2 kW on-board charger features a charge time of 6 to 11 hours. With DC 80 kW charging, that drops to 100 to 150 minutes. Just as important – and maybe more important – is the regenerative brake, which pumps more miles of range back into to the battery packs when the driver presses the service brakes or dials up the "engine brake." The three-stage regen brake works just like an engine brake... if the Jakes trickled diesel fuel back into the tank. As much concern as you hear and read about the range limitations of electrics, the regen brake is a key enabler of maximizing range, if not exceeding it.
I've test driven a few electrics recently and returned those trucks having used less miles of range than miles I actually drove.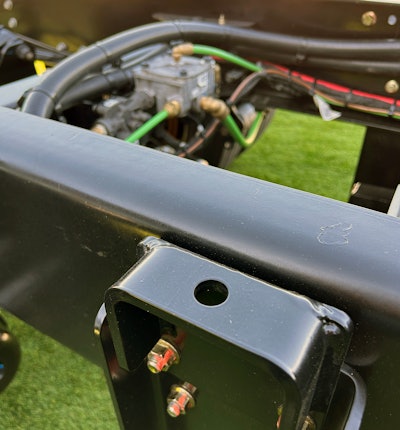 Mack MD Electric is available in Class 6 and Class 7, in 4x2 configurations, in wheelbases of 206-, 221-, 236-, 251-, and 270-inches, and features a bumper-to-back-of-cab (BBC) measurement of 103 inches.
Equipped with SEA Electric's SEA-Drive 120 and 180 power-systems, the MD Electric's three-phase Permanent Magnet Synchronous motor and all on-board accessories are powered by air-cooled Nickel Manganese Cobalt (NMC) Oxide lithium-ion batteries; either 150kWh (two batteries), enabling a range of up to 140 miles, or 240kWH (three batteries), with range of up to 230 miles.
There are only a handful of electric drive systems on the market capable of pushing around a Class 6/7 truck, and Scott Barraclough, Mack's senior product manager of eMobility, said the company went with SEA Electric because it was simple, which allowed for clean wire runs between the frame rails and lower maintenance costs.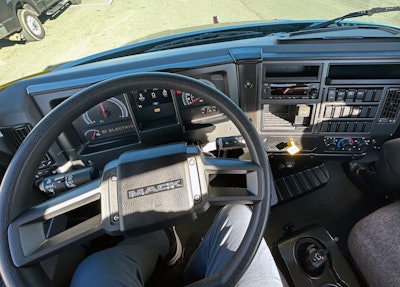 The Class 7 model, with a GVWR of 33,000 pounds, is a big dog. Equipped with the larger battery bank, the MD7 is about 3,000 pounds heavier than a diesel-powered MD7. Models spec'd with the smaller battery option are roughly 1,000 pounds heavier than comparable diesels. The Class 6 model has a Gross Vehicle Weight Rating (GVWR) of 25,995 pounds.
The MD Electric's capabilities fall well within the sweet-spot for most medium-duty applications. About half of all Class 6/7 trucks drive less than 125 miles each day, and 80% drive fewer than 250 miles each day, said George Fotopoulos, vice president of Mack Trucks' eMobility business.
The electric motor drive (EMD) controls power flow from batteries to the motor and inverts DC battery power to AC. A cooling box is frame-mounted on the driver's side behind the step, consisting of a radiator and two electric fans that cool the electric drive motor, EMDs, onboard charger and convertor. Air cooling helps preserve battery supply.
With up to 185 hp continuous power and 260 hp peak power, the MD Electric packs plenty of oomph. The Cummins B6.7 in the diesel MD puts out upwards of 240 hp, so you're not losing any pony-power from a plug-in, and at up to 1,850 lb.-ft., you get a considerable boost in torque (like, nearly three-times more torque).
For vocational applications – MD electric targets dump, stake/flatbed and tank operators too – a 13.4 hp electric PTO is available.
I hopped in an MD Electric this week for a test drive around northern California's Sonoma Raceway, a road course and reasonable set up for a truck that's mostly going to make left and right turns over urban terrain and stop dozens of times in the real world. I got a similar yet far more brief opportunity through downtown Austin, Texas, a few weeks ago – an application bullseye for the MD EV.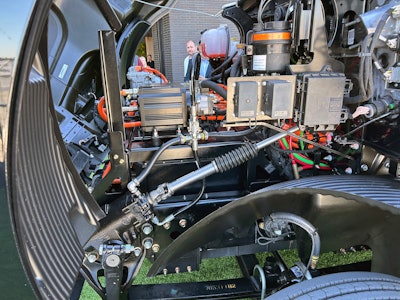 Sonoma too is pretty much a slam dunk for the MD. Sonoma County's 18 wine regions are home to more than 425 wineries (about 73% of Sonoma County's agricultural production is growing wine grapes), and a zero-emission truck with a 19,400-pound cargo capacity, minus the weight of the body upfit, is pretty ideal to haul a diminishing load like wine (or complimentary breads or cheeses) to local markets in a state that's ground zero for zero-emission trucking.
With the exception of the instrument cluster, the inside looks like just another MD. In the gauge cluster you'll find indicators of how much battery capacity you have left and an indicator that the truck is on, along with standards like truck speed. It's a fairly straightforward and digestible information display.
There's no special electric mods, and other than how the push-button "transmission" drive selector is configured there's nothing special about the dash panel either. The MD Electric is direct drive, so there is no transmission.
At one minute and 21 seconds, Formula One driver Marc Gene holds the fastest lap record on the 2.5 mile course, and I was in no danger of knocking him off the pedestal, but there were flashes of quickness from the MD Electric. Driving on a closed track allows for some creative maneuvering that otherwise might be frowned upon by local law enforcement – like blasting full throttle up steep grades. My test model didn't have a body upfit, so it's a bit of apples-to-oranges comparison, but there is no question that the electric model accelerated the grade better than a diesel would have.
Throttle response is everything you'd expect from an electric motor: instant. There's something to be said for having all your power available immediately, even if it just means you get to a street-legal cruising speed smoothly and more quickly.
ElectriFi Subscription
Fotopoulos said by 2030, Mack expects 35% of all its vehicles to be electric, and medium-duty models are likely to outpace that mark. To help customers transition to battery-electric, Mack Financial Services on Monday rolled out its ElectriFi Subscription, a usage-based leasing option exclusive to new Mack MD Electric models.
ElectriFi Subscription, essentially a truck-as-a-service bundle, allows customers to pay as they go for miles driven with chassis and body, charging, applicable incentives, physical damage insurance and maintenance costs for the term of the agreement bundled into a single monthly payment for simplification and reduces the customer's upfront investment while lowering long-term risk with the option to walk away at the end of the term.
Terms are flexible starting at three years, with an option to extend up to a total term of six years. The ElectriFi Subscription also comes with access to Mack's suite of Uptime services, including telematics and Mack OneCall, Mack's 24/7 roadside service and support offering experienced personnel at the Mack Uptime Center who will assist customers with the scheduling of their repair. Along with the ElectriFi Subscription option, Mack Financial Services also offers ElectriFi Infrastructure and ElectriFi Lease. Mack Trucks and Mack Financial Services can also advise on incentives for infrastructure.
• ElectriFi Infrastructure is a turnkey solution that's available for all purchases or leases. Mack along with third-party partners will assist customers in developing the charging station design, installation, construction, hardware and software needed for new BEV charging facilities, alleviating customer guesswork into what is required for adequate infrastructure. All-inclusive financing is available with this option, provided your vehicles are funded by Mack Financial Services, including up to a 60-month loan.
• ElectriFi Lease enables customers to add BEVs into their fleets with reduced upfront investment. Customers have access to Mack telematics through the Mack Ultra Service Contract. Mack's Route Support Services team will help customers analyze existing routes, infrastructure upgrades and seamless integration. This offer has full lifecycle financing options and renewable five-year terms.
• The Mack Ultra Service Contract is a standard five-year comprehensive bumper-to-bumper service contract for the Mack MD Electric and the Mack LR Electric refuse model. The contract includes telematics with battery monitoring; a high-voltage battery performance guarantee; all scheduled maintenance; all preventative maintenance; all repairs excluding accidents, tires and glass; towing for warrantable failure to the nearest Mack Certified Electric Vehicle Dealer and Mack OneCall.