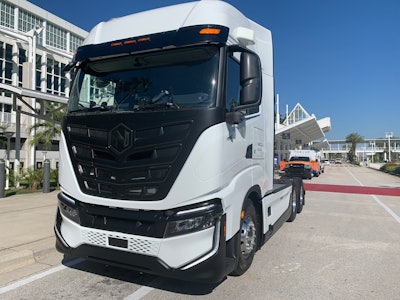 When Nikola first burst onto the scene in 2016, it wasn't with the cabover battery-electric truck that the now-Phoenix-area-based company manufacturers.
Nikola founder Trevor Milton had his sights set on a 2,000 horsepower/3,700 ft. lbs. of torque spaceship-modeled battery-electric semi with a 1,200 mile range (thanks to a CNG range extender), dubbed the Nikola One. The company soon after would debut an electric utility vehicle (I got to drive it), a garbage truck, and battery-electric/hydrogen-electric pickup named the Badger.
Seven years later, we don't have any of that. The Badger, the refuse truck and the UTV have been shelved, and Milton in 2020 stepped down from his company amid scandal.
What we do have is something altogether different. The Nikola Tre replaces heaps of big ideas and promises with something that, well... actually exists. Nikola delivered 131 battery electric vehicles (BEV) to dealers last year and hopes to deliver up to 350 this year, along with upwards of 150 Tre fuel-cell electrics by year-end.
With a range of up to 330 miles, Tre is already one of the longest range all-electric truck models among a peer group that includes Freightliner's eCascadia, Volvo's VNR Electric, the Peterbilt 579EV and Kenworth T680e.
Built on the Iveco S-WAY platform, Nikola's Tre is 13'2" tall, and that height is noticeable from the driver's seat. Circle the adjective you want to describe the view from behind the telescopic steering wheel: commanding, expansive, panoramic... There's at least 6 inches of extra ingress and egress compared to a conventional, which is not a bad thing (unless you've got bad knees or a fear of heights). But that height translates to headroom too. There's plenty of room to stand up inside, a lot of overhead storage and even a skylight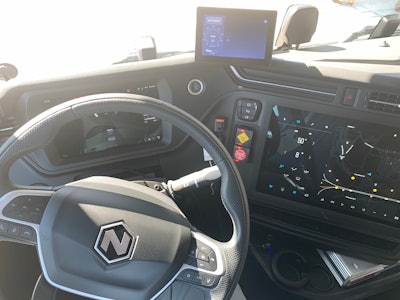 While the exterior lacks the futuristic design that was so prominent in Nikola's early days, inside it's 2023 and beyond.
A traditional switch panel is replaced with a 17-inch touch screen; the map, HVAC controls, and just about everything you'll need is there except the air brakes and drive selectors. Those sit stacked along side the big screen, but you have to press and/or pull those the old-fashioned way. The air brakes are lever-style (Bendix's Intellipark platform) so even those are traditional yet unconventional.
The instrument cluster is yet another screen, which is where you'll find the battery's state of charge and corresponding range, along with vehicle speed and most operating data you'd expect sans engine temperature, RPM, oil pressure and such.
I took Nikola's Tre out for a nearly hour-long jog around Orlando, Florida, and if you've ever spent any time around the area mid-afternoon you know 60 minutes doesn't equate to a lot of mileage. You don't get anywhere around Orlando quickly. You'll have to settle for quietly.
It feels lazy and unimaginative to point out the quietness of a battery-electric truck, but what else am I supposed to do? There's clearly a notable absence of sound. Among the knocks on a BEV powertrain is that without the engine, the wind and white noise can lull the driver into a hypnotic trance. I didn't notice any of that but, again, bare in mind that I'm fighting traffic almost the entire time. I didn't spend long stretches of time over 30 mph, but the few times I did clip 70 mph, ambient noise wasn't something I noticed.
As frustrating and aggravating as traffic and low-speed driving can be, that's the reality for the Tre – a short-haul/regional truck that is just as at home surrounded by hoards of people flocking to amusement parks as it is out in the wind.
Despite its blunt and square exterior styling, Nikola's Global Head of Fuel Cell Electric Vehicle Market Development Jason Roycht notes that there's almost no aerodynamic difference versus a modern conventional at speeds under 40 mph – a range in which Tre will find routinely in urban settings. Just by looking at it, Tre appears about as aerodynamic as a refrigerator, but Roycht called its wind-resistance "sneaky," noting its flat surfaces minimize drag and reduce turbulence.
Acceleration is exactly what you'd expect from two e-motors kicking out the equivalent of 645 instantly available horsepower: quick.
If you've never driven a cabover, maneuverability is something different. With the seat just forward of the axle it's more like driving a bus than a tractor, and the nine battery packs at the rear make Tre feel longer than its 186-inch wheelbase. A U-turn isn't something that generally finds its way into a semi drive recap, but Tre makes a 180-degree about-face better than many passenger cars I've driven. There's a look-down mirror tucked under the visor to account for small cars and Mouseketeers stepping off crosswalks given that the cabover design makes it difficult to spot things close to the bumper.
In a twist of irony, the truck's low center of gravity, owed to the battery packs (combined with a reimagined suspension system and larger wheels), solves a lot of the ride quality issues that plagued cabovers through the 1950s, '60s and '70s.
My roughly hour-long drive covered just more than 13 miles (thanks to Disney World and Universal Studios), but over the course of those 13 miles, I used less than 4 miles of battery range. The Tre BEV is equipped with industry-standard, CCS1/CCS2 charging connections. If I would have needed to fill up, it would have taken around 90 minutes at a 350kW charger, a handful of which were within just a few miles of my tractor.
Tre is equipped with a six-stage regeneration brake and if you can fine tune it, you can drive around Orlando hardly ever touching the service brakes. Payload, of which I had exactly zero pounds, and terrain are the leading draws on BEV range, but the service brakes are a considerable factor. You're not getting the benefit of the regen brake when you lean into the service brakes, and you're pulling from the battery to get back up to speed.
I toggled the regen brake between stage 4 and 5, the latter of which is a fairly aggressive setting, but that allowed me to apply the service brakes only when I needed to completely stop the truck. The regen brake would slow it sufficiently, and almost bring it to a halt, and I get the benefit of trickling a little more range into the batteries.
That I was bobtailing, I didn't have a load pushing me when I wanted to slow down. With a trailer I might have needed to up the settings (or even apply the service brakes more frequently), but the principle remains: don't touch the brake pedal unless you need to stop the the truck, and use the regen brake like you would an engine brake.
Nikola will make PlusDrive – Plus' lidar, radar and camera sensor and software-based autonomous driving system – a factory-installed standard for Nikola Tre battery-electric and hydrogen-electric vehicles in the U.S. by the end of next year. My truck was equipped with some PlusDrive test equipment, but I didn't use it. I drove a PlusDrive-equipped truck last year.
Tre is currently available only in daycab, and Roycht notes that while there are long-term plans for Tre sleeper models, those plans are on the back burner as the company continues to refine its technology, ramps production on battery electric and hydrogen fuel cell models, and awaits an infrastructure buildout that could support the kind of range and duty cycle that would require a driver sleep in one. Nikola expects a Tre equipped with a fuel cell to achieve a range of up to 500 miles, making it one of the longest range commercially available zero tailpipe emission Class 8 tractors in the world.
Nikola has been through its share of highs and lows in its brief existence. The company in 2020 was briefly valued higher than Ford – a company founded 112 years earlier – before its stock cratered and its founder convicted of fraud.
Nikola appears to have righted itself on the backs of smooth technology and a premium fit and finish that figures to make it a viable OEM for fleets embracing the zero-emission future and willing to re-embrace a cabover design that many of us haven't seen en masse in more than 40 years.