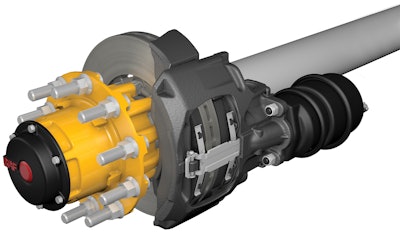 SAF-Holland introduced Thursday at the Mid-America Trucking Show in Louisville, Ky. its SAF Integral Air Disc Brake Axle System with P89 Wheel End Package, which the company says is ideal for SAF air suspension systems.
The P89 accommodates up to 2-inch offset wheels for application and maintenance flexibility, allowing fleets to choose the wheel end offset desired, and can accommodate both industry-standard single wide-based wheels with up to 2-inch offsets and dual wheel configurations.
The P89 hub design incorporates the Integral bi-metallic rotor, and uses premium matched-set bearings, which can be replaced with standard bearings for field service. It provides an industry-standard premium spindle nut with right-hand threads.
The Integral disc brake's advanced rotor and hub adapter design provides advanced braking efficiencies, reliability, and low cost of ownership, and the rotor is designed with a series of ventilation channels to redirect and control high temperatures associated with vehicle braking, the company says. The Integral rotor expands in a radial direction maintaining a flat and stable braking surface, which significantly reduces harmful stress cracks and premature brake pad failure.