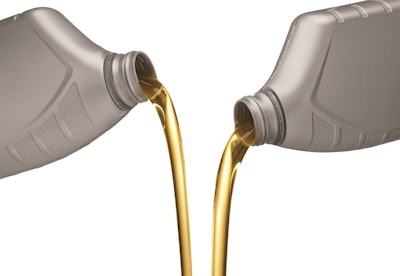 Licensing and distribution begins in December for two new heavy-duty diesel engine oils, giving fleet and maintenance personnel less than three months to decide how each fits into their operation.
Capping a more than 5 year development program, the new oils – CK-4 and FA-4 – officially hit the market Dec. 1, and Kevin Ferrick, manager of global industry services certification programs for the American Petroleum Institute (API), says its is critical for fleets and owner-operators to make sure they're using the correct engine oil blend in their equipment.
CK-4 oils, a replacement for the CJ-4 oils currently on the market, will be fully backwards compatible with diesel engines currently using CJ-4. FA-4 features a lower viscosity and will be recommended almost exclusively for 2017 and newer model year engines. The new generation oil blends are expected to improve fuel economy and could lead to engine-wear benefits.
Shawn Whitacre, Chevron Delo senior staff engineer and chairman of the ASTM Heavy-Duty Engine Oil Classification Panel, says the transition to the next generation of oil will be painless, if not unnoticeable, for most customers.
"Overall, this can be a very seamless transition that will allow you to take advantage of the performance benefits of the next generation products," he says. "The new oils can be handled just like today's oils, though it is always advisable to check with your oil supplier about any specific handling and safety considerations."
Dan Arcy, global OEM technical manager with Shell Lubricants, says Shell began this summer the process of converting to the new blend formulation. Since CK-4 oils offer improved engine oxidation, oil shearing, oil aeration and impede degradation of the oil due to soot over CJ-4, Arcy says customers getting the new formulation are getting a better performing blend.
Ferrick says FA-4 oil, the blend slated for use in new engines, has been proven to protect engines as just well as CK-4 and CJ-4 oils despite its lower viscosity, while also offering the same improved performance and engine-life benefits as CK-4.
Arcy says Shell has more than 40 million miles of on-highway testing on the new oils, and Paul Cigala, applications engineer for commercial vehicles at ExxonMobil, says his company adds more than 1.5 million miles of testing each month through its fleet partners.
While CK-4 oils are backward compatible and, according to Whitacre, will be offered in all of the same viscosity grades as today's CJ-4 oils, Arcy recommends avoiding mixing CK-4 and CJ-4 oils for fleets that buy in bulk.
While there won't be any negative outcomes as a result of the mixture, Arcy says the lower performing CJ-4 will hinder the performance potential of CK-4 depending on the ratio of the mix.
"The result would still perform better than CJ-4 alone, but not to the maximum performance of pure CK-4," he says. "No one should be concerned about [having] the wrong product if they're going to CK-4 from CJ-4."
As is the case any time you transition to a new type of lubricant, Whitacre says changes in some of the typical oil analysis properties – including changes in typical levels of certain additive metals like calcium, magnesium, zinc, and phosphorus – may be noted.
"Depending on viscosity grade selection, you might see a change in the typical viscosity at [212 degrees Fahrenheit]," he says.
Brian Humphrey, OEM technical liaison for Petro-Canada Lubricants, Suncor, says he expects the majority of OEMs to recommend and/or allow CK-4 oils as the next step up from CJ-4, due to their backwards-compatibility.
"As the FA-4 oils have specifically been designed for 2017 on-highway engines, we expect to see adoption of this category build from January onwards as OEMs release their recommendations," he adds. "The speed of adoption will be driven by those OEM recommendations and the purchase of the newer 2017-plus engines."
"We anticipate the adoption of API FA-4 oils will increase exponentially each year as drivers see the potential cost benefits they can bring, and OEMs design improved engines – often downsized and operating at higher temperatures – to meet legislation standards," Humphrey says.