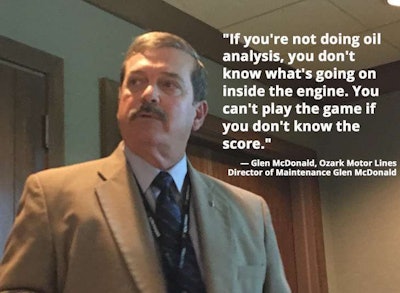 Despite benefits like increased fuel economy, many fleets are reluctant to embrace lower viscosity oils over concerns about increased heat and engine wear.
Speaking at a breakout session at CCJ's Symposium Wednesday, Ozark Motor Lines Director of Maintenance Glen McDonald says he's been slowly marching toward some of the thinnest oils on the market since 2003.
McDonald implemented an oil sampling program at Ozark in 2003 after exhaust gas recirculation entered the market with the company's oil drain intervals at 15,000 miles.
The results of the samples, and improving fuel economy, allowed the company to push those intervals to 25,000 miles.
Model year 2010 engines changed the results of the oil samples, so McDonald changed oils to accommodate various model year Detroit engines.
"We don't want to have two oils in the shop," McDonald says. "I don't care how hard you try, somebody's going to put the wrong oil in the wrong truck."
Ozark further pushed drain intervals to 30,000 miles with a switch to a 10W-30 synthetic blend in March 2013 – about two years ahead of Freightliner's move to 10W-30 factory fill.
In October 2013, the fleet went lighter still to 5W-30, pushing drain intervals for its DD16 engines to 60,000 miles. Ozark Motor Lines' intervals are currently at 75,000 miles and McDonald says with the introduction of CK-4 and FA-4 oils – and Ozark taking delivery of next generation Cascadia tractors – the company plans to go 100,000 miles.
"That's 7, 8 to 10 months," McDonald says of the mileage interval.
Ozark technicians inspect the trucks at 25,000 and 50,000 miles to make sure general maintenance doesn't suffer and the truck is lubricated 25,000 miles.
The result of the improved engine technology, coupled with lower viscosity oils, McDonald says has pushed Ozark's fleet average to 7.47 miles per gallon.