Demand for heavy trucks has been extraordinary in the last couple of years but, thanks to supply chain snarls, manufacturers have struggled to get them built. Production pressure can impact model availability. We've seen that in both the RV and boat markets.
Earlier this year, Price Digests data showed that RV and boat manufacturers were offering fewer 2022 models than 2021 models, likely in an attempt to streamline production. But that's not been the case for trucks.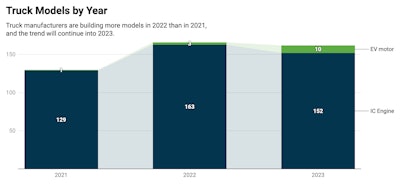 The heavy duty truck market appears to be trending in the opposite direction. Price Digests tracks manufacturers who market in the U.S., excluding off-highway trucks. This group of manufacturers offered 130 model year 2021 units. That number went up to 166 for 2022 and is on track to remain stable for 2023 at 162 models. That's good news for fleets and owner-operators who may be looking to add new trucks this year because there will be a wider selection available.
Electric models see exponential growth, driving MSRP spike
Demand for alternative fuel vehicles is helping drive model availability. When we look closer at the types of models being offered for next year, the share of the market made up by EVs is growing rapidly. There was only one heavy duty electric truck offered in the 2021 model year. That number is up to 10 for 2023.
Six manufacturers are offering heavy duty EVs for the 2023 model year: Mack, Volvo, International, Kalmar, Peterbilt and Kenworth. This is Volvo's first year offering EVs, and it's entering the market with five different models – half of all available models.
With the addition of EV trucks, Volvo now offers 43 heavy duty truck models – more than any other manufacturer – but Mack, with 41 heavy duty trucks for the 2023 model year, is a close second.
We've talked about rising prices a lot over the last couple of years, with production challenges and high demand being the most common culprits. The prevalence of EVs is now further driving up heavy duty truck values. The average MSRP of an electric heavy duty truck is $335,480 – almost twice that of traditional trucks.
Those high prices are having an impact. Average MSRP for heavy duty trucks increased from $152,169 in 2021 to $177,413 in 2023.