Trucking news and briefs for Wednesday, Sept. 7, 2022:
Western Star recalls 4,000 trucks over hood issue
Daimler Trucks North America is recalling approximately 4,006 model year 2020-2023 Western Star 47X and 49X trucks, according to National Highway Traffic Safety Administration documents.
On the affected trucks, the hood bezel covers may detach, creating a road hazard.
Dealers will remove and replace the hood bezel covers, as necessary. Owners can contact DTNA customer service at 1-800-547-0712 with recall number FL-951. NHTSA's recall number is 22V-654.
ECM issue prompts recall of 1,600 Kenworth, Paccar trucks
Paccar is recalling a slew of model year 2023 Kenworth and Peterbilt tractors for an issue with the engine control module (ECM) that could cause an electrical short-circuit, causing the engine to stall.
Affected models include certain 2023 Peterbilt 220, 389, 520, 536, 537, 348, 367, 567, 548, 579, and 2023 Kenworth T680, K270, T440, T880, W990, K370, T280, T380, T480, T800, and W900 trucks.
Dealers will replace the ECM, free of charge. Owners can contact Kenworth's customer service at 1-425-828-5888 with recall number 22KWG and Peterbilt's customer service at 1-940-591-4220 with recall number 22PBG. NHTSA's recall number is 22V-631.
Schneider hosting Freightliner eCascadia at HQ this week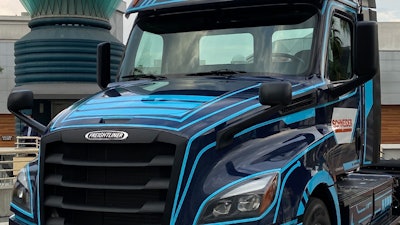 Schneider (CCJ Top 250, No. 9) is hosting Freightliner at its headquarters in Green Bay, Wisconsin, this week for company associates to experience the eCascadia Class 8 electric truck before integrating the vehicles into their fleet.
In 2021, Schneider announced the addition of 62 Freightliner eCascadia's into their intermodal operations in Southern California. Incorporating electric trucks is a crucial step for Schneider in meeting the sustainability goal of reducing 7.5% per-mile emissions by 2025 and 60% by 2035, the company said.
With Freightliner's visit, associates at Schneider can experience the electric truck and its capabilities in person.
"Schneider is committed to leading the charge in testing and training new technologies before bringing them to the market, and we are grateful for Freightliner offering and showcasing such advancements here in Green Bay," said Schneider Executive Vice President and Chief Administrative Officer Rob Reich. "Electric vehicle integration is of the utmost importance, and we are so excited for it here at Schneider."
Fleetcor acquires European EV tech firms
Fleetcor Technologies, a global business payments company, announced today the acquisition of Plugsurfing, a European electric vehicle (EV) software and network provider. Fleetcor has also invested in Zap-Map, a UK-based EV search and pay mapping service.
"We're building a broad set of EV assets to not only support our fleet clients' needs for public and at-home charging, but also to enter completely new EV customer segments with OEMs and CPOs (charge point operators)," said Ron Clarke, chairman and chief executive officer, Fleetcor.
Plugsurfing has developed a proprietary EV charging network in Europe with more than 300,000 charge points, or nearly 80% of all charge points in Europe, along with a mobile app to access charge point locations, availability and cost. Plugsurfing serves EV manufacturers, CPOs and fleets with its software and network solutions.
Zap-Map provides EV drivers in the UK with software to locate, plan and pay for EV charging and has 350,000 registered users and more than 95% of the UK's public charge points on its network.