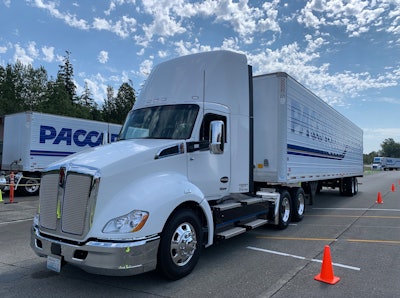 Commercial Carrier Journal
After driving the all-electric Kenworth T680E, something Kenworth's director of marketing communications Jamin Swazo said earlier that day at the company's headquarters in Kirkland, Washington, came to mind regarding first impressions of the zero-emission truck.
"You see their faces when they get out and they're like, 'It's pretty cool," Swazo said.
Yes it is. The Kenworth T680E is the smoothest and the most powerful truck I've driven yet. Of course, it's no secret that internal combustion can't compete with the quiet acceleration of all-electric, nor the confidence-inducing instant torque that Kenworth reports can get the T680E rolling from a deadstart up a 25% grade.
Let's check out some numbers…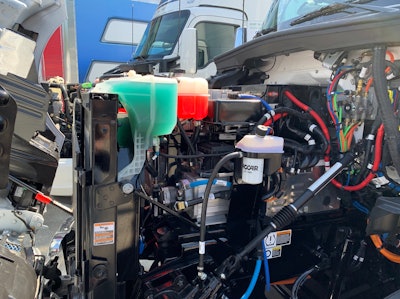 The T680E maxes out at 670 hp, while the conventional T680 equipped with a Paccar MX-13 12.9-liter diesel delivers up to 510 horses. The diesel-powered T680 does crank up to 1,850 lb.-ft. torque at the wheels while the all-electric version maxes out at 1,632 lb.-ft.
[Related: Kenworth exploring 'safer, cheaper' wireless charging for T680E]
But again, starting off the line, the T680E has quicker access to that torque over its diesel counterpart, which has to spool up and run through several gears —18 in the case of Paccar's new TX-18 and TX-18 Pro automated manual transmissions.
Not so with those tandem Meritor 14Xe powertrain axles, which can quickly turn the wheels of the T680E with high/low voltage power electronics under the hood.
Both trucks were towing between 65,000 and 75,000 lbs. in dry boxes according to Kenworth. Did I get a lighter load in the T680E? No one could say. What was clear though was the impressive acceleration of the T680E in the straightaway, which quickly climbed up to 60mph and dropped down to a manageable pace after I simply lifted my foot off the accelerator and let the regenerative brake kick in as we approached a curve.
That's another perk of the T680E: three levels of regenerative braking. You can't help but feel inclined to master that feature all the while knowing you're juicing up the battery packs during deceleration and preserving brake life.
Another advantage of the T680E comes through on curved roads. While taking on a tight curve on Kenworth's 1.5-mile long test track at Paccar's Technical Center in Mount Vernon, Washington, I noticed that the all-electric felt more agile and up to the task over the conventional T680. That word "smooth" kept coming to mind. This might be owed to a lower center of gravity courtesy of extra weight from two battery packs that add up to 396 kWh.
Curb weight for the T680E comes in at a hefty 22,500 lbs. versus the diesel-powered T680 which is a slimmer 15,500 lbs. While Kenworth did not provide battery weight of the T680E a little searching online can help. A 100kW lithium ion battery in a Tesla weighs in at 1,377 lbs. The battery packs in the T680E come in at nearly four times that size which, all things being equal, would add up to 5,508 lbs.
[Related: Test driving Kenworth's W990 equipped with new 18-speed AMT]
But all things in battery chemistry are not always equal. While Kenworth reports that the lithium iron phosphate batteries used in the T680E are safer owed to their increased stability and incombustibility over lithium cobalt dioxide batteries used in Teslas and other Class 1 passenger EVs, they're heavier and have less energy density. Nonetheless, safer is better in a Class 8 truck at a time when lawsuit hungry attorneys appear on countless billboards along the nation's highways.
Really, the strange thing about the T680E is its smooth, quiet nature. There's no clatter and vibration from a beefy diesel engine. It's a soothing whir—at least on the inside. While watching a T680E travel down the test track, I could hear the suspension squeaking and thought back to the press conference earlier that day.
"When you're in a quieter vehicle, there's things that possibly we didn't pay attention to before because it was masked by other NVH related sounds and now we're paying attention to them," Kenworth Chief Engineer Kenworth Joe Adams said. "So that just makes the product that much better for our customers. It's total package. We're not just dropping in a different powertrain."
No they're not. They're also adding a beefy CCS1 charge port to enable DC fast charging at max rate of 150 kWh which gets the battery packs charged up in roughly 3.3 hours.
Okay, that's the tough part — or at least one of the tough parts. Another is range. Expect a max of around 150 miles depending on application.
Price is a little tougher to nail down but we do have somewhat of an idea. Two electric Peterbilt 579EVs recently sold for $350,000 each at Performance Peterbilt in Tallahassee, Florida, according to WCTV. It's not clear if the drayage fleet buying the trucks, Texas-based Quantix, were able to apply any incentives.
An electric Peterbilt 579 purchased and used in California comes with a $120,000 incentive through the state's Hybrid and Zero-Emission Truck and Bus Voucher Incentive Project, or HVIP.
DC fast-chargers capable of providing up to a 150 kWh are another consideration. Paccar can provide those too.
So yes, Class 8 electric trucks like the T680E are up against some tough challenges in terms of fleet adoption but wow…are they fun to drive.