Trucking news and briefs for Tuesday, Sept. 27, 2022:
Connecting rod issue prompts recall of nearly 7,000 International trucks
Navistar is recalling approximately 6,883 model year 2018-2021 International HV, 2018-2020 International HX, 2018-2019 International LT and International RH trucks over a problem in the International A26 engines, according to National Highway Traffic Safety Administration documents.
In the affected trucks, the connecting rod wrist pin can crack, resulting in a connecting rod failure, which could cause an engine shutdown.
Dealers will install new knock detection software to warn the driver prior to engine connecting rod failure, and replace connecting rods as necessary, free of charge. Owner notification letters are expected to be mailed Nov. 14. Owners can contact Navistar customer service at 1-800-448-7825 with recall number 22518. NHTSA's recall number is 22V-691.
Nikola recalls battery-electric trucks for seat belt issue
Nikola Corporation, a manufacturer of battery-electric and hydrogen fuel-cell trucks, is recalling 93 of its model year 2022 Nikola Tre battery-electric vehicles (BEVs) because the seat belt shoulder anchorage assembly may have been improperly installed, according to National Highway Traffic Safety Administration documents.
In July, a Nikola employee doing a pre-delivery inspection at a dealer found that the shoulder anchorage on the passenger side seat belt disconnected from the B pillar. The issue was reported to Iveco, which manufactures the Nikola Tre cabs.
Iveco informed Nikola in August and September that the final torque on the seat belt anchorage was not installed to spec, is susceptible to cross-threading and that the condition could exist in other trucks.
After further investigation, Nikola decided the original design of the seat belt shoulder anchorage could be improved and issued the recall.
Dealers will replace the seat belt anchor assembly and adjuster, free of charge. Owners may contact Nikola customer service at 1-888-429-9216 with recall number 22VDC07007R. NHTSA's recall number is 22V-689.
Expressway Trucks becomes first Volvo Trucks certified EV dealer in Ontario, Canada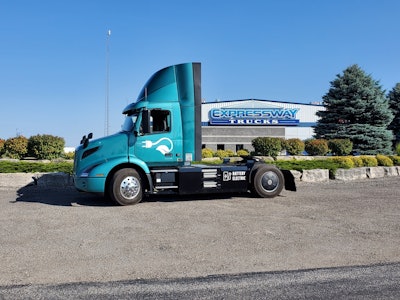 Volvo Trucks North America has recently designated Expressway Trucks as a Volvo Trucks Certified Electric Vehicle (EV) Dealer, signifying that it is ready to support customers interested in adding Volvo VNR Electrics to their local and regional distribution, pickup and delivery, and food and beverage distribution routes.
The dealership's Waterloo, Ontario, Canada, location is the first to be certified in Ontario and is located near Highway 401, one of the busiest traffic corridors in the country.
"Expressway Trucks continues to be an outstanding dealer partner and is taking a leadership role to expand Volvo VNR Electric deployments in Canada," said Peter Voorhoeve, president, Volvo Trucks North America. "We have had great success running Volvo VNR Electrics in the cold Canadian winters in the Quebec region, providing a proof point to other Canadian fleets that battery-electric trucks perform well in extreme temperatures."
Expressway has locations in Ayr (Waterloo) and Owen Sound. Given its role in growing Volvo Trucks' market share and delivering superior customer service, it has been named the Volvo Dealer of the Year Award three different times (2010, 2012, and 2014).
Bridgestone expanding Bandag retread facility
Bridgestone Americas is investing $60 million to expand its Bridgestone Bandag manufacturing plant in Abilene, Texas.
The 50,000-square-foot expansion of the Abilene plant is aimed at the growing demand for the company's tread rubber products, driven by the rapid growth of its retread business, the company said.
The expansion includes an immediate increase in operational activity by running on six- and seven-day production schedules, as well as the construction of new mixing operations at the facility. The mixing operations are expected to be completed and in operation by January 2025.
The investment in the facility and the additional days of operations increase the plant's output by 16%, the company added.