Trucking news and briefs for Wednesday, March 1, 2023:
IMC subsidiaries to transition to IMC brand this year
IMC (CCJ Top 250, No. 59), one of the largest marine drayage company in the United States, has announced that all of its operating companies will transition to do business under the IMC name in 2023.
Currently, IMC serves its customers via seven regional brands, including Atlantic Intermodal Services (AIS), DNJ Intermodal Services (DNJ), Gulf Intermodal Services (GIS), H&M Intermodal (H&M), Intermodal Cartage Company (IMCG), Ohio Intermodal Services (OIS), and Pacific Drayage Services (PDS).
The consolidation to operate under one brand name is strategic both in terms of marketing and operations, the company said.
"We started as one company in 1982, and we're still one company today," said Mark H. George, IMC Chairman. "Over the years, we have grown both by expansion and acquisition. Now, it is time to unify our regional brands under the IMC name so that we fully leverage our national footprint via which we handle freight via every major rail and port in the country."
The transition to the IMC name will happen gradually over the course of 2023 as IMC integrates one operating company at a time. All IMC operating company presidents will retain ownership in IMC.
"Operationally, nothing will change," George added. "We will still retain the same regional expertise our customers have come to know and depend upon. Only now, we'll all operate as one, enabling us to realize efficiencies that will benefit our customers, our team members and, ultimately, the industry."
Nikola recalls BEV trucks over brake issue
Nikola Corporation is recalling approximately 137 model year 2022 Tre BEV trucks, according to National Highway Traffic Safety Administration documents.
In the affected trucks, the shaft locking screw on the brake pedal may be missing or may not be fully threaded, which can cause the brake pedal to detach.
According to the recall report, all affected trucks were inspected and repaired by Nov. 1. Owners may contact Nikola customer service at 1-630-808-4531 with recall number 22VDC0908. NHTSA's recall number is 23V-090.
TMC appoints new leadership
Bison Transport Director of Maintenance Todd Cotier was elected the Technology and Maintenance Council's 2023-2024 general chairman and treasurer during the organization's Annual Meeting and Transportation Technology Exhibition in Orlando.
He succeeds Randy Obermeyer, vice president safety and maintenance for Online Transport Inc., of Greenfield, Indiana, as general chairman and treasurer. Cotier, from Bangor, Maine, served the past year as the Council's vice chairman and chairman of meetings.
Other TMC officers for 2023-2024 include Vice Chairman and Chairman of Meetings: Amanda Schuier, Jetco Delivery Inc.; Chairman of Study Groups: Radu Mihai, Burnco Rock Products; Chairman of Membership and Publicity: Peter Savage, Clark Power Services Inc.; Chairman of Associates: Roger Maye, ConMet.
Directors-at-large include Scott Bartlein, Barry Trucking Inc.; Chris Disantis, Aim NationaLease; Ken Marko, US Foods; Anthony Marshall, UPS; Winston Minchew, Old Dominion Freight Line Inc.; Kevin Tomlinson, South Shore Transportation; Larry Rambeaux, Purkeys; and Justin Anderson, ZF.
Saia adds more next-day lanes in Northeast, Mid-Atlantic
Saia Inc. (CCJ Top 250, No. 21) announced this week that Saia LTL Freight now provides next-day service in 435 lanes across its Northeast and Mid-Atlantic markets. Saia added an additional 78 lanes to its next-day service, effective Feb. 27.
The service enhancement includes points in, but not limited to, Albany, New York; Newark, New Jersey; Springfield and Boston, Massachusetts; New Haven, Connecticut; Youngstown, Ohio; Allentown, Harrisburg, Pittsburgh and Philadelphia, Pennsylvania; Providence, Rhode Island; and Norfolk and Richmond, Virginia; as well as Wilmington, Delaware.
Because of the reduced transit times, Saia said its customers will now receive a one-day delivery improvement on freight moving between these points, allowing for more direct schedules and enhanced service.
"Since we began our expansion in the Northeast and Mid-Atlantic markets, our primary goal has been to provide our customers with more direct service points, supported by our industry-leading transportation and logistics services," said Executive Vice President and Chief Customer Officer Ray Ramu. "This one-day transit enhancement demonstrates our commitment to our 'Customer First' core value and builds on the success we've seen in the marketplace."
Cox Automotive acquiring FleetNet America
The world's largest automotive services and technology provider, Cox Automotive is acquiring FleetNet America from ArcBest, the companies announced Tuesday.
FleetNet's EMS offering utilizes a network of more than 60,000 independent service providers throughout the United States, Canada and Puerto Rico. Services include brokering emergency mobile assistance, mobile truck repair, towing and recovery, preventative maintenance, and tire repair. Paired with Cox Automotive's expertise in creating two-sided marketplaces, ability to deliver industry-leading data insights and operating at global scale, this acquisition will fuel the companies' collective commitment to delivering greater flexibility, transparency, communication and ultimately keeping fleets doing what they do best, working for their customers.
"While both FleetNet and Cox Automotive are leaders in the market today, we haven't even scratched the surface of where we will take fleet operations tomorrow," said John Wood, president of FleetNet America. "Together, our teams will move the industry forward in a transformative way."
Women in Trucking Driver of the Year finalists announced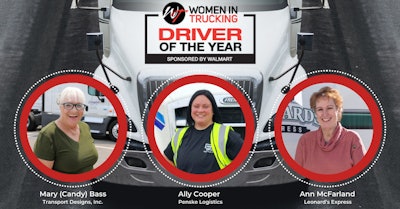 The Women in Trucking Association announced Tuesday three finalists for its 2023 Driver of the Year award, sponsored by Walmart.
The fourth annual award recognizes outstanding female professional drivers who lead the industry in safety standards while actively enhancing the public image of the trucking industry.
The 2023 WIT Driver of the Year finalists are:
Mary "Candy" Bass: She is a company driver for Transport Designs, Inc., out of Burnsville, Minnesota. Bass has been a long-haul truck driver for 50 years, accumulating 6 million accident-free miles. In 2016, Bass was awarded the TA-Petro Citizen Driver award. Recipients of this award exhibit citizenship, safety, community involvement and leadership. A Nashville, Tennessee, TA truck stop is named the Candy Bass Travel Center in honor of her. In 2023, she was named a Top Woman to Watch in Transportation by Redefining the Road, WIT's official magazine.
Bass is a lifetime member of WIT and the Owner-Operator Independent Drivers Association. She is involved in numerous charities, including the St. Christopher Truckers Relief Fund, Hats for Heroes, Special Olympics, Trucker Buddy, and charities for troops. At 78, she is still driving long haul across the United States while encouraging and mentoring other women in the trucking industry.
Ally Cooper: A professional driver for Penske Logistics, Cooper is the daughter of an owner-operator. She enlisted in the military upon graduating high school and served as a lead convoy driver in Iraq and Afghanistan in the mid-2000s. She then ran her own LLC as an owner-operator for six years before transitioning to driver roles with Midwest Logistics and Penske Logistics. Cooper supports her fellow drivers as a ride-along trainer, certified Worklete Champion and role model.
A passionate advocate for working moms, Cooper played a key role in the implementation of nursing policies that improve the experience of new moms behind the wheel. Supervisors and colleagues praise Cooper's positive attitude, dedication to safety, and commitment to work-life balance.
"I absolutely love trucking and can't imagine doing anything else in life," she said. "I hope to show women that you don't have to do the normal 9-to-5 job – you can do anything you set your mind to and be proud of it."
Ann McFarland: She is a consummate driving professional with an expert knowledge of the transportation industry. She exudes pride in her profession through her unshakeable dedication to safety and customer service. Her current position is with Leonard's Express, but she also honed her talents previously with Holman Transportation and Apex, where she achieved the Hard Work & Dedication Award, Excellent Performance Award (Holman), and the Safe Driver Award twice (Apex). This year, McFarland will be honored with Leonard's Express' Million Mile Award for more than one million safe miles with the company.
McFarland is an active trainer for women entering the industry and mentors both men and women in the career she believes in so strongly. She has a passion for helping new women drivers set up for career success. She takes that same level of work ethic and integrity to her home life as a wife, mother, grandmother and sole provider for her household. Through hardship and family illness, she doesn't falter, balancing family needs with professional reliability and responsibility. She currently lives in Fruitland, Idaho, with her husband, Richard.
The winner will be announced at the Salute to Women Behind the Wheel event hosted by WIT on Friday, March 31 at the Mid-America Trucking Show in Louisville, Kentucky.