Trucking news and briefs for Tuesday, March 7, 2023:
Daimler recalling 60,000 trucks over steering concern
Daimler Trucks North America (DTNA) is recalling approximately 60,604 trucks of varying models for a possible issue with the drag link taper joint in the steering system, according to National Highway Traffic Safety Administration documents. NHTSA said this recall is an extension of a recall announced in September 2021 that affected more than 105,000 model year 2019-2021 Freightliner Cascadia tractors.
Affected trucks include model year 2019-2021 Freightliner 108SD, 114SD, 122SD, Columbia, Coronado, Business Class M2, and 2020 Freightliner Cascadia trucks.
DTNA said the drag link taper joint may not have been tightened sufficiently and could come loose, resulting in a complete separation of the drag link from the steering arm, which could cause a complete loss of steering control.
DTNA will inspect the drag link taper joint and repair it, as necessary, free of charge. Owner notification letters are expected to be mailed April 21. Owners can contact DTNA customer service at 1-800-547-0712 with recall number FL967. NHTSA's recall number is 23V-105.
ContainerPort Group expands in Philadelphia
In response to increased demand in Philadelphia, ContainerPort Group (CCJ Top 250, No. 81) announced an expanded footprint in the market with additional freight capacity and increased driver support.
To help support operations, the company has already added several veteran owner-operators carrying a variety of endorsements, as well as a fleet of private chassis. Customers can take advantage of Philadelphia's centralized location to reach nearly 41 million people within a 150-mile radius of the port.
"As the cargo continues to flow through the East Coast, our customers are turning to us for additional trucking capacity throughout the Northeast, and particularly in Philadelphia," said Joey Palmer, President, CPG. "We already have a presence across other ports, including New York/New Jersey, Norfolk, Baltimore, and more, so broadening our footprint to include Philadelphia was a next logical step for our business and for our customers."
Earlier this month, CPG announced it had opened a new terminal in Jacksonville to accommodate growing demand in the Southeast region. Additionally, the company recently began offering dedicated services across several locations, providing guaranteed capacity to customers needing white-glove service.
New driving school opens in Florida
The 160 Driving Academy announced March 3 it has opened its newest location in Orlando, Florida.
The Orlando academy is located at 7726 Winegard Road Suite 108 Orlando, FL 32809.
The 160 Driving Academy said starting salaries for its graduates start, on average, at $65,000 a year. The company uses unique and data-driven programs focus deeply on driver safety and personalized analytics to provide students with individual feedback and instruction via its proprietary app.
Mack named official hauler for Skip Barber Racing School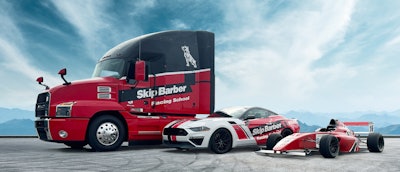 Mack Trucks announced March 6 that it has signed a three-year partnership with Skip Barber Racing School (SBRS) to be its official hauler.
Mack will provide three Anthem models to Skip Barber Racing to support all divisions of the Skip Barber business, including the Race School, Race Series and Race Team.
The Mack Anthem models will haul SBRS trailers containing up to eight vehicles, as well as racing support trailers that have a combination of office space, workspace, parts storage and additional space for cars.
"We are proud to support Skip Barber Racing. They are long standing leaders in high performance racing and driving education, and the Mack Anthem will meet their long-haul needs." said David Galbraith, vice president of global brand and marketing for Mack Trucks. "Our focus is building efficient, reliable high-performance trucks, in perfect alignment with the SBRS brand."
All three Mack Anthem models are Viper Red 70-inch stand-up sleeper models with full aerodynamic fairings package including side, roof and chassis coverage for improved aerodynamics. They are powered by the efficient Mack MP 8HE engine with 445 horsepower and 1,860 lb.-ft. of torque. Transferring that power to the wheels is a Mack mDRIVE 12-speed automated manual transmission.
The first Mack Anthem has been delivered to SBRS and can be seen hauling custom-wrapped SBRS trailers between tracks for the various racing events. The remaining two trucks will we delivered to SBRS in the second quarter of 2023.