Trucking news and briefs for Tuesday, July 11, 2023:
Report: 57% of in-use commercial diesel trucks equipped with near-zero emissions tech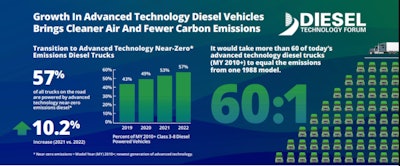 Editor's note: Scroll down to read The California Air Resources Board's response following DTF's report.
U.S. trucking companies are buying more new low-emission diesel technology than ever before, according to a new report from the Diesel Technology Forum (DTF).
Research from DTF showed the number of new near-zero emission diesel trucks on the road increased 10.2% between 2021 and 2022. Near-zero emission trucks are advanced diesel technology manufactured in the 2010 and later model years.
DTF found near-zero emissions diesel trucks comprise 57% of all commercial diesel trucks (Class 3-8) on the roads today. These trucks are equipped with diesel particulate filters (DPF) and selective catalytic reduction systems (SCR) that achieve near-zero levels of emissions.
Additionally, 65.7% of all Class 3-8 diesel trucks on the road are 2007 and newer and are equipped with DPFs, so they achieve near-zero emissions for particulates.
DTF's analysis of S&P Global Mobility TIPNet Vehicles in Operation Data as of December 2022 found that in the population of Class 8 trucks in operation that are 2010 or later model years, 95.4% are advanced diesel technology, 2.1% are CNG, 0.3% are electric, and the remainder are gasoline or other fuels.
For the entire commercial truck population (Class 3-8) of over 15 million vehicles, 75.6% are powered by diesel, while 22.9% are powered by gasoline (22.9%), 0.46% by compressed natural gas, 0.85% by other fuels (ethanol, fuel cell, LNG, propane), and 0.09% by electric.
Illinois is the state with the fastest-growing registration of new advanced diesel technology Class 8 trucks, up 4.6% through December 2022 as compared to 2021. Indiana ranks first of the states for the highest percentage of registrations of 2010 and later model year diesel trucks (73.2%), followed by Utah (66.2%), Pennsylvania (66.0%), Washington D.C. (65.4%), and Texas (63.6%).
Notably, California – the state with the strictest emissions regulations – lags the national average, taking the 35th spot (51.6%).
[Related: Fleets file lawsuit against state over new emissions standard]
The California Air Resources Board challenged DTF's findings and told CCJ that their records indicate that "more than 76.1% of California registered Class 3-8 medium- and heavy-duty vehicles are 2011MY or newer and thus equipped with present-technology emissions controls. Our analysis uses January 2023 California DMV and International Registration Plan (IRP) registries of all the trucks and buses that travel across the state. This fraction of the in-use fleet turned over to present-technology becomes 85.6% when also including the IRP vehicles having California apportionment."
DTF in turn issued the following response:
"The DTF analysis of the current state of the trucking sector vehicle and fuels technology is a snapshot and a moment in time. The commercial vehicle registration process allows for flexibility in where trucks are registered, domiciled and operating. The California Air Resources Board's assertion that there are more new technology diesel trucks on the road in California than we reported could be correct because they are gathering and counting data differently than the DTF effort. The fact that there are more new advanced diesel trucks on the roads in California and Nationwide than ever before means even cleaner air and lower greenhouse gas emissions."
Mack recalling LR garbage trucks for windshield wiper issue
Mack Trucks is recalling approximately 204 model year 2023-'24 LR garbage trucks because the wiper arm retention nuts may be loose, stripping, and causing the windshield wipers to fail.
National Highway Traffic Safety Administration documents state that dealers will inspect, tighten the retention nuts, and replace the windshield wiper arms as necessary, free of charge.
Owner notification letters are expected to be mailed Aug. 25. Owners may contact Mack customer service at 1-800-866-1177 with recall number SCC0445. NHTSA's recall number is 23V-465.
Stoughton container chassis recalled over brakes
Stoughton Trailers is recalling approximately 55 model year 2024 CCGN-40T 40-foot container chassis trailers in which the brake hose may be the incorrect length and have inadequate or missing air tank fasteners, which can result in brake hose failure. The recall said brake hose failure can cause a loss of braking ability.
Dealers will replace the brake hoses, and inspect and replace any inadequate air tank fasteners, free of charge. Owner notification letters are expected to be mailed July 13. Owners can contact Stoughton customer service at 1-608-873-2580. NHTSA's recall number is 23V-460.
41 XPO drivers to compete in the National Truck Driving Championships
XPO (CCJ Top 250, No. 7) announced that 41 of its drivers will represent the company at this year's National Truck Driving Championships (NTDC).
Each of the drivers earned finalist status by winning first place in a state-level competition and will compete for a national title from Aug. 16-19 in Columbus, Ohio. The NTDC is the foremost U.S. showcase of precision truck driving skills and safety knowledge.
All of XPO's NTDC finalists have held perfect safety records for at least one year and the majority have achieved one million miles or more of accident-free driving – a feat that typically takes an XPO driver nine years to achieve, on average.
"I'm proud that our NTDC finalists are attracting national attention to the caliber of XPO's 13,000 drivers and our high standards for safety, freight handling and customer service," said Mario Harik, chief executive officer of XPO. "Congratulations to each of our 41 competitors, including our six state Grand Champions. We'll be rooting for you in Columbus."
The six state Grand Champions are Ina Daly (Arizona); Robert Dean (Washington); Brandon Hardy (Nevada); Joe Hicks (Rhode Island); Lorenso Ramos (New Jersey); and Kolton Schutlz (Idaho).