Trucking news and briefs for Monday, Aug. 28, 2023:
Volvo expands customer experience center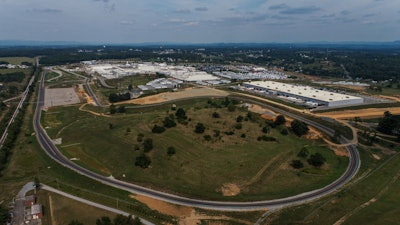 The Volvo Trucks Customer Center has completed significant structural upgrades to the facility's customer experience track in Dublin, Virginia, tripling the size of the three-mile custom-designed course, including two super-elevations demonstrating radius and grade change, as well as extending the track to include a one-mile straightaway, offering customers a fully immersive driving experience, the company said.
Safety features of the Volvo Dynamic Steering (VDS) system available on virtually all Volvo Truck models can be demonstrated to understand how VDS handles high speed, incline acceleration, descent braking, and curve steering mobility. Visitors are paired with certified CDL operators to guide them through every turn of the expanded track.
The enhanced track includes grade changes with a 6-7% increase at its steepest points with tighter S-curves to pilot the VDS system and maneuverability through three miles of highway track with a one-mile straightaway where drivers can accelerate to highway speed levels. The track also features an eight-inch concrete curb drop build-out used to simulate certain hazards drivers might experience on real-world routes, enabling customers to experience how the VDS system takes effect.
The VDS system is a safety feature available in most Volvo Truck models that improves stability at all road speeds when encountering crosswinds, highway crowning, soft shoulders, or emergency situations like tire failure. With an ultra-responsive electric motor mounted on top of the hydraulic steering gear, VDS monitors road inputs at 2,000 times per second. This enhanced steering assist helps drivers keep trucks on course, maneuver through tight turns, and more easily back to docks.
Vocational vehicles, including the VHD 300 dump truck, can be maneuvered on a gravel off-road section of the course designed for customers to experience the VDS system in action for applications that require an extremely tight turning radius. The vehicles are tested on a designated three-quarter mile-section with two steep 27% grades to experience Rock Free, an extreme I-Shift mobility function that lets the driver rock the truck back and forth to by pumping the accelerator if the truck gets stuck in mud or sand.
OOIDA responds to safety groups' speed limiter support
Following an Aug. 24 press release from various safety groups, including the Trucking Alliance, voicing opposition to Congressional efforts that would block a mandate of speed limiters on trucks, the Owner-Operator Independent Drivers Association is firing back.
The safety groups were speaking in opposition to the DRIVE Act, which has versions in both the U.S. House and Senate, which would block the Federal Motor Carrier Safety Administration from requiring speed limiters on heavy trucks.
OOIDA President Todd Spencer said, contrary to what the groups said, data shows speed limiters "are not the silver bullet" for safety.
"The Trucking Alliance is wrapping their opposition to the DRIVE Act in some sort of perverse argument about safety," Spencer said. "The number of speeding tickets and crashes by their member carriers clearly show that speed limiters are not the silver bullet. If they were truly concerned, they would pay their drivers by the hour and reduce the pressure to speed in locations where it's clearly unsafe."
OOIDA's director of federal affairs Jay Grimes added that the American Trucking Associations and others advocating for speed limiters "believe they're better suited to determine safe speeds for all highway users, rather than state DOTs. Congress delegated this authority to the states nearly 30 years ago, and they have been moving away from the dangerous split speeds the mandate would create ever since."
[Related: Safety groups urge Congress to oppose efforts to block speed limiters]
DNJ Intermodal opens new Wisconsin facility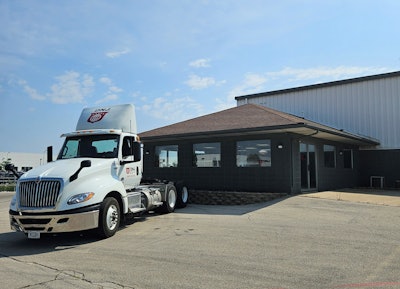 DNJ Intermodal Services, an IMC Company (CCJ Top 250, No. 59), has expanded its presence in the southeastern region of Wisconsin with a new facility in Milwaukee.
The new location, at 1821 SE Frontage Road, includes a 1,500 square foot office space and 40 parking spots for trucks, along with five acres of land for wheeled container storage and chassis storage.
This new, centrally located facility is 15 miles from the Port of Milwaukee and features a fenced yard with 24-hour monitored and security-controlled access, truck parking and room for storage of 300 containers on chassis, allowing DNJ to provide secured storage services for its clients. The terminal also stores empty containers for exporters, eliminating the need to reposition these assets and to have them readily available for loading schedules.
"Milwaukee is an ideal location for this hub and spoke facility," says Joe Tovo, president of DNJ Intermodal Services. "With our unique operation, our drivers deliver their container to our facility from Chicago on one day and our Milwaukee drivers deliver it to the local client the next day. With this operation, we're able to improve our clients' on-time deliveries by eliminating the time spent for drivers in long lift lines in Chicago. Our drivers are also happy we're minimizing their wait time and increasing their turns."
Most recently, DNJ also underwent a large expansion to its Chicago facility, now encompassing 46 paved acres adjacent to the BNSF in Chicago. This expansion addresses the growing volumes in Chicago and provides storage for 2,000 wheeled containers.