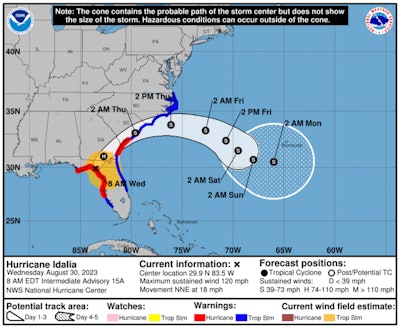 National Hurricane Center
Editor's note: This story was updated Wednesday, Aug. 30, 9 a.m. EST.
Hurricane Idalia made landfall Wednesday morning as a powerful Category 3 hurricane roughly 30 miles southeast of Tallahassee leading to the closure of one of the nation's busiest ports along with roads and highways.
The National Hurricane Center's latest track shows the storm traveling north-northeast at 18 mph into southeast Georgia towards the Port of Savannah which shut down late Tuesday.
Port officials are planning to reopen Thursday to resume business at the bustling Atlantic port which saw 447,587 TEUs or twenty-foot equivalent containers for July, a 17% increase over June. Other ports that have closed include the Port of Jacksonville, Fla., Port Canaveral, and the Port of Charleston, S.C.
Several roads and highways have been closed in Florida including a stretch of Interstate 10 about 20 miles east of Tallahassee which is currently in the path of the storm. Florida Department of Transportation regularly updates road conditions on fl511.com.
[Related: How to prepare for hurricane season]
Under the direction of Florida Governor Ron DeSantis tolls have been suspended along the west coast of Florida for 7 days. The facilities include the I-4 Connector, Selmon Expressway (S.R. 618), Veterans Expressway (S.R. 589), Suncoast Parkway (S.R. 589), Turnpike Mainline (I-75 to I-4), Pinellas Bayway (S.R. 679), Sunshine Skyway Bridge (U.S. 19).
According to Gas Buddy's top analyst Patrick De Haan the storm has led to some fuel supply disruptions.
"Seeing a low level of outages, under 7% for all cities in Florida, and virtually no impact on prices," De Haan said. "We probably won't see much change in price and will take another day or two once the storm clears Florida to potentially see outage numbers edge higher, but it seems the situation shouldn't get much worse."
Florida Governor Ron DeSantis announced Monday that the state would be stockpiling fuel.
"We do have a lot of fuel that is stationed. It's on the way. It's going to be pre-staged. 200,000 gallons of fuel," DeSantis said during a televised update on the storm. "There may not end up being major interruptions in fuel supply but there may be so we want to make sure we have that available."
U-Haul announced Monday afternoon that it's offering 30 days of free self-storage and U-Box container usage at 54 facilities across Florida to residents who stand to be impacted by the storm.