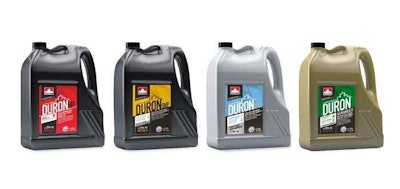 Petro-Canada launched most of its Duron CK-4 and FA-4 performance specification oils in December, but has slated later release dates for two of the company's lowest viscosity grades.
Barnaby Ngai, category portfolio manager for heavy duty engine and driveline oils for Petro-Canada Lubricants, says Duron UHP 5W-30 (API CK-4 5W-30) is expected to launch in the third quarter of this year while Duron Advanced 5W-30 (API FA-4 5W-30) product is scheduled to debut late next year.
Last month, Chevron Lubricants said the company expects to roll out its Delo 400 XSP SAE 5W-30 and 5W-40 (both API CK-4) full synthetic products this summer as the company continues its focus on the transition for its customers to Delo 400 XLE SAE 10W-30, Delo 400 SDE SAE 15W-40.