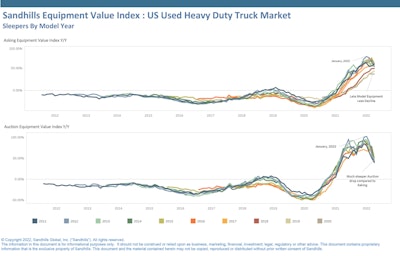 Used Class 8 retail volumes in April were 24% lower month-over-month, according to data published by ACT Research, and down 40% year-over-year. Average prices slid 1% compared to March, but trucks were still 75% more expensive than April 2021. Average miles and age were up slightly (+3% and +4%, respectively) from March, with miles up 6% year-over-year and age 7% higher than last April.
While seasonality predicted an 8% decline, ACT Research Vice President Steve Tam said lumpy new truck sales and the lack of used truck inventory are the more likely culprits in April's slowing.
"Waning April new truck sales portend more weakness ahead in the secondary market, though March's uptick has yet to make its way through the inventory maze," Tam added, "The April deficit marks the tenth straight month of shrinking year-over-year sales, which have been hamstrung by the curtailed flow of units into used truck inventory. A peek ahead at near-term expectations suggests sales are usually below average in May, then return to normal in June and July before picking up in August."
OEMs would love to boost new truck production and sales, which Tam said would presumably benefit the used truck market, "[but] the relief they seek on the supply-chain front has proven elusive," he said. Also, he added, inflation is taking a toll on consumer confidence and spending.
"While the spot freight markets have borne the brunt of the initial slowing, contract markets are not expected to escape unscathed," Tam added. "Collectively, lower demand for trucks at the same time capacity additions are still occurring are having the predicted and understandable effect of driving prices for both freight hauling and used trucks lower."
There are bargains to be had (if you can find them)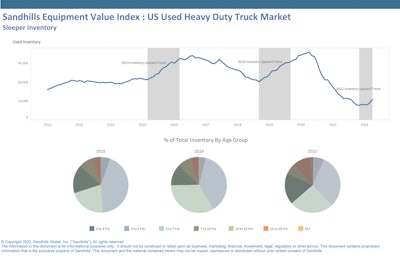 The latest Sandhills Global Market Report shows that as more late-model sleeper trucks enter the market, sleeper trucks in the 7-year or older age group have dropped in value more steeply. Year-over-year auction values for sleeper trucks manufactured since 2015 decreased just 10% since the beginning of the year, while year-over-year auction values for sleeper trucks 7 years and older have posted 40% to 60% decreases over the same time. With a lack of new production to replace late-model sleeper trucks, asking values for used sleeper trucks made after 2017 remain positive, posting an 8% improvement since January.
Heavy-duty sleeper trucks in the 7-year-plus age group historically represent 27% of the total sleeper truck inventory. As of April, that age group accounts for 36% of the total sleeper truck inventory.
April marked the fifth straight month-over-month increase in heavy-duty sleeper truck inventory. April 2022 inventory levels were down 14.8% year-over-year, a dramatic improvement from March when inventory levels were down 33.9.% year-over-year.
The Sandhills Equipment Value Index indicates heavy-duty sleeper auction values increased 62.3% year-over-year, a 7% decrease from the start of the year when auction values were up 69% year-over-year. Asking values for late-model sleeper trucks have displayed less decline than older models, likely due to the lack of new production available to replace the commercial trucks. While auction values for sleeper trucks manufactured prior to 2015 have declined sharply, posting 40% to 60% year-over-year decreases since January, asking prices for sleeper trucks in that age group have decreased by just 10%.