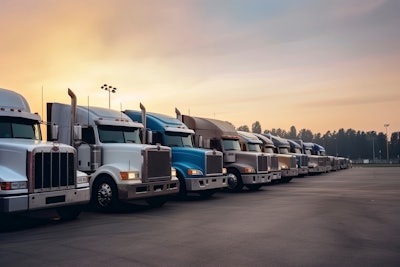 During 2023, used trucks have largely been a buyer's market. That's because as more fleets that had held onto aging equipment restarted their replacement cycles this year, large numbers of well-maintained trucks, often late models, streamed into used truck sales channels.
However, as freight levels stabilize or even grow and the number of trucks hauling freight keep slipping, used truck capacity may rebalance away from buyers' favor.
The strength of new Class 8 orders helps drive used truck purchasing up or down. Initial data on new truck orders for September, released on October 4 by both ACT Research and FTR, point to a strong opening for 2024 order boards. If the high level of activity recorded last month is sustained, it will lead more fleets to replace aging equipment. And that should fatten used truck inventories and slim down per-unit prices.
ACT Research found that preliminary North American Class 8 net orders reached 36,800 units, notching a 67% climb month over month, making for the strongest order month in the past year.
Similarly, FTR reported that preliminary Class 8 orders for September numbered 31,200 units, up 94% vs. August and down 45% year over year. Per the research firm, both the month-over-month increase and the year-over-year decrease were well within expectations considering that 2024 build slots have opened and the market continues to "normalize after last year's exceptional order volumes."
ACT President and Senior Analyst Kenny Vieth said that "between reports of falling carrier income and margins, still sloshy load-to-truck ratios, weak spot rates reported by DAT, and a sense over the past six weeks or so that the U.S. economy's year-to-date outperformance was starting to lose some momentum, we were unsure how the market would respond when the 2024 order boards officially opened."
He added that as nearly all the August-ending Class 8 backlog was scheduled for build in 2023, September's preliminary data from OEMs "confirm the [order]season' started on the right foot."
FTR Chairman Eric Starks said that the large increase in September was expected given available build slots, But that's "still a positive indicator for the industry. Despite the weakness in the overall freight market, fleets continue to be willing to order new equipment." He noted that there was no expectation of matching the level of orders seen at this time last year, but that the "increasing orders confirm our expectations of [higher] replacement demand in 2024."
The developing picture
The strong uptick indicated for new truck orders tracks with the used truck activity for August reported by ACT Research. The research firm said that used Class 8 retail sales rebounded strongly, as expected, in August, rising 12% month over month. Meantime, average used mileage declined by 1%, while average price and age were both flat. However, ACT found that, "Longer term, average volumes jumped 3%, price dropped 26%, and miles and age both fell 4%."
ACT Vice President Steve Tam said that auction sales also improved in August, but they regained only a portion of the drop they suffered in July. "Wholesale rounded out the upbeat August market, with dealers trading 46% more trucks compared to July. Combined, the total market volume swelled 15% month over month in August."
"The uncharacteristically large improvement this month is likely a reflection of the increased availability of units at more attractive prices," Tam said. "August is the second-best sales month of the year, more than 8% above average and 10% better than July."
However, Tam expects that the next month's used prices— which he said will drive long-term comparisons— will be "considerably lower than they have for the first half of 2023."
Driving that drop will the destocking of shippers' inventory at hand and freight levels "expected to stop contracting and perhaps even return to growth soon." In addition, he said the number of trucks servicing the freight market continues to decline. "These are the exact ingredients for a rebalancing of capacity and the subsequent return to a more normal used truck market."
Tam also remarked on the impact of Yellow's collapse. "The curtain has been pulled back a bit regarding the handling of the disposal of transportation equipment from bankrupt Yellow. Like the liquidation of their terminals, the company overseeing the shutdown is actively seeking buyers for the trucks and trailers."
Sleeper talk
Chris Brady, President/Chief Economist of Commercial Motor Vehicle Consulting (CMVC) told CCJ that, "Used sleeper prices were really elevated two years ago because OEMs could not satisfy new orders, leading fleets to extend the life of sleeper cabs. That significantly increased the supply of sleepers on the market and drove prices up. But that has changed over the last 12 months as used buyers by now have updated their equipment, too.
"The risk for them," he continued, "is that new sales are still strong, so used supply will continue to see downward pressure. But unlike truck builders, players in the used truck market cannot just reduce production to cut supply."
Brady said used and new dealers are watching this closely, "being conservative about stocking used vehicles in case pricing goes downward. Used is more a supply-and-demand market. Pricing is also affected by sleeper specs. How the sleeper is outfitted and which engine does it come with, 13 liter vs. 15 liter. That all goes into the pricing."
Efrain Velasco, principal of Los Angeles used-truck dealer Class8.co, told CCJ that 2023 saw a strong demand for used sleepers equipped with advanced engines, such as the MX13 Paccar and X15 Cummins, as "these engines provide the power, efficiency, and reliability that trucking companies need to stay competitive."
But as summer faded into fall, he saw the used market at dealer level "softening as more are sitting on aged trucks." Velasco also noted that said the high preference for higher-horsepower engines at the top of the year has lessened. "Prices have leveled off as more inventory sits around and high horsepower is taking the longest to sell."