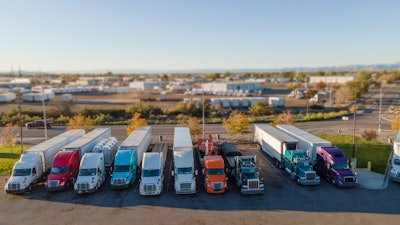 It might get worse. Josh Giles, principal automotive analyst with Black Book, made that clear from the start.
Speaking to used truck dealers during a Used Truck Association (UTA) webinar Thursday, Giles says that's the request he keeps getting from everyone he interacts with in the trucking industry.
"That's the question people want answered. Have we hit rock bottom?" says Giles.
Prices are down, he says. Not for every application and definitely not at the same level across classes and unit types, but on the whole, used equipment values are lower today than they were a year ago.
[RELATED: 'Uncharacteristically large' boost to used truck sales in August]
Yet in analyzing Black Book's data, Giles says "overall values are down but, unfortunately, we still see some room to fall."
In the Class 8 market, Giles says Black Book's data indicates 4-year-old over the road (OTR) and vocational construction trucks have both seen values rise by more than 40% since September 2018. But when shortening that timeline from five years to one, the two segments diverge substantially. OTR trucks are down 43.1% since last fall; construction trucks are actually up 6.2%. Regional tractors haven't gained as much value as those other segments since 2018 — up just 29.8% — and they're also down significantly at 35.6% since last year.
Giles adds Black Book's analysis of the market shows monthly depreciation for OTR tractors at slightly above 3% for the remainder of the year. Trying to be positive, he says it's possible outside of industry factors should drive that number down, but current projections are tracking around 3%.
The story isn't much better in the medium-duty space. Giles says 3-year-old Class 4-5 trucks have gained 43.8% in value since 2018 but are down 32.8% year over year.
In the trailer sector, reefers, lowbeds, dumps and dry vans are all up double digits since 2018, Giles says, though only dumps have a positive year over value change, up 10.9%. Dry vans are down 27.2%, reefers are down 20% and lowbeds have fallen by 5.2%.
Giles says he wish he had better news. Black Book has produced its Medium- & Heavy-Duty Trucks and Commercial Trailer reports for 26 years. The company knows the market and knows the last year has been a tough one for dealers.