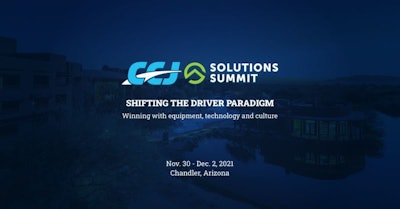 CCJ's upcoming Solutions Summit, "Shifting the driver paradigm: Winning with equipment, technology and culture," will be held in Chandler, Arizona, Nov. 30 - Dec. 2 at the Sheraton Grand at Wild Horse Pass, and will take aim at arming fleets with a playbook compiled by some of the trucking industry's foremost experts, enabling attendees to optimize their operations and fine tune processes.
Thanks to event sponsors Performance Diesel, Freightliner, Right Weigh, Comdata, Eaton, Triumph Business Capital, Shell Lubricants, Automann, Fleetworthy Solutions, Goodyear and Omnitracs, fleets can register for free. Carriers can register here.
The agenda can be found here, and our speaker line up, here. Check regularly for updates.
Among the topics that will be covered are:
The secret to lower insurance costs is in your driver data
Hear from Jean Gardner, CEO, Central Analysis Bureau and Shuie Yankelewitz, COO, Central Analysis Bureau
Do you know which drivers are causing your insurance rates to soar? What small driver management changes can you make that will pay off big in reduced risks and lower insurance costs? With decades of experience in the transportation insurance market, experts from the Central Analysis Bureau will use their deep data analysis to show carriers what insurers are looking for and demonstrate steps they can take to keep premiums down and avoid nuclear verdicts.
Candidly speaking: What ATRI's latest research tells us drivers want
Hear from Rebecca Brewster, president and chief operating officer of the American Transportation Research Institute (ATRI)
What motivates people to become company drivers and owner-operators? How are job expectations being met, and where are fleets falling short? The American Transportation Research Institute shares exactly what drivers are looking for from their jobs and their employers.
Innovative strategies to empower drivers
Hear from Blair Ewell, senior vice president of trucking operations, USAT Capacity Solutions; Jeremy Stickling, chief administrative officer at Nussbaum Transportation; and Timmy Tran, Vice president of systems and technology at JLE Industries
Learn from the best. Three of the top carriers recognized by CCJ as Innovators will share strategies and proprietary technologies they are using to dramatically reduce driver turnover, increase productivity and create a work experience that drivers cannot find anywhere else.
Stop the revolving door: A proactive approach to keeping drivers
Hear from industry insiders who will share how and why you should implement a proactive driver retention program, followed by a roundtable discussion with leading fleet executives who have put those strategies into practice and reduced turnover rates.
Equipment spec'ing with drivers in mind
Hear from Al Barner, senior vice president of strategic fleet solutions, at Fleet Advantage
If you spent 10 hours behind the wheel, what truck features would matter to you? This session will show why selecting the right equipment for the job is about more than just fuel economy and vehicle performance. Learn about solutions that ensure drivers remain safe, productive and compliant, and discover what features are important to driver's overall comfort and convenience while working on the road.
Politics and Pandemics: What will shape trucking's 2022 economic outlook
Hear from Donald Broughton, principal and managing partner, Broughton Capital, LLC

Learn how disruptive forces including supply chain constraints, a global pandemic, weather events and economic policy will shape the prospects for the trucking industry in 2022.
Driver differentiators: How to stand out in a tight labor market
Ed Kentner, director of social media for National Carriers, Inc., and Jason Michels, CEO, Long Haul Trucking
The best drivers can have their choice of jobs. Why should they decide to drive for you? Learn why having a clear way of differentiating your company from other carriers is the first step toward finding - and keeping - the right driver workforce.
Average lifetime value of a driver
Hear from David Arsenault, Randall-Reilly director of client marketing
For years fleets have micromanaged costs when hiring drivers but that myopic focus could be constricting your ability to bring in revenue. Changing your focus to value instead of cost will revolutionize the way you think about drivers.