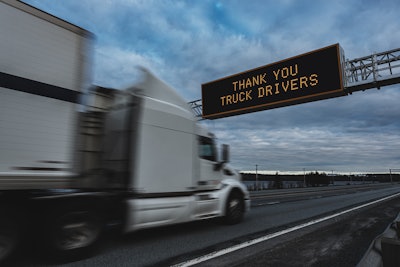 The Truckload Carriers Association (TCA) recently chatted with Bill Webb, a 30-plus year industry executive and former President and CEO at the Texas Motor Transportation Association (now TXTA), who spearheaded the National Truck Driver Appreciation Week (NTDAW) initiative.
The national campaign came about in the early '90s when Webb was in the driver recruiting department at FFE Transportation Services, a for-hire carrier based in Lancaster, Texas.
"Everyone was looking for a new angle of retention," shared Webb. "For those of us who were at every driver recruiting and retention event, it just came to us that if we were going to expect people outside the industry to respect drivers, we needed to do a better job inside the industry."
As with most trucking companies, the morals and values, as well as ownership, are passed down from generation to generation. As a newcomer to the industry, Webb knew that outside-the-box thinking was needed on how to retain the driver workforce. "The short answer was, let's express our love for our own people internally and then encourage people outside the industry do the same thing."
Knowing this would be no easy feat, Webb and others knew they needed to receive support from an engaged national trade association.
Webb fondly remembers the day when he hopped on a flight to the American Trucking Association's headquarters in the D.C-metro area – a PowerPoint proposal in tow. After meeting with long-time staffers and leadership, the team was generally interested.
Fast forward a year later to '95, Webb visited with TCA and then-President Lana Batts with a similar proposal. "TCA and was interested in acting on it as, let's face it, there's some turnover in the truckload industry," shared Webb.
Batts noted that NTDAW came about during the same time as TCA was introducing other image initiatives such as its Highway Angel program – one which elevates the profession of a truck driver and recognizes them for completing good deeds while on the road.
"Bill's vision was simply amazing, and the industry embraced it," she shared. "It's great to see how the week has morphed into something that is larger than any of us involved – a true success."
Throughout the last decade, TCA has partnered with state trucking associations to host dozens of driver health fairs at select TravelCenters of America and Petro locations during NTDAW. The events offered health care professionals who administered blood pressure tests, glucose screenings, as well as vision and hearing tests to the driver population.
So, why is NTDAW celebrated for one week?
With a background in advertising and public relations, Webb had a mixed strategy for this initiative – which was evident from the first slide of his PowerPoint presentation: "Every day should be driver appreciation day but that's not realistic."
Webb went to USA Today and other media outlets to help spread the word about this important week "We needed to make a public show of affection for our drivers," he shared. "We knew we needed to create a message that articulated their importance to the economy, and how essential they are to putting food on the table."
Knowing how infrequently drivers visit the terminal or company headquarters, a motor carrier would have a better chance at showing their appreciation for their drivers throughout an entire week versus a day.
And the rest was history ... sort of.
Webb shared that the goal was to "start small and, when the opportunity was there, to grow into something larger" and did it ever.
Aside from national trucking associations and state associations hosting a myriad of events, our Canadian neighbors and their provincial trucking associations also celebrate the week — National Trucking Week — during the first week of September.
During his term as American Trucking Associations' Chairman, in 1995-1996, D.M. Bowman, Inc.'s Chairman Don Bowman was instrumental in expanding NTDAW.
Last year, the leadership team at D.M. Bowman compiled a video where we expressed our gratitude for our drivers. We can't put into words how much they really mean to us. You can watch the video at dmbowman.com.
The efforts and contributions of the professional drivers are deserving of our gratitude and appreciation.
How can the industry as a whole better promote this week?
Webb is glad to see that through organic growth the industry has expanded on the ideas of NTDAW to developing necessary image campaigns year-round.
He shared that while Texas was one of first states to develop a state campaign – to promote the relevancy of truckers in general – it's a battle the industry continues to fight today as many still take truckers for granted.
Webb recalls a quote from his elder grandparents which still rings true today, especially when it comes to retaining our drivers — "Don't tell me, show me."
"Our industry has come a long way in how we treat our people," he said. "Hearing how trucking companies are getting feedback from drivers, and increasing driver pay, we need to keep that momentum. We must continue to listen to our drivers and utilize new tools like social media to get immediate feedback and act on it."
In closing, we can all agree it's long overdue that the general public finally understands how critical the role of the professional truck driver really is in their daily lives. Reinventing and constantly improving how we show our appreciation for drivers, during NTDAW and throughout the year, will help in our retention efforts.
Here's to you, drivers! Thank you.
Jim Ward is president of D.M. Bowman, a 382-truck fleet based in Williamsport, Maryland. Under his direction, the company has transitioned from truckload carrier to a full-service transportation company, offering its customers dedicated fleet services, short haul, linehaul, brokerage, logistics and warehousing for dry van, flatbed, bulk and specialty services. Ward is the 2021-2022 chairman of the Truckload Carriers Association.