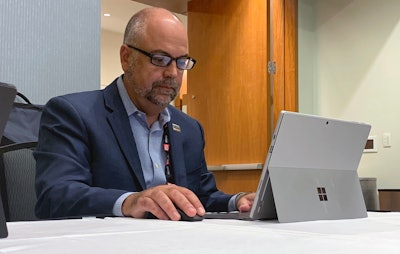 The trucking industry is short at least a record-high 80,000 drivers, according to American Trucking Associations' Chief Economist Bob Costello, due in large part to accelerated retirements in the wake of the pandemic and trucking schools that were shuttered or limited in their ability to infuse new CDL drivers into the workforce.
Costello's updated figure represents a significant upward adjustment from his previous estimation of less than 60,000. Costello noted the driver shortage improved in 2019 thanks mostly to an infusion of new talent and a stable freight environment, but industry-wide volatility brought on by the pandemic has boosted headcount needs by more than 30%.
The current estimation and its upward movement is likely no surprise as the White House struggles with ideas to reconcile the amount of goods that need to be moved with the lack of capacity to move it.
"This is sort of a warning to the entire supply chain," Costello said, noting that if current trends hold, trucking could be short 160,000 drivers by 2030. "I really do think the supply chain problems of today are a glimpse into our future if we do not fix this."
While it's easy to lay blame on the pandemic, Costello said all transportation players – from shipper to carrier to receiver – play a role in the labor problem, and that the current supply chain woes only pile on underlying industry issues like elevated driver age and lack of diversity in the driver force.

Shifting the driver paradigm: Winning with equipment, technology and culture
Join us in person at the the 2021 CCJ Solutions Summit, Nov. 30 - Dec. 2, in Chandler, Arizona. CCJ Summit assembles fleet executives, thought leaders, industry analysts and leading suppliers to explore ways equipment, technology and corporate culture can shift the driver paradigm and overcome your No. 1 challenge: Cultivating a qualified workforce.
Don't miss your chance to collaborate and socialize in-person with your peers at the picturesque Sheraton Grand at Wild Horse Pass.
"We have a demographics problem," Costello said. "We have a high average age [and] you have to be at least 21 years old to drive interstate freight, but most people don't wait around."
Costello said most new drivers enter the industry at around 35 years old, and for LTL and private fleets that number balloons to over 50 years old.
"When you're going to have life out on the road, I don't know if I want to do it at 35 (years old)," Costello said, harkening to the fact that many would-be truck drivers have already sought another career path by the time they are of age to drive interstate. In fact, Costello suggested that trucking's age model is backwards; that, ideally, drivers should learn to drive OTR first before driving intrastate, which includes urban settings that can be more challenging. Costello noted he and ATA support the DRIVE Safe Act, which could infuse the industry with up to 3,000 drivers between the ages of 18 and 20 who would be trained and mentored for interstate driving.
Fleets have also struggled to onboard women consistently. While females make up about 47% of the workforce, they make up less than 8% of truck drivers. Even fleets who have had success attracting women drivers, Costello said, barely crack 20%.
Diversity aside, the Drug and Alcohol Clearinghouse has removed about 70,000 drivers from the road, and "the vast majority of them aren't even attempting the return-to-duty process," Costello noted.
Before Costello tied an updated number to it, fleets had already identified a lack of drivers as biggest issue currently facing the industry for the fifth year in a row.
"I'm not telling you fleets don't get applicants. They get applicants," he said. "It's just that they cannot hire the vast majority of them."
Costello conceded that the idea of a driver shortage can be both relative and controversial but pointed to a two-year-long trend in climbing driver pay as an indicator that fleets are feeling the pressure to find and keep drivers. According to a recent CCJ survey, 68% of fleet respondents had raised driver pay at least once this year, and 31% reported raising driver wages more than once (7% said pay has been raised three times or more).
Better pay, though, hasn't translated to more freight movement. In many cases, drivers are taking those raises and coupling it with more home time. The end result is they are able to be home more and drive less, but their take home pay is unchanged.
"Pay alone does not solve this problem," he said.
The deteriorating infrastructure and lack of investment is also a headwind for the industry as Costello noted bottlenecks, traffic jams and haphazard parking availability impacts how long a driver wants to stay on the road in a given day.
"Drivers quit early if they can find a parking spot for the night. If they knew they could drive a couple more hours down the road, think about that – over the span of the year – how many more loads they could do?"
Shippers are part of the problem and would-be solution, Costello said, noting slashing detention times could boost productivity while also removing one of drivers' more cited points of frustration. "The trucking industry alone cannot solve this," he said.